The Russian Ministry of Defense, referring to the Coordination Center for the Reconciliation of the warring parties in Syria, reports that the Russian planes
aviation
continue to launch air strikes on the infrastructure of the militants of the Islamic State terrorist organization. The newsletter reports that the Su-34 bomber hit an oil refinery operated by ISIS in the province of Hasek (near the village of Ras al-Ain).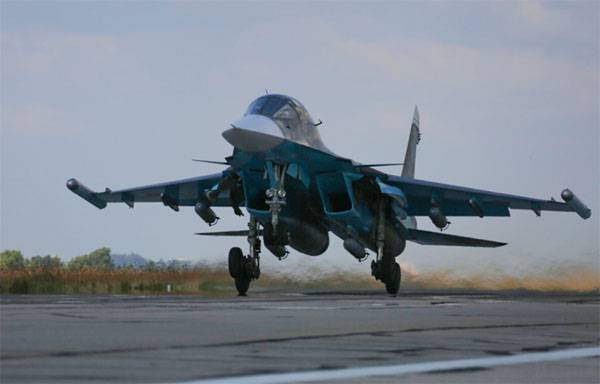 From the message
press service of the Ministry of Defense of the Russian Federation
:
The strikes were carried out on tanks with oil located on the territory of the enterprise. As a result of the defeat, the process equipment was put out of operation and the oil products stored in the tanks ignited, after which a large fire broke out at the plant.
The Russian Defense Ministry reports on the progress of the ongoing humanitarian operation in Syria. The humanitarian aid was delivered to the camp of immigrants in the province of Homs, as well as to the settlement of Tell-Bur (Aleppo Province). These are food, sweets for children, personal hygiene products. Assistance was provided in the landing of UN humanitarian goods - food packages and cereals with a total weight of more than 18 tons. Landing was carried out from the transport aircraft of the airline "Abakan Air".
An X-NUMX-year-old Syrian girl Zaarur, a Syrian girl from Syria Aleppo, was brought to Moscow from IL-76 for her treatment. She was seriously injured in the shelling by militants.
From the message of the RF Ministry of Defense:
16 April, a resident of Aleppo Sidra Zaarur, along with her parents and sisters, came under attack by terrorists with homemade mortars firing gas cylinders. The militants themselves call such home-made mortars "hellish machines" because they possess great destructive power.

A three-year-old nephew and an older sister were killed in the eyes of the girl as a result of the shelling from such homemade mortars. Itself Sidra Zaurur as a result of the explosion lost both legs. Syrian doctors at a civilian hospital in Aleppo did everything possible to save the girl's life, but with severe physical and psychological trauma, Sidra needs further treatment and rehabilitation.
The Syrian girl is assisted by specialists from the Russian Children's Clinical Hospital, as well as doctors from the GVK named after Burdenko and the Vishnevsky Central Clinical Hospital.