While the command of the Armed Forces of Ukraine and the National Guard of Ukraine is silent, ordinary soldiers of the Ukrainian army in social networks are sharing details about how the transition to "NATO standards" is actually carried out. So, on his Facebook page, a Ukrainian soldier named Vladimir Velikozhon, who took part in training at the Yavoriv training ground, reports that the military camp, built "by standards close to NATO standards", "drowned" during the first good rain.
Of
ARTICLES
from 31 May (spelling, punctuation and style saved):
In the photo - our new tents USB-56 / 2005 after two months of operation at the site. We got them in the spring on rotation from the ATO area. There we had the same tents, but still Soviet ones, they were worn out over the years of operation and they were decided to replace them with domestic production of LLC "Sievertx" from Chernigov. We were wildly overjoyed, and when installed, we noticed that the fabric was some kind of thinish, inhomogeneous, but it perfectly let in sunlight. But we did not attach any special significance to this and set up these works of domestic tent construction in even rows. A victory report was made on our camp by military men on a half-page of a famous military newspaper — well done, they say, a camp built by the standards close to their mother-nato. In the photo are hundreds of tents in even rows, between them are sidewalks made of wood. Beauty in general. Everything was fine until it started to rain yesterday. Normal such. And the tents began to flow. Across the landfill. Flowed at the seams and in the middle. We had fun evening and night with the rescue of clothes, sleeping bags from streams of water. Someone even slept collecting water in the basin. We really want to settle to us the leadership of the Chernigov company, who set up such tents for our army at a price of about xNUMX 39 uah. a piece. We would give them a couple of beds. Another would be to see representatives of the military acceptance, who decided that the tent, rotted for two months and flowing across the surface is the norm.
PS Tents in our half of the camp, around 500pcs. At a cost of 40 thousand per unit, a normal amount is obtained.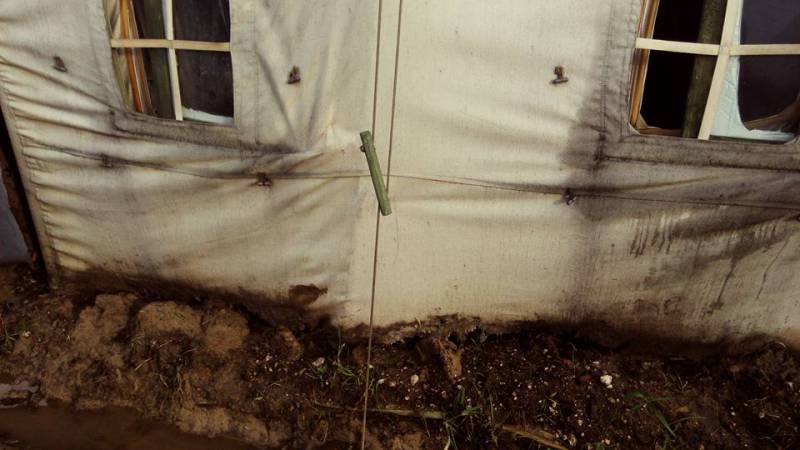 The information is confirmed by other Ukrainian servicemen, as well as volunteers, stating that at the place of contact of the tents with the land they were rotten already two months after installation.
We will remind that earlier the Ukrainian military personnel published photos of how vernal waters completely flooded dugouts and trenches of the "European wall" widely advertised by Yatsenyuk on the border with the Russian Federation.