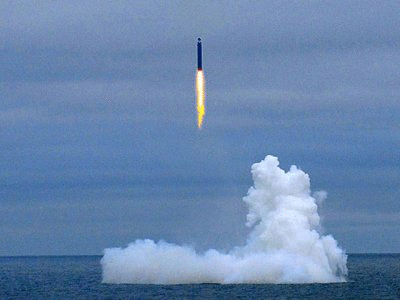 On Friday, the Yury Dolgoruky nuclear submarine under the flight test program carried out the final launch of the Bulava missiles this year. The launch of a pair of rockets conducted from the waters of the White Sea. RIA "
News
"reports that Colonel Igor Konashenkov, the official representative of the Ministry of Defense of Russia, reported on this.
"The launch from the White Sea area was made from a submerged position on the Kura (Kamchatka) test site. The flight proceeded normally. The combat units arrived at the test site at a fixed time. This was fixed by means of objective control," reported Konashenkov.
According to the colonel, the main feature of the launch was the launching of salvo firing with a pair of missiles from the carrier — the fourth-generation head launch vehicle of the Borey project (APC Yury Dolgoruky).
The crew of the submarine under the command of Vladimir Shirin, captain of the first rank, for the fourth time in the last 6 months, successfully carried out test launches of the Bulava ballistic missiles. "The demonstration of excellent combat skills by the crew has already become traditional," said a spokesman for the Ministry of Defense.
State tests of sea-based ballistic missiles "Bulava" were launched in 2004. Of the 18 tests carried out as part of the test program, 11 launches were considered successful. For testing the most successful was the current year. All four launches made with "Yuri Dolgoruky" were successful.
Prior to this, the launches were carried out from the board of the heavy rocket submarine of strategic purpose "Dmitry Donskoy", the 941 project of the UM "Shark" modernized for this project.
The Ministry of Defense of Russia has stated several times that a positive result of the salvo launch will be decisive for adopting both the Yury Dolgoruky and the Bulava. According to the standards of flight test design procedures for rocket complexes of this type, salvo launch is decisive and final.