A pair of Russian rocket engines successfully passed fire tests at the launch site in Virginia, reports
press office
NPO Energomash.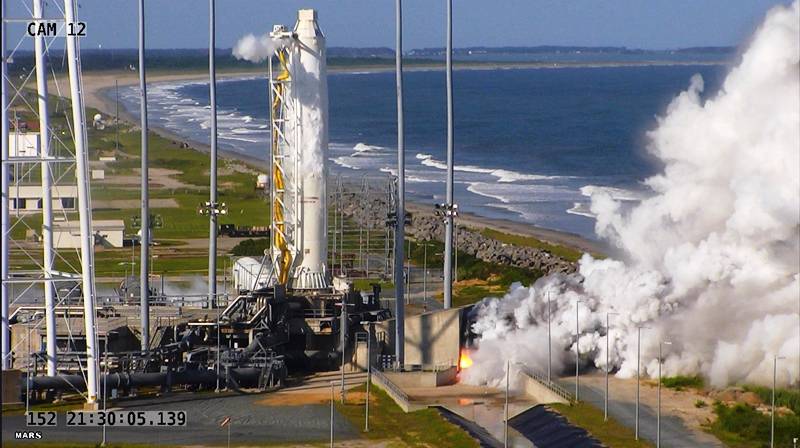 "On the night of 01 June, 2016 Moscow time, for the first time, a bench test of the first stage of the Antares (" Antares ") Orbital ATK corporation with two RD-181 engines was conducted. The tests, which lasted 30 seconds, were carried out at the launch site of the Mid-Atlantic Regional Space Center (MARS) (Va., USA). A preliminary analysis of the data shows that the tests were successful. All engine systems have worked properly. The test program is fully implemented ",
says release.
It is noted that "the fire test task was to test the functioning of the integrated first stage of the Antares LV, including the RD-181 engines, the upgraded first stage design, the onboard radioelectronic equipment, the thrust vector control system, and testing the fueling system in operation."
During the tests, the following was performed: "a full cycle of refueling, a set of starting readiness, giving commands to ignite and stop the engine, as well as work at several levels of thrust, including full engine power. In addition, the testing of the launch pad, including fuel tanks and the use of a water curtain system to protect the launch pad from damage, as well as to suppress noise, was tested during tests. "
According to Igor Arbuzov, General Director of Energomash, "the creation time of the RD-181 for the Antares launch vehicle from development to engine production was less than one year."
"Having accumulated many years of experience in creating LREs, we offered our partners a competitive product that combines quality, reliability, technical performance and price. I hope that the fate of the RD-181 will be no less successful than that of its predecessors, "added Arbuzov.
Help press service: "
The RD-181 engine of JSC NPO Energomash named after academician V.P.Glushko has been developed and certified for use in a wide range of operating modes. This is a closed-cycle mono-chamber liquid-propellant rocket engine with afterburning of oxidizing generator gas. Fuel - kerosene, oxidizer - liquid oxygen. "