Today (June 1, 2016), the Russian military transport celebrates its 85th anniversary
aviation
. Currently, the BTA is an integral part of the Aerospace Forces of the Russian Federation. The aircraft fleet of the VTA of Russia is aircraft capable of delivering goods and transporting personnel over long distances. The VTA fleet includes 12 types of aircraft, 20 of their modifications. The flight base of the Military Transport Aviation are such aircraft as the Il-76MD, An-22, An-26, An-124 Ruslan and others.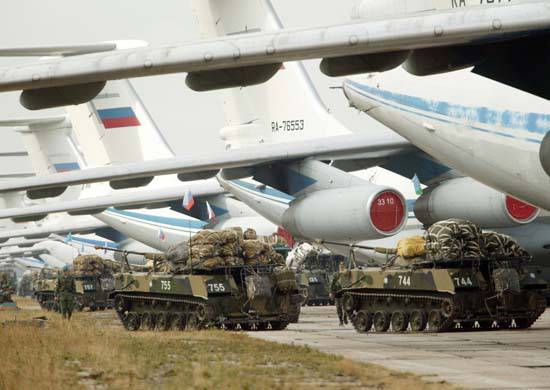 The appearance of the Military Transport Aviation in the USSR in 1931 was associated with the formation of a special kind of troops. Speech on the airborne troops. The leadership of the Armed Forces took care of the problem of the effective transfer of personnel to carry out landing on the territory in which the landing force must perform certain tasks - including tasks for activities in the rear of the enemy.
One of the first domestic aircraft that was used as an air transporter was TB-1 (aka ANT-4. G-1), which was mass-produced from 1929 to 1932 years and operated until the end of World War II. Moreover, it was exploited both as a bomber and as a transport vehicle for transporting personnel and even mined minerals.
It was on the basis of these aircraft, as well as on the basis of the multipurpose single-engine P-5 Taganrog aircraft factory, and the first experimental squadron of the future VTA was created. The formation of the detachment took place in the city of Ivanovo.
In the year of the BTA 85 anniversary, the Ivanovo Aviation Center of the Military Transport Aviation received two new aircraft for the first time in several years. We are talking about heavy aircraft IL-76MD-90А, which have a new all-metal wing, a reinforced cargo floor and a chassis of increased strength. In addition, the IL-76MD-90A is equipped with engines with high thrust-ratio and lower fuel consumption in comparison with previous versions - PS-90А-76. The supply of new aircraft is part of the rearmament program of the Russian army.
From statistics
Ministry of Defense of the Russian Federation
:
In the past winter period of training, the crews of the Military Transport Aviation performed more than 500 flight shifts, the total raid during which amounted to more than 25 thousand hours. During the first half of this year, more than 35 thousand troops and more than 45 thousand tons of cargo were transported. More than 53 thous. Military personnel were landed. At the same time, the geography of destinations extends from the polar base Barneo to the African continent.
"Military Review" congratulates the pilots of the Military Transport Aviation on the holiday!