Today, on the day of the protection of children, a mourning event was held in Lugansk dedicated to the memory of children who died as a result of Ukrainian shelling. "
Lugansk Information Center "
announces that the center of the events has become the city children's park named after Shchors. Residents of Lugansk laid flowers and wreaths to the foundation stone of the future monument, in which dozens of children's names and surnames. All these children became victims of the ambitions of the Maidan authorities of Ukraine, who plunged the country into the chaos of civil war.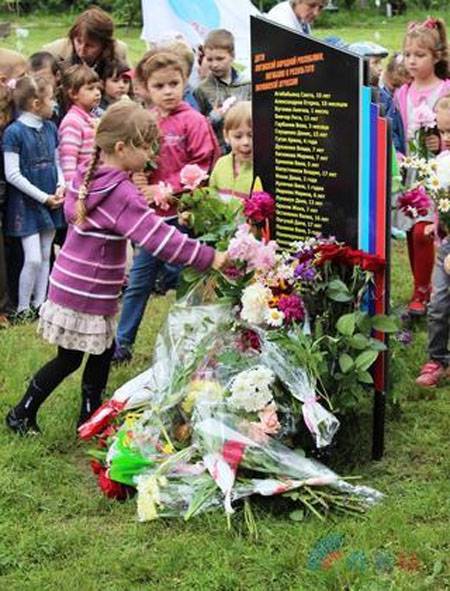 The organizers of the action in memory of the dead children were the representatives of the movement "Peace to the Luhansk region".
From the statement of the deputy head of the administration of the head of the Lugansk People's Republic, Marina Filippova:
Today is Children's Day. June 1 is always in our memory and in our life was associated with the beginning of the summer, with children's holidays, with joyful laughter. But, unfortunately, two years ago, Donbass learned what war is. Literally tomorrow, 2 June, we will remember those days when the first air strike was inflicted on Lugansk. As a result of Ukrainian aggression, unfortunately, children have died, which we cannot but remember and do not remember.
The deputy of the Republican People's Council of the LPR, Dmitry Sidorov, noted that today it is important to make Kiev think about how many lives these attacks took. According to him, it is also important that children living in the Luhansk region never again learned what it means to live under the ruptures of mines and shells.