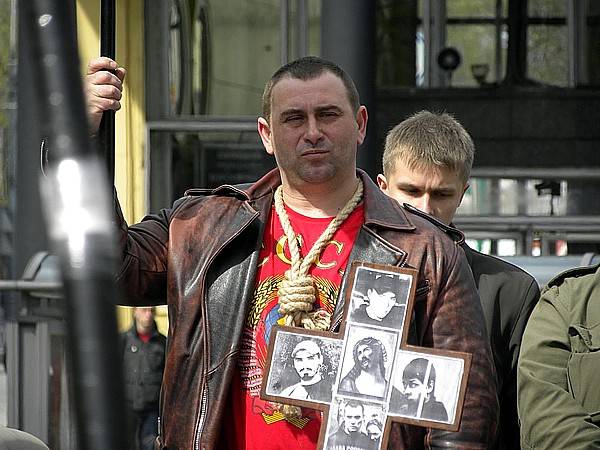 You can leave the swamp cross, and you have to take off the T-shirt ...
Pan Kucherenko, known in the world as Maxim Kalashnikov, a few days after I wrote the text Farewell, Strelkov! I woke up, became indignant and set up my answer Farewell, Kassad!
Then I realized that I was lazy and urgently renamed, but the search engine cache already remained. It's difficult, probably, to be a drug addict - all the time you confuse Rogers and Rozhin, Hegel and Gogol, Babel and Bebel, Sarah Bernard and St. Bernard, bagels with stews.
It was difficult to isolate meaningful fragments from this stream of unconscious delirium to answer, but I tried. Since the structure of Kucherenko's text is ragged, consisting of weakly intertwined "spittle", then the answer will be in the thesis-counter-thesis format.
Kucherenko: The current time has shown who is who. It blew off the masks and separated the people from the shit.
Rogers: And they collected all the crap on the January 25 Committee.
Kucherenko: Rogers accused me of being "stuck in the 90's" and not praising the regime's "unprecedented success"?
Rogers: I asked for someone to praise somewhere? Where? Just a fairy tale about "Russia will fall apart in a month" I have been reading for nine years (and you write them and even more). And yet your dreams will not come true.
Kucherenko: Rozhin, I'm not a propagandon like you, and I travel both in factories and in regions. And I perfectly see what kind of ass the Kremlin has driven both regions and Russian industry.
Rogers: Well, here "Rozhin" forgot to correct. Uzi, you'd better confirm your delusions.
I also travel by region. And you know what I see? New sports grounds in the courtyards, new kindergartens, the lack of skinheads in jeeps and so on. New enterprises are opening all the time, food production has become a plus and has begun to export. Russia has again become the leader in wheat trade. And overtook the United States in space. Open the site "Made by Us" at least once, rejoice for the country!
Kucherenko: I, unlike Rogers, take noodles from my ears and myself have shown many times how the current government profukalno oil and gas trillions and plunged the Russian Federation into the current systemic crisis.
Rogers: What is the crisis? Is that degree of autarky increased? In the fact that they began to produce more high-tech products?
Kucherenko: The situation in the industry of the Russian Federation is worse in a number of positions than under Yeltsin.
Rogers: Such loud statements by normal people are confirmed by statistics. But not Kucherenko.
Kucherenko: You, jesters and flatterers for the master's ration, don't you see how the Kremlin threw the Russians of Donbass (and the whole of Novorossia) under a tank, to hell?
Rogers: When was the last time you were in New Russia? Never? And I was, and repeatedly. And we have guys-military officers (and not only boys - hello Anna Dolgareva!) They are constantly sitting there, as in Syria, where you have never been too.
Today, life in LDNR is objectively better than on the remnants of Ukraine. Salaries and pensions are still low (recently, by the way, slightly increased), but the communal apartment is very low, and crime is much lower than in Kiev itself.
And with regards to the war-so we will win, if you do not arrange us Maidan in Moscow.
Kucherenko: You do not want to admit the futility of the Syrian adventure?
Rogers: Only a complete moron can write this. Or the propagandon of the Russian Maidan, working for the State Department.
In Tartus, the base of the Russian Navy. If ISIL had killed Assad, then we would have lost it. Further LIH would go into the soft underbelly of Russia, in our Central Asian republics. The next step would be to build a gas pipeline from Qatar to the EU, after which we would lose advantages on the gas market in Europe - at least gas would be cheaper, and the Russian market share would be significantly reduced. Again, the instrument of pressure on European politics would be lost.
But Kucherenko-Kalashnikov like when Russia surrenders allies. He would like to return to that glorious time when Yeltsin surrendered Milosevic.
Kucherenko: The Great Soviet Union was created primarily by the efforts of the Russians (Great Russians, Little Russians and Belarusians), and not by chocks.
Rogers: I'll answer better here.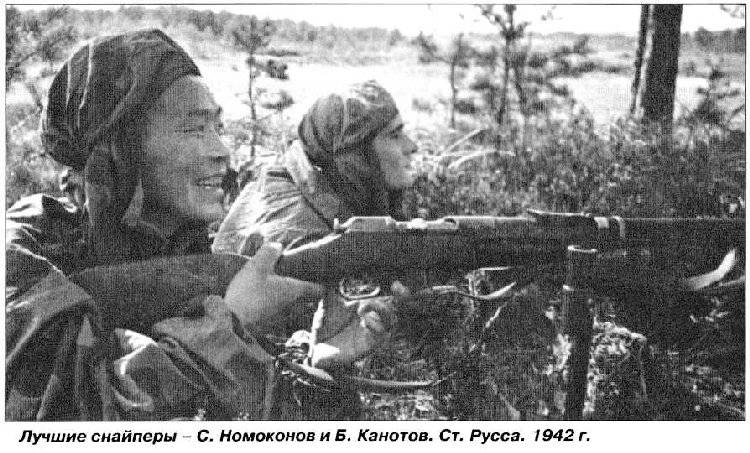 Kucherenko: In my books, respecting the USSR, I expounded the ideology of the Third Force, national futurism, and clearly wrote that the USSR could only be saved by abandoning idiotic internationalism (on Russian bones) and by adopting the ideology of general Russian imperial nationalism, crossed with bold futurism.
Rogers: Imperial nationalism is something impossible, a spherical Kucherenko in a vacuum. As Denikin used to say, "Russian is not the one who bears the Russian surname, but the one who loves Russia and considers it to be his fatherland." Here Denikin was an Imperial, and Kucherenko was a cheap populist and demagogue who had nothing in common with imperialism.
Kucherenko: In the future Great Russia (USSR-2), I need only Great Russians and indigenous peoples of the Russian Federation, Little Russians, Ukrainians and Belarusians.
Rogers: Let's prove it in practice. Outside my window in the mornings the street-janitor-Uzbek cleans the street. Will you go replace him in this workplace? Salary is low, but in the open air. Once the Uzbeks have no place in your Russia, then someone will have to do their work. Maybe you? Or is this occupation not for the great ideologist Kucherenko, but for simple Russian boys, but "second-class Russians"?
Kucherenko: To me, not a communist, but a national-futurist, is closer to Jack London's philosophy - about the indomitable and strong white man.
Rogers: You poorly taught the biography of Jack London. London wrote about the "indomitable white man" while he was young and stupid. When he got wiser, he began to write "Iron Heel" and other social works.
Kucherenko: Do ​​you blame us with the word "Russian" in the declaration? If you are afraid to be called Russian and have adopted the nickname "Russians" - these are your problems.
Rogers: No, I blame the declaration that in Russia over seventy small nations live on an equal footing, and you are trying to create a Nazi state, where some Russians (by blood) will be more equal than other Russians (in spirit).
You see, when your ancestors sowed buckwheat under the Polish panami, the ancestors of my Tatars from Kazan helped liberate Moscow from the False Dmitry's troops. And now you come so beautiful from Ashgabat and say, "You didn't stand here, I will determine who is a Jew in my department."
How are you going to determine the degree of Russianness, bruised? Blood test? And issue certificates: 70% Russian blood, 56% Russian blood? Have you been a long time head on hard surfaces?
Kucherenko: I am a Russian of the Little Russian branch, and I am proud to be Russian. From my own name I do not deny you.
Rogers: Said Vladimir Kucherenko, writing under the pseudonym "Maxim Kalashnikov." No comments.
Kucherenko: With Prosvirnin on the socio-economic course, we are irreconcilable opponents. I think the nationalism is national liberalism and I see its rottenness in the economy. But on political points ... I completely agree with Prosvirnin.
Rogers: Well, yes, this is clearly not the political principle of Lenin, who said, "Before we unite, we must decisively disengage." Ban Kucherenko is ready to be friends with anyone, if it increases his chances of getting into power. Though on three chairs to sit.
Kucherenko: I consider "satellite-lofty" anti-Sovietism and ultracapitalism, as well as their social Darwinism, the "ideology" of office-flaton vunes, who have not yet seen their lives. But if they propose to do away with ethnocracies in the Russian Federation, spreading Russians, then I will support them.
Rogers: You're some kind of fixated. You Tatar girl threw? And you, as a physiologist Pavlov, "grew and did not forget"? I am with the social Darwinists, ahem, I will not sit in the same room. But the principle of Kucherenko's principles is only obsession with "chocks", and economic liberalism is acceptable.
Kucherenko: In addition, I advise you to learn from Prosvirnin a business acumen and ability to raise funds in support of Donbass Novorossia.
Rogers: Well, our people also collect aid from New Russia, but they simply do not promote themselves, as Prosvinkin does.
Kucherenko: And do not call Prosvirnin "Natsik"! If Yegor is a Nazi, then I am a ballerina.
Rogers: Well, so we are waiting for your performance in a pack, because he is a Nazi. The creature that claims that "95% of Russians are racially inferior, therefore they must be disposed of" is a classic Nazi.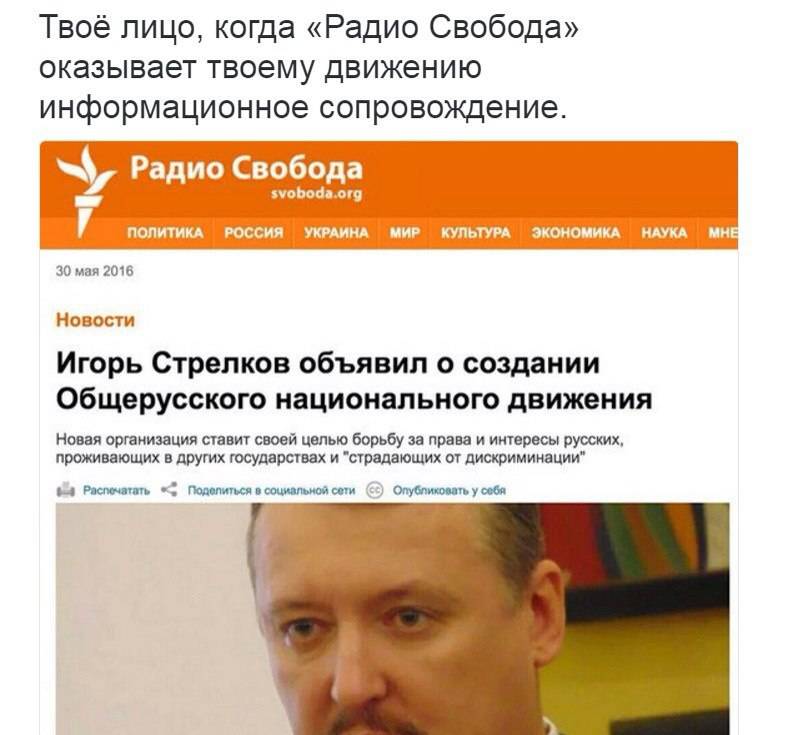 Kucherenko: Besides, he is a social Darwinist, and the Nazis, for all their enormity, were completely socialists for the Germans.
Rogers: In all definitions of Nazism, that in ours, that Eco has, it is clearly written "Nazism is necessarily an elitist ideology." The Nazis scorned their own proletarians in the same way as foreigners. Plus, they acted solely in the interests of large capital (both industrial and banking). Where is socialism in this? That is, you also do not possess the basic political science theory.
Kucherenko: If the movement of strelkovtsev begins to turn into a party, then I will not join it - because I am already a member of the Cause Party (the party of adherents of Russian industrialization). I will remain a strong ally of Igor Strelkov and a member of the coordinating committee.
Rogers: This is "sitting on all the chairs," which I already wrote about.
Kucherenko: And for every Rogers I will specifically show you how the state, headed by normal nationalists, works. In present-day Hungary ...
Rogers: What place does Hungary occupy in terms of the standard of living in Europe? Third or fourth from the end? Great landmark!
Kucherenko: And now count, sycophants and propagandons like Rogers, how many families of the dying Russians could be provided by sending money not to the stupid, senseless Olympiad in Sochi (which you admired so much), but to a similar program?
50 billion dollars buried in Sochi is a "kiss" for 16 of millions of Russian families (by adopting a special resolution on overcoming the democratic crisis of the state-forming people). 16 million families! 48 million kids over 10 years!
Rogers: It would be nice to start with a quote where I admire the Olympics in Sochi. You will find - I will give you a thousand dollars, buy yourself a new T-shirt in exchange for the Soviet one. For the emblem of the USSR such Natsik wear unworthy.
And now I will tell you how it turns out in practice: all drunks and drug addicts start to rivet children solely for economic incentives. But since they don't care about these children, children grow up in appalling conditions, no one deals with them, so they grow up sick (because parents thump and prick) and stupid. Kucherenko needs voters, and smart on his nonsense are not maintained. Therefore, you give 48 millions of imbeciles for 10 years!
Kucherenko: And this is what policy we will pursue when we become power. To hell with Syria and the Olympiad! The main thing is the life of our people and its strength.
Rogers: In general, "in Syria, a catastrophe, because Kucherenko did not give the parent capital." It was worth a fuss venture. Well, give your Yandex-wallet, we will throw off ...
Kucherenko: And now about the "crushing successes" of your idols, rogers. Open a fresh "Expert" for 30 May-5 June 2016.
Rogers: Never read the liberal press before dinner. Become like Kucherenko.
Kucherenko: I have nothing against growth in the agricultural industry. But it must be accompanied by growth in knowledge-intensive industries and in the processing industry.
Rogers: Tell us about idol Ilona Max and his achievements. You're a hipster, Volodya-Maxim, and therefore must be dragged from him. New Vostochny Cosmodrome? No, I have not.
Kucherenko: Because I am in the same line as Igor Strelkov. We know how the current systemic crisis will end. Unlike you, enticing and honor lost creatures.
Rogers: Yeah. I am familiar with "analytics" from Strelkov. The Ukrainian army is the worst in the world, Donbass was leaked two years ago (but it does not merge), Assad will fall in Syria last year, and so on. So far, none of your predictions - neither yours, nor Strelkova, much less Nesmiyana - has come true. You are classic tantrums.
That's just no Maidan in Russia will not be-neither liberal nor "patriotic" or hysterical. Do not even hope.
Sorry, Kucherenko, but this lad with a rifle is much closer to me than the "Russian" Nazi Kucherenko, whose place is next to those boys from the Third Reich that you praise.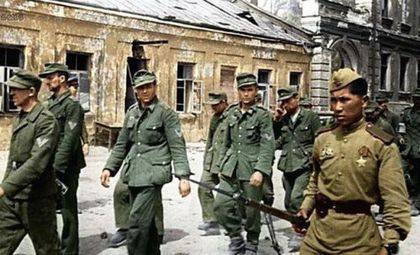 As I like to say, "The Nazi hysteria satisfied."