Internet resource
Protect Russia
posted photos of the new version
tank
T-72, designed for urban combat, which will be presented at the KADEX-2016 exhibition in Kazakhstan.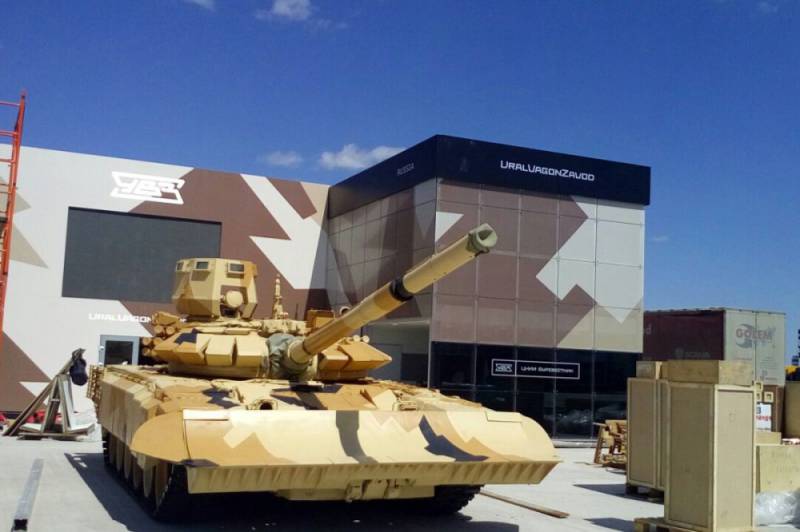 It is reported that "the machine is equipped with a new fire control system with a multichannel gunner sight" Sosna ", a new stabilizer with an electromechanical drive, a modernized 2А46М gun, modified for automatic missile firing."
The tank is "equipped with a" bulldozer "blade for clearing obstacles and barricades, as well as a" birdhouse "- an armored cabin of the tank commander to monitor the environment in battle and firing from an anti-aircraft machine gun," the article notes.
"We made this cabin with windows so that it had a circular view, but it was all closed, there was mainly bullet-proof booking," says the publication of the deputy general director of Uralvagonzavod, Vyacheslav Khalitov.
The tank was developed based on the experience of military operations in Syria and other hot spots.
"If you look closely at the armed conflicts in the world, basically the war is in the cities, no one is fighting in the open, because this is, in fact, instant destruction," said Halitov.
"And in the city, and in general in urban areas, you can fight quite successfully. Therefore, making an analysis of Syria, the wars in Iraq and in the Middle East in general, we came to the conclusion that we could make a set of special additional protective equipment that can be installed on the machine at the right time and be more effective in urban conditions, "he added.
According to Khalitov, "the car received a new 1000 engine with horsepower and an automatic transmission, just like on the T-90 tank."
"The tank is hung with dynamic protection modules from all sides. In addition, it is planned to install lattice screens, which should "cut" the cumulative jets of reactive anti-tank grenades and guided missiles, reducing the impact power of this type of ammunition, "he said.
The machine is also equipped with equipment that suppresses radio-controlled explosive devices.