Taganrog airline them. Beriev (part of the KLA) launched the first production aircraft Be-200HS, reports
press office
United Aircraft Corporation. Previously, such machines were assembled at the Irkutsk aircraft factory.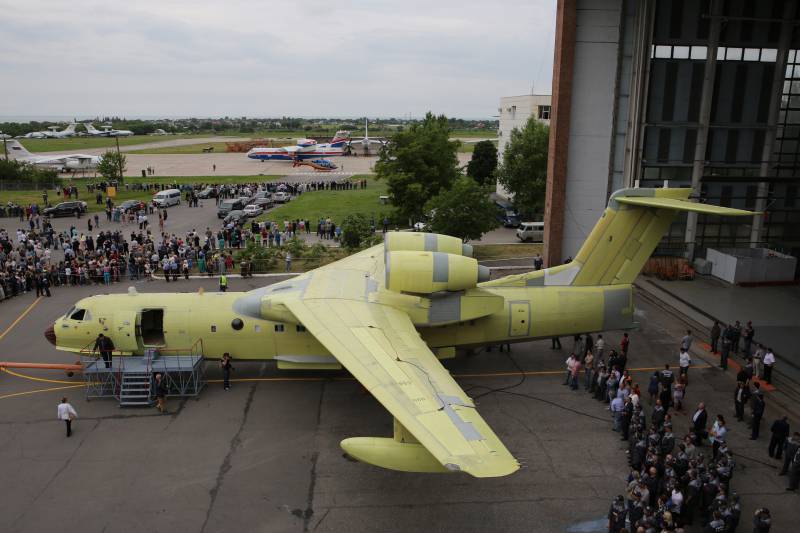 "For the serial launch of the Be-200CHS on the TANTK them. G.M. Beriev created a new high-tech production, purchased equipment, modernized production lines and workshops, updated the production base for the manufacture of composite structures, recruited and trained staff, "the release says.
"We are present at the second birth of an aircraft that is extremely necessary and demanded, which was confirmed by successful operating experience and examples of use during emergency situations in Russia and abroad - in Greece, Portugal, and France. They are interested in aircraft in Indonesia, "the press service of the head of the KLA, Yuri Slyusar, quotes.
He noted that "on the basis of operating experience and at the request of customers of the Emergencies Ministry of Russia and the Ministry of Defense of Russia, significant changes were made to the design of an amphibious aircraft; the aircraft was updated more than 50 percent in the equipment."
According to Slyusar, "The Be-200ЧС possesses a reinforced airframe design, in the interests of the department its typical design has been changed and the possibility of hanging the rescue equipment under the wing has been added."
Help press service:
"The Russian amphibious aircraft, the Be-200HS, is the only jet amphibian in the world, which provides undeniable speed advantages in extinguishing fires. The aircraft has a high performance by the number of water discharges in one hour. At a distance of "airfield - fire" - 100 km and "airfield - reservoir" - 10 km for one refueling the aircraft is able to dump on the fire to 270 tons of water. The main advantage is that it is multifunctional and can be used to extinguish fires, rescue people, as well as the military to patrol the area. "