On the eve of the newspaper "Vedomosti" in the section "Macroeconomics and Budget" published
material
Margarita Papchenkova and Aleksandr Prokopenko, who talks about the meeting of the top economic council under the president of Russia. This session was attended by economists of a wide range of views (from Glazyev to Kudrin), which, as it were, should have provided opportunities for finding optimal solutions aimed at stimulating the domestic economy. The discussion, apparently, was from the category of hot. Official information about the results of this meeting is rather scarce, however, according to the sources cited by Vedomosti journalists, the controversy was more than active.
One of those persons who made their proposals regarding the methods of stimulating the Russian economy was actually referred to Alexei Kudrin, who was returned to the economic segment of state institutions. That same Alexei Leonidovich Kudrin, whose name has recently spawned a new economic term - Kudrinomics. This term can be described as an irrepressible desire to send almost any super-profits (or even just incomes) of the state to the "jug" with the words: "for a rainy day". Whether 50 oil is worth dollars per barrel or 120 is not so important for kudrinoomics ... It is important that "egg-cap" is, first of all, and no special expenses, even if these expenses are used to stimulate strategic industries. Thus, even the financing of the modernization of the Russian army and the entire system of the domestic defense industry, Alexei Leonidovich Kudrin, was taken almost in hostility. They say that it is impossible to spend from the "egg-bowl", because a) "Russia has no enemies" and b) "what if a crisis?" As a result, it turned out that Russia has enemies, and that their number is not fundamentally related to whether the crisis is backyard or not a crisis.
That's just a strange thing, Mr. Kudrin and today demonstrates the belief that with the presence of ill-wishers Russia goes too far. Like, no one around us wants to harm us, and we ourselves are intimidating ourselves here with the expansion of NATO and the exploitation of the American missile defense segments in Eastern Europe ... It was we ourselves who came up with the threat of deploying a NATO military contingent in the Baltic States, reinforced
aviation
and armored vehicles ... And this is all purely "peaceful" programs of "great friends of Russia", which "do not threaten Russia in any way". And even if they threaten us, it is our own fault - we had to behave in such a way that our Western partners could please and not make them angry for nothing ...
During the meeting of the Economic Council under the President, the aforementioned Alexei Kudrin repeatedly said that the growth of investment in Russia implies a completely different Russia, which is today. Further, "pardoned" Kudrin directly addressed the President of the Russian Federation, stating that he should carry out a certain revision of Russia's foreign policy relations and "reduce geopolitical tensions" (this is a quote).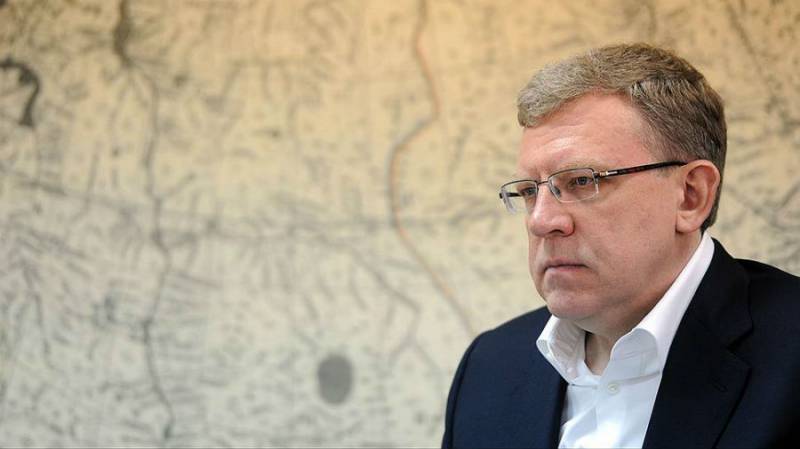 According to the ex-finance minister, "Russia is technologically lagging behind, and it needs to integrate into international technological relations, at least on second roles." Until that time, as to submit a presidential response to this tirade, Mr. Kudrin, allow myself to comment.
Russia, of course, does not claim to be called the flagship of the world of technology, does not require to call itself an industrial leader. Our phones are mostly Chinese, most of the cars are assembled not without the participation of foreign components, there are big problems in the field of microelectronics. All this is yes ... But ... How can all this today be due to the presence of geopolitical tensions? Or, in the epoch of Mr. Kudrin's being in the chair of the head of the Ministry of Finance, when such tensions didn't seem to show up, was Russia technologically sovereign? We all spoke on Russian mobiles, used Russian computers with Russian software, didn't we buy foreign medical equipment? So what? ..
When the "partners" squealed about their relative loyalty, Russia and managed to get hooked on a constant increase in dependence on foreign technologies and foreign components. It was then that we suddenly found out that it's "unprofitable" and generally "stupid" to grow your apples and potatoes - it turns out that it is easier to buy them from Turkey, Poland or Israel for petrodollars. It was then that a total dependence on the cost of energy was formed, when government officials thought only about where to stuff super-profits from the sale of oil and gas, without worrying about the diversification of the economy. And Mr. Kudrin was at the financial and economic helm exactly at that time - during the growth of the Eurodollar volumes and during the time when all strategic projects were still cut on paper, so as not to reduce the level of savings (in fact, investment in the debts of the United States).
Yes - Russia has a lot of technological problems. However, to call the country "technologically backward" against the background of the fact that the "technologically developed" are not building new cosmodromes, cannot deliver their cosmonauts (astronauts) without Russia's help to orbit, is still a certain search. Russia is well aware of its problems, but "it's not going to be built anywhere at least on the sidelines," as required by Mr. Kudrin. Not that we have the mentality to hope "at least for the second role." If the "second roles" is the credo of Mr. Kudrin, then he hardly needs to work in the state structures of a country like Russia. Perhaps, today's Ukraine would be better suited there ... at least for third, at least for thirty third roles - if only they put a cookie in their mouth in the form of a new loan, which no one is going to repay anyway ...
Now about the answer to Mr. Kudrin from Vladimir Putin. According to the president, if Russia is somehow lagging behind, then this is not a reason to trade in its own sovereignty, given the country's existence
stories
. Putin declared that he would defend this sovereignty "not only while he was president, but also until the end of his life."
Pathetic, but convincing.
It is another matter that Mr. Kudrin did not himself appear in the expert economic council with his "dissenting opinion". It was introduced there by Russian President Vladimir Putin. If introduced for the purpose of activity in contrast, then this one. And if in order to nevertheless listen to the "guru" of kudrinoomics and accept his opinion as a guide to action, then this is quite another. It seems that the nearest geopolitical decisions will already show what is more important for Russia today - sovereignty or hard gingerbread from the "partners"? ..