At the ongoing forum "Atomexpo-2016" the head of the Russian Federal Nuclear Center, located in Sarov, Valentin Kostyukov made a very loud statement. According to him, based on the All-Russian Research Institute of Experimental Physics, by the end of 2017, the first phase of the world's most powerful laser facility will be launched in Sarov. Particularly noteworthy is that in the newest high-power laser setup, 95% uses domestic technologies. Valentin Kostyukov did not report the percentage of domestic components.
RIA News
referring to RFNC-VNIIEF reports that the UVL-2М installation is intended for conducting fundamental research in the field of high-energy density physics. The energy of the Russian laser machine in 2 is more than twice the French and American counterparts (4,6 MJ versus 1,8-2 MJ output energy for US and French facilities).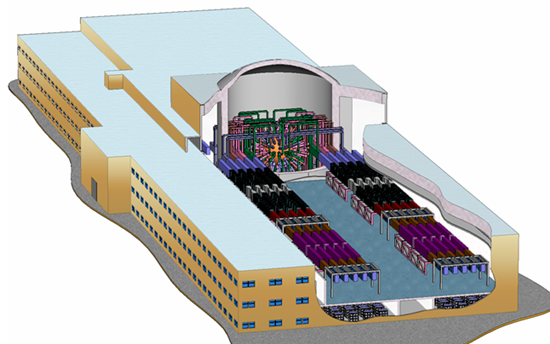 The dimensions of the installation are more than impressive: its height is approximately equal to 30 m, the area is almost two football fields.
In fact, the new laser installation has a dual purpose. In addition to the use of UFL-2М in the field of civil energy, the installation has certain possibilities for creating special types
weapons
(including thermonuclear). The power of the installation allows you to carry out the most ambitious experiments, and a few degrees of safety minimize the risk during development.
Companies from the countries of South-East Asia, Latin America, Europe and Africa participate in the VIII international forum "Atomexpo" held in Russia. The main purpose of the event is to strengthen cooperation in the development of nuclear energy.