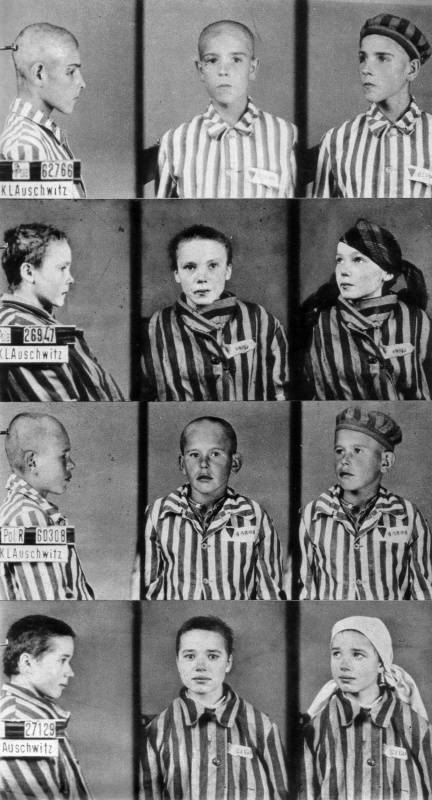 Most of the children in the Red Coast camp did not linger long: their blood was needed in the west. In covered canvas machines they were sent to other camps. The closest is Salaspils. This concentration camp was created by the Nazis in 1941 year in the territory of Latvia. Children from Belarus, the Pskov and Leningrad regions, captured during punitive operations, were brought here.
The official name is Salaspils expanded police prison and labor education camp. There were juvenile prisoners who the Nazis used in their medical experiments. During the three years of the Salaspils camp, more than 3,5 thousand liters of children's blood was pumped out. Often juvenile prisoners became "full donors." This meant that they took blood from them until they died. The corpses were destroyed in crematorium kilns or dumped into utilization pits. In one of them, a German woman accidentally found Zina Kazakevich, a barely breathing Belarusian girl: after another blood sampling, she fell asleep. She was considered dead. She woke up already in the house of a compassionate German: frau passed by the utilization pit, noticed a stir, pulled out a girl and left her.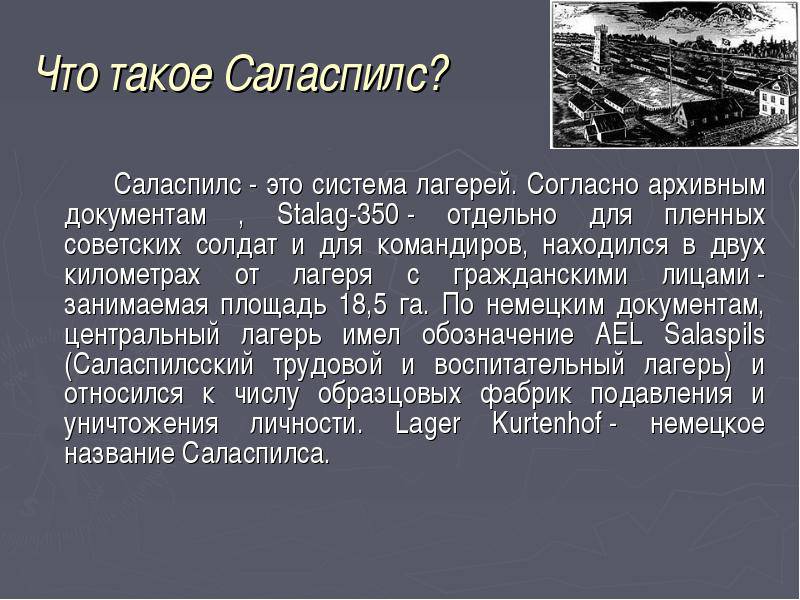 Matsulevich Nina Antonovna recalls: "When the war began, I was six years old. We very quickly matured. Before my eyes - a few motorcycles, machine gunners. It became scary, and we immediately ran to my mother in the hut. We tried to escape from the police raid, mom hid us in a vegetable pit. At night we left. We wandered around the wheat field for a long time, hoping to find at least someone I knew. Nobody thought that the war would be so long. And the Germans found us in the forest. They attacked us with dogs, pushed machine guns, led us onto the road and led us to the railway station. Heat. I want to eat. I want to drink. All tired. By evening, the train arrived, and we were all shoved into the car. No toilet. Only on the right side of the car was some kind of small hole cut out.
We drove endlessly. So it seemed to me. The composition stopped all the time. Finally, we were told to leave. Caught in the camp of the city of Daugavpils. They put us in the cameras. Where from time to time they snatched and brought back seventeen-year-old girls beaten, wounded, exhausted by violence. They threw them on the floor and did not allow anyone to approach.
Our younger sister Tonya died there. I do not remember exactly how much time has passed - a month, a week. After some time, we were again taken to the prison yard and pushed into cars.
We were brought to the Salaspils camp. The Germans informally called it the "blood factory." Officially - educational and labor. So the Germans christened him in their documents.
But what kind of labor education in children can we talk about when there were children of three and even infancy age!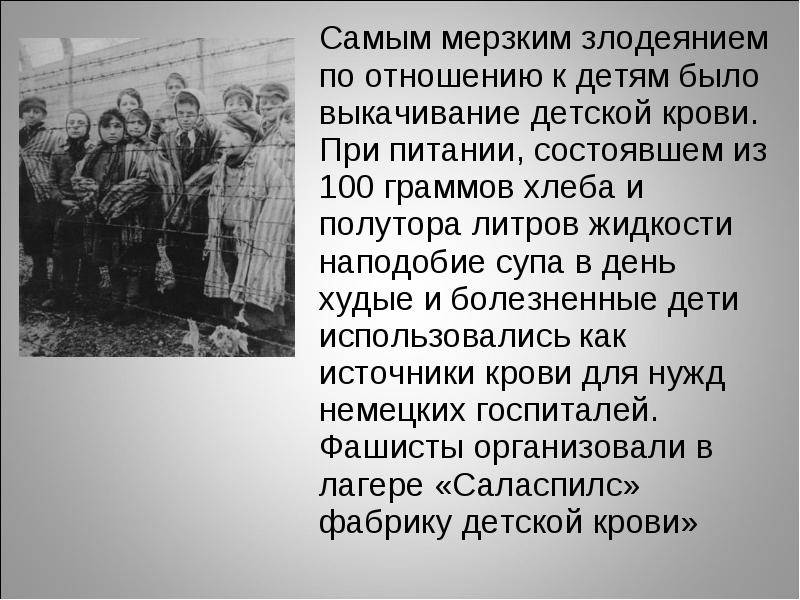 We were given tokens on our necks; from that moment we no longer have the right to give our names. Only number. We did not stay long in the barracks. We were built on the square. They identified and took my two sisters by tags, took them and took them away. After some time, they built us again on the square and took my mom again according to numbers. We are left alone. When they took my mom, she could not go. She was led by the arms. And then they took her arms and legs, loosened up and thrown into the body. Also done with others.
They let us out for a walk. Of course, I wanted to cry and scream. But we were not allowed to do this. We still held on to what we knew: there are barracks behind our barracks, where prisoners of war are our soldiers. We will quietly turn our backs on them, but they quietly said to us: "Guys, you are Soviet children, be patient, do not hang their noses. Do not think that we are abandoned here. We will be released soon. Believe in our victory. "
We recorded in our hearts that we should not cry and moan.
Today I have one girl from the Saratov school №23 gave me this poem:
The eyes of a girl of seven,
Like two faded lights.
On the child's face more noticeable
Big, heavy melancholy.
She is silent, what you will not ask her,
Kidding with her - silence in response,
As if she was not seven, not eight,
And many, many bitter years.
When I read this poem, I cried for half a day, I could not stop. It was as if this modern girl had peeped into the hole, what it was like to survive for children torn off, hungry, without parents.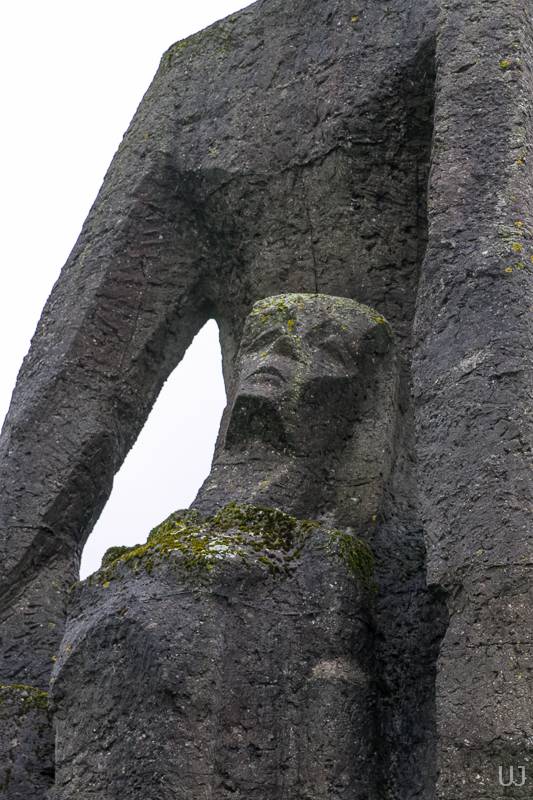 And the worst thing was when the Germans entered the barracks and laid out their white tools on the tables. And each of us was put on the table, we voluntarily stretched out a hand. And those who tried to resist, tied. It was useless to shout. So they took blood from children for German soldiers. From 500 grams and more.
If the child could not reach, they carried him and took all the blood already mercilessly and immediately carried him out the door. Most likely, he was thrown into a pit or crematorium. Day and night it was smelly, black smoke. So burned the corpses.
After the war we were there with excursions, it still seems that the earth is groaning.
In the mornings, a Latvian female matron, a tall blonde in a cap, in long boots, with a whip came in. She shouted in Latvian: "What do you want? Black or white bread? "If the child said that he wanted white bread, he was pulled off a drug - the warden beat him with this whip until she lost consciousness.
Then we were brought to Jurmala. It was a little easier there. Though there were beds. The food was almost the same. We were taken to the dining room. We stood at attention. We did not have the right to sit down until we read the prayer "Our Father", until we wish Hitler health and his quick victory. Often we came across.
Every child had ulcers; if you scratch, the blood goes. Sometimes the boys managed to get salt. They gave it to us and we cautiously with two fingers, carefully squeezed these precious white seeds, and with this salt they began to rub this sore. You do not pikesh, do not groan. Suddenly the teacher is close. This will be an emergency - where they took the salt. The investigation will begin. Beaten, be killed.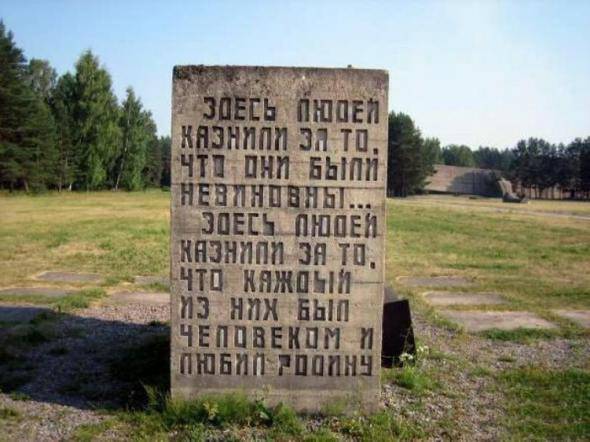 And in 1944, we were released. 3 July. I remember this day. Our teacher — she was the nicest, spoke in Russian — said: "Get ready and run to the door, tiptoe so that there will be no rustling". She led us away at night in the dark to the bomb shelter. And when we were released from the bomb shelter, everyone shouted "Hurray." And we saw our soldiers.
We began to learn to write the letter "a" on the newspaper. And when the war ended, we were transferred to another orphanage. We were given a garden with beds. Here we began to live in a human way.
We began to take pictures, find out where someone was born. And I did not remember anything. Only the name - the village of Korolev.
Once we heard that Germany had capitulated.
We soldiers raised under the arms and threw up like balls. They and we cried, this day gave us, very many, life.
We were given papers: we were assigned to the first category of victims. And in brackets it was indicated - "medical experiments." What did the German doctors do to us, we do not know. Maybe some drugs were injected - I do not know. I know only that I'm still alive. Our doctors wonder how I live in the complete absence of the thyroid gland. I lost it. She was like a thread.
But I could not find out where I was born exactly. Two girls I knew were taken from the orphanage. I sat and cried. The girls' mother looked at me for a long time and remembered that she knew my mother and father. She wrote my address on a small piece. I pounded on the door of the teacher with my fists and kicked out: "Look where I was born."
And then I was persuaded to calm down. Two weeks later, the answer came - there is no one alive. Woe and tears.
And my mother was found. It turns out that she was hijacked to Germany. We began to gather in a bunch.
I remember my meeting with my mother in every detail.
Somehow looked out the window. I see a woman walking. Tanned. I shout: "Mom came to someone. Today will be taken away. " But for some reason I was all shaken. The door to our room opens, the son of our teacher comes in and says: "Nina, go, they sew a dress there".
I enter and see near the wall, a woman sits on a small stool near the door. I passed by. I go to the teacher, who stands in the middle of the room, approached her, pressed herself. And she asks: "Do you recognize this woman here?" I answer: "No."
"Ninochka, daughter, I'm your mother," Mom could not resist.
And my legs refused, like cotton steel, wooden. They do not listen to me, I can not move. I press to the teacher, I press, I just can't believe my happiness.
"Ninochka, daughter, come to me," the mother calls again.
Then the teacher brought me to my mother, put me side by side. Mom hugs, kisses me, asks. I told her the names of brothers and sisters, neighbors, who lived next to us. So we are finally convinced of their relationship.
My mother took me from an orphanage, and we went to our homeland, Belarus. There was a terrible thing going on. On the outskirts of our village was talk. There was threshing grain. So the Germans gathered all the inhabitants who remained and did not run away like us. After all, people thought that the war would not last long and they survived the Finnish and First World War, the Germans did not do anything with them. They just did not know that the Germans had become completely different. They all residents driven them into the current, doused with gasoline. And those who survived from flamethrowers were burned alive. Some were shot in the square, forcing people to dig a hole ahead of time. So my uncle lost his whole family: his wife and four children were burnt alive in his house.
And we stayed to live. I have granddaughters. And I would like to wish everyone happiness and health, and also learn to love your Motherland. Properly.
The Nazis burned the archives, but those who saw their atrocities with their own eyes are still alive. Another prisoner of the camp, Faina Augostane, recalls: "They began to take blood from the children when we were all distributed among the barracks. It was scary when you walk in the fog and you do not know whether you will return back. I saw a girl who was lying on the aisle, she had a cut of skin on her leg. Bloodied, she moaned. " Faina Augustone is outraged by the official position of the current Latvian authorities, who claim that there was an educational and labor camp here. "This is a disgrace," she says. "They took blood from the children, the children died and were stacked in piles." I lost my younger brother. I saw that he was still crawling, and then on the second floor he was tied to a table. His head hung to the side. I called him: "Gene, Gene." And then he disappeared from that place. He was thrown as a log into a grave that was filled to the top with dead children. "
Labor camp - this was the official designation in the Nazi papers of this terrible place. And those who repeat this today repeat Nazi-Hitler phraseology.
Immediately after the liberation of Latvia in 1944, the Extraordinary State Commission to Investigate the Atrocities of the German Fascist Invaders was established on the basis of the Decree of the Presidium of the Supreme Soviet of the USSR. In May 1945 of the year, after examining only one fifth of the territory of the death camp (54 graves), the commission found 632 of the corpse of a child aged between five and ten years. The corpses were arranged in layers. And in all, without exception, in the ventricles, Soviet physicians found fir cones and bark, signs of terrible starvation were visible. Some children found injections of arsenic.
Newsreels of those years impartially show stacks of small bodies under the snow. The adults buried alive stood in their grave.
During the excavations, they found a terrible picture, the photo of which was then shocked by more than one generation and was named "Salaspils Madonna" - the buried mother, pressing the baby to her breast, alive.
There were 30 barracks in the camp, and the largest one was the children's.
The emergency committee found that about 7 000 children were tortured here, and only about 100 000 people died, more than in Buchenwald.
From the beginning of 1943, several punitive operations took place, after which the camp was filled with prisoners. Latvian punitive police battalions served in the German camp.
Instead of recognizing the black page
stories
, Latvia began its EU presidency by banning an exhibition in memory of the victims of Salaspils in 2015. The official Latvian authorities explained their actions in a rather strange way: the exhibition allegedly harms the country's image.
The goal is clear: firstly, the Latvian nationalists are trying to whitewash themselves because their role in the genocide of people is very large. "The population taken prisoner during the invasion of the partisan region is partially hijacked to Germany, and the rest are sold in Latvia for two stamps to landowners," the Red Army General Intelligence Directorate reported.
Secondly, Western countries now want to turn Russia from the victorious country and the liberator of the world from Nazism into an ally of Nazism. In spite of everything, the exhibition "Stolen Childhood" opened in the Russian cultural center in Paris.
However, Latvian officials still maintain that this camp cannot be compared with Buchenwald.
A living eyewitness to the tragedy, Anna Pavlova, having learned of this, says: "God forbid that these officials be tested that they claim the opposite. Do not let the Battle experience what children and girls suffered, for which the Germans specially singled out a separate hut and launched soldiers for comfort. The scream there was terrible. " God forbid!