Greetings to you, dear readers! Somehow imperceptibly in the turbulent flow of zradoperemog flew week. This is what, and it wasn't possible even to notice such a politically advanced patriot as Vyshivanok. Not to mention us, wormhole patriots.
You want, you do not want, but our main peremoga for today is Savchenko's return to our territory. Although the territory I have doubts crept here. I'll tell you in order.
One night my Tarakushka forced me to go with her to the local dungeon. Well, do not think that in jail or there, in the cellars of the SBU. For us, this "dungeon" in your opinion is called a pet shop. Prison for cockroaches - entrance yard. But the pet store, alas, is equipped with the latest. I do not even know who.
In short, pulling out brothers from other countries and continents is difficult. Plastic walls are tall and breathing holes are very small. Only we can, that I go there at night to dump. Humanism is called. Well, we are preparing the escape, when someone "to the zone" is sent to the new owner.
Here it means. We arrive at the "prison". We carry all kinds of food packages. Squatted on "cameras". Who support food. Who talk for life. And only after all we notice, and our Vyshivanka is not. Vyshivanok disappeared.
Searched, searched, and found. By screaming on familiar topics. It is our crazy near one of the cameras. Paws folded on his chest. Well, where our hearts are. And "Shche did not die ..." roars. And inside the camera is a black African cockroach in the same position and also bawling. From the side - a curved mirror in the "Room of laughter." When the mirror distorts you beyond recognition.
But most importantly, our coat of arms is painted on the wall of the camera. Only a thin one and framed by a laurel wreath.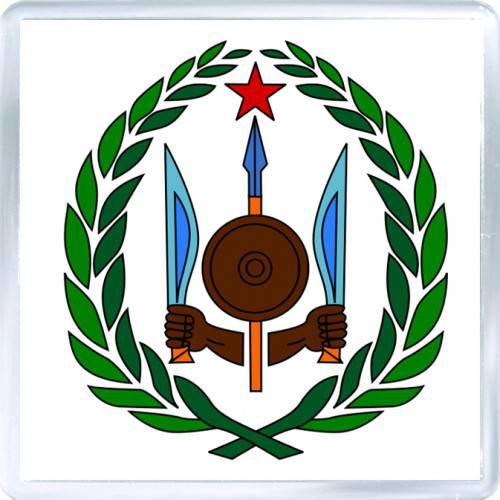 Both, therefore, look at this emblem and sing. With anguish so. With a tear in his voice. This is me about Vyshivanka. That, foreign, is not audible. Such a stereo song in mono performance.
Vyshivanok already overstrained. "Vsemirsnsnami" and "Sala Ukraine!" Freedom to foreign patriots of Ukraine! "Regionals" from the pet shop get out! "Lustration" director of the dungeon! Just embroidery on the chest did not tear.
Well, you know, if I write, then I can read. Yes, and doubts about their own sanity began to slip. Is in Africa there are the same "embroidery", like ours?
Mental illness like airborne does not spread. But who knows, these modern technologies. Maybe they came up with "egg heads" some kind of "svidomosti virus". In general, I read. And there is a regular entry. African cockroach. Brought from the state of Djibouti, located near Somalia. And that's it! True, the postscript is not good. "For feeding of insectivorous animals and birds". Bomber means ...
So I did not understand why the cockroach from Djibouti "dressed" a laurel wreath. Or out of respect, or for some other reason. Or maybe this is our future coat of arms? So to say, the emblem of the state, where Ukraine seeks all the legs?
Anyway. I will return to the main topic. Still peremoga. To our Hope ... for the future. Even I did not expect such a "pig" from Russia! Sorry, but what do we do now?
Angry you all the same, the Russians ...
The image of the martyrs for the Ukrainian people was formed in the heads of Ukrainians. A sort of Joan of Arc of the Ukrainian way. Sits in a dark dungeon. Refuses to eat for the benefit of us. He suffers beatings and insults jailers. The chains of arms and legs are pulled to the floor. A sort of skeleton in embroidery, as a reproach to the Russian people.
We "painted" in the minds of the image of a new Lesya Ukrainka. We have identified it in this, in the pantheon of heroes of new Ukraine. And then the mossy Bandera and Shukhevychi are not particularly affected even by the young. Until someone began to reach ... As one of my friends used to say, "I think I understood something ..."
And what did the presidential plane bring from Rostov? Where is the skeleton, which from hunger can not even stand? Where is the voice weakening after every word? Where are the wounds, carefully tied by the Ukrainian nurse, at last? Where are all these attributes of holiness and martyrdom?
I praise you. One friend who had to watch the broadcast of the meeting Savchenko, looking at my Tarakanushka and the former prisoner, expressed an interesting thought. I look at your Tarakanushka, and I understand that there is a famine in Ukraine (yeah, I don't eat it, I don't eat it, after 6 in the morning I don't touch other diets). But I look at Nadia and see the reason for this famine ...
I received an interesting explanation about the shoe from Savchenko. Do not believe it, but it's simple. Nadya was at the front. I mean, I fought. So, I went to the berets! In army boots. So she was returned to her native Ukraine. And on this day in Kiev it was hot! Feet began to sweat ... That came to the solemn meeting barefoot. Nothing personal, just hygiene and sanitation. And care about ordinary Ukrainians. Can you imagine an amber from army boots? And people around civilians. Not accustomed to the "combat situation".
But I have another version. Getting used to the ground. You know, often in the lives of saints or memories of the dead I read that the deceased foresaw his death. Talked about her friends and relatives. Maybe the heroine felonist thus predicts her fate? Judging by her performance at the airport and at the press conference, she is not recommended. It turns out more like a crow cawing scale. And in the sense of how Klitschko, only with a checkmate frank.
And how our "celestials from the Ukrainian paradise" fussed. Already look disgusting. And Poroshenko, and Tymoshenko, and ... Yes, they all ran together to kiss Nadia. How so. Scorpions in the bank, I'm sorry, on Banking, have become accustomed to the dangers of life there. And then "fresh blood." Who knows how she will "sting" ...
And sting Nadya clearly set. It is difficult to say why, apparently, she has such a planida.
But in general, Russia deprived Ukrainians of the most important topic of conversation. Previously, the morning in Ukraine, whether Rada or the media, began with the message that Nadia ate or did not eat. How poked. What showed the judge yesterday. And now?
True, this week is still, by inertia, following the same pattern. But there were new messages. There is nowhere to go. Nadia begins his political "zhist". Do we endure?
Okay, deputy Rada. All right, hero (we laughed, among cockroaches in this case there are a million orders more heroes than in the whole
history
humanity in general). I wrote above that for us the prison is the entrance yard. He crawled into prison, a couple of months of feeding with balanda and everything is a hero! No you min, no shells, no bullets. Live like in a resort. On our side, the cockroach, of course. Humans do not understand all the charm of night and twilight life.
All anything. Yes, that's the "scent" Nadia lost. He thinks that if the martyr, then everything is possible. I blundered here foolishly, that the president of Ukraine has gathered. Right now ... In the bank, ugh, on Banking, is also not "aphid" lives. The same scorpions, only already accustomed people to themselves.
In general, we began to turn Nadya from a heroine and a deputy into a "Putin spy." Why? That's right! I described to you above what the "real" Savchenko should look like, torn from the dungeons of the "gebni". And what does the one that slipped us the cunning president of the "aggressor country" also looks like. No thoughts have arisen?
And if you add my impressions and conclusions about the African cockroach? Well, about the work of "eggheads"?
Ukrainians, we have not slipped our Savchenko! This Nadia has long been "deep in Siberian ores"! He sweats up those uranium ores! Need to conduct a genetic examination! Need to destroy the clone!
Think I'm out of our mind? No, such proposals are seriously expressed in Ukrainian social networks. Break the pattern! Discrepancy of an image and a real person. This explanation is for the people. For you, man. But in fact, we were discussing such a proposal here, this discussion was introduced specifically. Scorpios will not give up their places in parliament and Cabinet. And their stings will be stronger than that of the newly-minted ally. So, as in the once popular film, they begin to play the theme "And the king is not real."
So the series "Our Nadia" is coming to an end. It is a pity, of course, that the Russians fattened and then threw us such a pig. We'll have to do it like a pig. To avoid more global swine. Although far more global than what is, I cannot even predict.
And what else do we want to know more interesting? I know what you want. Therefore, so briefly on the sheet, I will describe.
You think that we are only destroying monuments. And no. We build them! In Kiev, for example, a place of memory was built for Taras Shevchenko. Even the lines from his "Zapovita" were written there. True, taking into account modern realities. From bullets. And Taras himself didn't "wipe out" the controversial figure. I did not participate in the ATO ... The cross was installed, and that's enough. On the embankment of the Dnieper.
But with the fish occurred zrada. Remember, we punished the Crimea? Vodichku Dnieper blocked. Vooot. And these same fish, pike are different, soma, perch separatists are still the ones. Border guards will not catch them under water. That swim to the aggressor. And there is an ideological treatment. In short, fish refuse to spawn in Ukrainian reservoirs. And in Kanevsky, and in Kiev. They do not like, you see, "Square" water.
But I used to like it. According to 2000, the people of Kiev were caught on the table every year. Nothing, two years banned. Got it. And there again ... and we will catch everyone. Only normal, "svidomye" individuals will remain. And in two years, we will develop a technique for determining the fish's "svidomosti". The Ministry of Ecology needs to be expanded urgently.
Kharkiv residents successfully completed the process of de-communization! Stakhanovtsy! Renamed 102 populated area! Demolished 182 monument and memorable plaques! But in general, more than 4000 toponymic objects have been decommunized! In both. So now, dear readers, if you want to visit us, FIG will find out where you came. Only visually. But we are working in this direction.
But in the Dnieper (who forgot, the former Dnepropetrovsk) opened the first museum of ATO. True, while the street exposure. Around 400 exhibits of Ukrainian military glory. Here and armored personnel carriers, and mortars, and even a checkpoint in the sand. And along the asphalt road, traffic signs are shot through. With the names of places of military valor. Slavyansk, Kramatorsk, Donetsk, Happiness ... It's a pity, the airport from Donetsk could not be transferred. I had to sculpt the layout. The only thing they did not show those who were killed by our heroic soldiers. Grandmothers there, old people and children. And so ...
An amazing event happened in Odessa. Pravosekam gave face to face. And you know who? The policemen. Do not believe? I was not joking. Indeed, the police in Odessa for the first time fought back stubborn. I really do not know what will happen next. But.
The fact is that two years in Odessa successfully "investigate" the 2 tragedy of May. And all these two years in prison, Russian Evgeny Mefedov was sitting. Antimaydana activist. Person known in Odessa. They just did not do it in order to "add" to the burning of Ukrainians in the house of trade unions. Well, no way. And so it happened. We decided to release a subscription.
And pravoseki? According to the old habit, they quickly came running "to prevent the zrads." Only here, for the first time, received from the police. Not much, but the image is accurate. Pushed balaklavogolovykh kicks from the courthouse and the area around.
Odessa today lurked. You know, dear readers, somewhere deep inside Odessa want to throw off everyone and everything. They want to become a "free city". In fact, the city is less and less like Odessa. Once, at the time of the "bloody" Yanukovich, approximately 1,2 million people lived in Odessa. Odessans. Now there are only thousands of 700. Of these, 30 is a percentage of visitors from western Ukraine. But there are also representatives of the "fraternal" nations. Even black.
Ours came from there. The question of how there was answered in one word ... The letter "X". And do not think that good. And the most disgusting thing is that the Odessans cannot return their city by themselves. Here such here ..., paints.
Okay. Need to finish. And then, if anyone remembers, sanctions for the last part will follow, from the "victims of the famine." Yes, and I do not have to sleep today. Holiday with us. Day of Kiev! Even two holidays - the Day of the capital and the Day of Kiev. I want to see. Especially on the mayor. And after he sang the national anthem of Ukraine on the last call at the 63 school, even Groisman was in a good mood. I also want a good mood.
And you happiness! Sunny days! A measured and well-fed life! And so that the sky above your heads thundered only with thunderstorms, but sometimes. So that your children do not know how the howitzer differs from the gun, and the mortar from the flamethrower. Well, the traditional song for you. A song that was sung and sung in my family today. Song of the table, festive and ... beautiful!
Your Tarakan District