On Friday, Poroshenko signed a decree that appointed former NATO Secretary General Rasmussen as his freelance adviser, reports
ZN.ua
.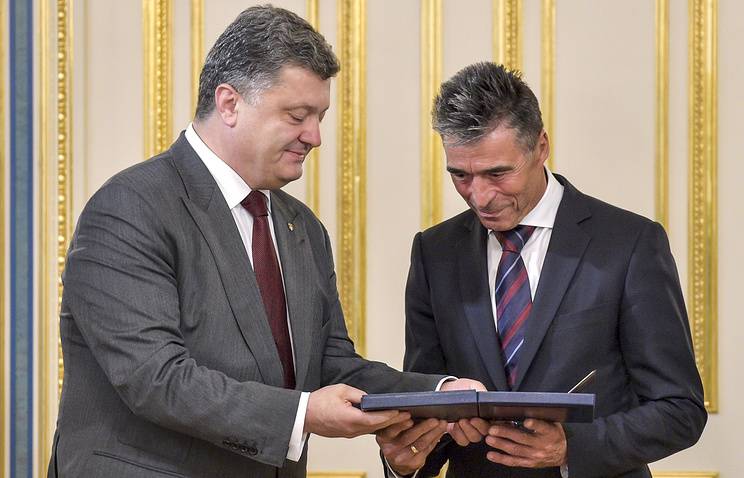 Recall from the post of Secretary General Rasmussen went to 2014,
According to the ex-Secretary General, the new post will allow him to become a link between Kiev and the EU, and will also allow him to more actively fight for the extension of sanctions against the Russian Federation.
"The extension of sanctions is the only way to put pressure on Russia in the matter of resolving the conflict in the Donbas," he said.
At the same time, "I know from representatives of Western countries that their readiness to extend sanctions is also connected with Ukraine's readiness to carry out comprehensive reforms in practice," Rasmussen said.
"So my goal as an adviser to the president is to establish bilateral interaction. On the one hand, I will convince Western leaders that the Ukrainians have already made serious reforms. On the other hand, I will inform the president what my interlocutors are telling me so that the Ukrainian authorities clearly understand what is a priority among Western leaders ",
he said.
"The current Ukrainian authorities, under the leadership of President Poroshenko, have carried out more reforms than was done in the last 20 years. But, of course, to continue the support of the West, it is important that the reform process continues. And so you need to move forward all the time, "added Rasmussen.
The situation was commented on by Vladimir Komoyedov, head of the defense committee of the State Duma of the Russian Federation.
"This will not lead to a better relationship," he said. After all, "such personnel decisions are made only to annoy Russia again," the deputy said.
TASS
.