Russian President Vladimir Putin is visiting Greece. The main purpose of the visit is to participate in events dedicated to the stay of Russian monasticism on Athos. Before the main events, Vladimir Putin held meetings with Greek President Prokopis Pavlopoulos and Prime Minister Alexis Tsipras. Together with the Greek prime minister, the Russian president visited the Athens Museum of Byzantine and Christian art, where the opening of the Ascension exhibition of Andrei Rublev was held.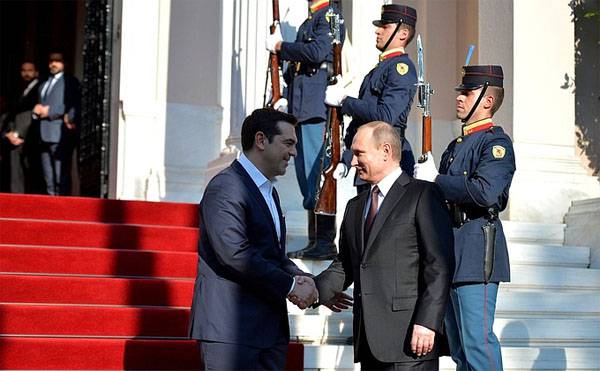 Following the talks with Alexis Tsipras, Vladimir Putin commented on economic, political and security issues. So, one of the comments was devoted to the deployment of American missile defense facilities in Eastern Europe. Statement by the President of Russia leads
Interfax
:
We will now have to respond accordingly. And if yesterday those parts of the territory of Romania that did not know what it was to be under the gun, today we will have to take certain actions that will ensure our security. I repeat, this is a response, we are not taking any first steps.
Recall that the US missile defense segment has earned in the Romanian locality Deveselu.
According to Putin, similar actions will be taken in relation to Poland immediately after the base with US missile defense elements is being used there.
Vladimir Putin noted that the United States is on the path of violating the Treaty on Intermediate-Range and Shorter-Range Missiles:
What it is? These are launchers and radar stations. Today, 500 kilometers of missiles are located there, in a few years they will be 1000 kilometers of missiles. But another thing is worse: the worse thing is that the shock systems can be immersed in these compact installations, the impact missiles right now, and this is the 2400 range of kilometers, and it's easy to replace one rocket with another. Just change the software, and no one will notice, even the Romanians.
Recall that the United States at one time stated that they were deploying missile defense elements in Poland and Romania, fearing "the possibility of creating a nuclear
weapons
Iran. " Now Iran, for Washington's purposes, doesn't seem to be listed, while the United States denies that the missile defense segment in Eastern Europe is directed against Russia, without answering the question of who this segment is against in this case.