The US President arrived at Peace Park, located in Japanese Hiroshima, where, according to the White House press service, he honored the memory of the victims of the 1945 bombardment of the year. According to the channel
CNN
Obama is accompanied by Prime Minister of Japan Shinzo Abe to the Peace Park. During his speech in Hiroshima, Obama said that he was in favor of "refusing nuclear
weapons
", Which was quite possible to accept as another act of American hypocrisy.
From the speech of Obama:
71 a year ago on a bright, cloudless day, the world changed. Death fell upon him from heaven. My visit to Hiroshima is aimed at honoring the memory of all the victims of the Second World War. We are resolutely ready to create a world in which nuclear weapons will not be needed.
"God's chosen people" rolls over. They already create the world ...
At the same time, Obama added that, despite the fact that the United States and Japan were once enemies, they built partnership relations, which today are an example of mutual relations between countries. This statement was made by the President of the United States after visiting one of the American military bases, of which there are several of the States in Japan. Strange, but in all other cases (in cases of relations between other countries), the United States calls such "partnerships" an "occupation" or "imposition of military force".
The Japanese expected that Obama, on behalf of all Americans, would apologize to the Japanese people for the atomic bombings, but did not wait ... The US president decided that an "exclusive nation" should not apologize to anyone.
Shinzo Abe's Answer:
We welcome
historical
visit to Hiroshima. We are grateful to the US President for striving to rid the world of nuclear weapons. Sooner or later it will become a reality.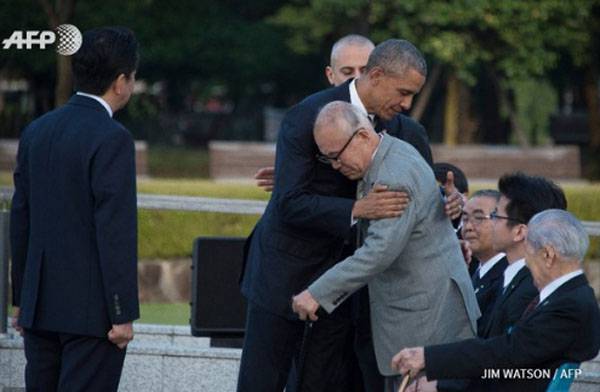 In a sign of condescension and in a fit of exclusivity, Obama hugged several Hibakus. So in Japan called those who survived the nightmare of the atomic bombing.