The Ukrainian pilot Nadezhda Savchenko, who was pardoned the other day by the President of Russia, returned to Ukraine and decided to immediately join political activities. For a start, it was announced that she would join the committee on defense and national security of the Verkhovna Rada. Now there are reports that Savchenko has declared her readiness to become president of Ukraine, "if it is necessary for the people."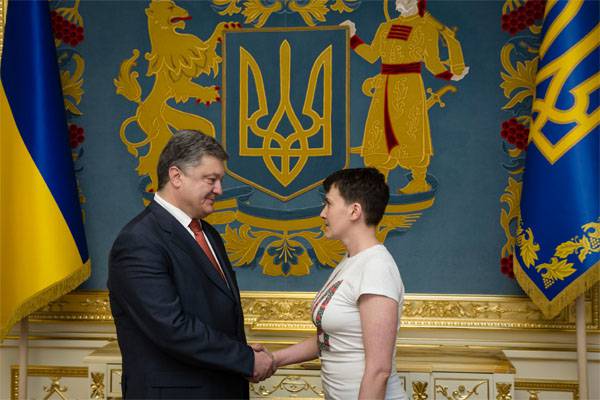 Information Agency
TASS
leads Savchenko's statement:
If you need me to be president, well, I will be president. I believe that people have learned not to vote for buckwheat. I will work where Ukraine will need.
The situation with the pardon Nadezhda Savchenko commented on in the Russian Ministry of Foreign Affairs. Russian Foreign Ministry spokeswoman Maria Zakharova said that the decision to pardon and return Savchenko to Ukraine has nothing to do with the Minsk agreements.
Maria Zakharova:
You know, this is some big myth that is cultivated, it is unclear why and why regarding the fact that the Nadezhda Savchenko case and the corresponding exchange between a citizen of Ukraine and citizens of the Russian Federation either corresponds to or is in line with, or is some kind of organic part of the Minsk agreements. This is a myth, it is not. These agreements are not related to the case of Nadezhda Savchenko. I would say differently, the case of Nadezhda Savchenko is not related to the Minsk agreements.
Recall that the convicted Nadezhda Savchenko was exchanged for two Russians (Alexander Alexandrov and Yevgeny Yerofeyev), whom the Kiev court sentenced to long term prison terms.