The Syrian press reports that in the area of ​​the Yarmuk camp, which was once inhabited exclusively by Palestinian refugees, there are fights between the terrorist groups "Dzhebhat al-Nusra" and ISIL. ISIS militants seized a key area in the Safad market area, knocking out Dzhebhat an-Nusra representatives from their positions. Fierce fighting and are in the east of Yarmuk (suburb of Damascus). There are losses on both sides.
Informational portal
AMN
reports that Russian aerospace forces helicopters today attacked ISIS fighters north of Tadmor (Palmyra). As a result of army strikes
aviation
several units of ISIS military equipment were destroyed, which the terrorists used to attack the positions of the Syrian government army and the people's militia. The number of liquidated Igilovites is not reported. The RF Ministry of Defense has not yet confirmed such information, although no refutation has been received.
There are reports of ongoing operations by Kurdish armed groups against ISIL militants in the area of ​​the city of Ar Raqqah. Information Service
ARANews
reports that Kurds are attacking igilovtsev from the north. In this case, the offensive is carried out with the support of the so-called American coalition aviation. Within two days, they managed to knock out ISIS militants from 4's villages: Cartaya, Al-Fastah, Indebin and Matmarayya. The phrase "managed to knock out" sounds quite loudly, since the igilovtsy, in fact, refused to fight, retreating in the direction of Ar-Raqqi and setting fire to the villages left behind.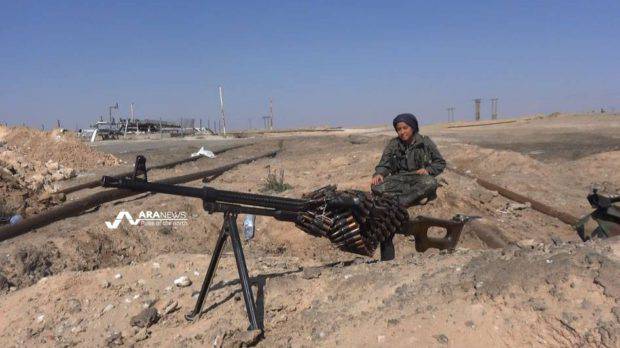 Soldier of the Kurdish militia Hebun Osman:
We will fight the militants of the IS until the whole province is under our control.
Today in the press there were reports from representatives of the top Kurdish community in Syria. Reports say that if Raqqa is freed from ISIS, it will be made part of the Kurdish federal region, which informally includes the provinces in the north and north-east of the SAR. The official Damascus's reaction to these statements has not yet followed.