I suspect that one of the first posts after the publication of this material will be a message in the style of "So what does this article do on Topwar?", As often happens with materials in which there is no mention of APU, Poroshenko or ISIS. So often happens with materials that are not digested by certain categories of our readers in the "National Security" section: articles, for example, about the education or healthcare system. In general, it is worth warning in advance: the material will not consider new "bloopers" when the Americans create their own F-35, Kremlin's "cunning" plans to exchange Savchenko; questions about how many man-hours Mustafa Dzhemilev will "take the Crimea" at a quick sleep stage and about where NATO will expand after it stops at Russian borders will not be discussed. The material is devoted to a completely different - the Russian family.
And the need to discuss trends associated with the "cells of society" and demographic features, led the statistics published by the State Statistics Committee of the Russian Federation. And let statistics are often spoken of as worse than cynical lies, but it is completely useless to overlook the data of the Federal Service, whose duties include the study of statistical indicators. Moreover, these data are supported by documents taken into account by the State Statistics Committee in all regions of the country without exception.
So, about the family, and about what today we hear from individual interlocutors and Internet authors about the institution of marriage.
Not being a big fan of LiveJournal, sometimes I still flip through this segment of the Web. Recently, an increasing number of publications devoted to the fact that marriage is a kind of "sovkavshchina" and "domostroevyschina" draws on itself ... Marriage is so, you see, an outdated system of relations between a man and a woman, that any way out of marriage - with beating dishes or even faces of each other is a normal thing, which fits in with the modern norms of "morality". Morales? - what am I talking about? ..
Judging by the publications that appear in the top-list of blogs, today in Russia reigns the Internet and TV era of justifying divorce and free (overly) relations. If the USSR identified certain persons as the "prison of nations", then for marriage a somewhat similar definition is "prison of the sexes". It smacks of a sort of liberal reincarnation of the early Bolshevik (or, rather, pseudo-Bolshevik) fashion that marriage is a relic of "tsarism." If in 1917-1918 in Russia, communities began to appear with speaking names in the style of "Down with marriage!" And articles by well-known authors under the title: "There is no love, there is only bare reproduction", today materials appear disbelieved (disbelieved, you understand, by 25-t) married girls with attempts to explain that a divorce is, they say, generally great.
I decided not to provide specific links to posts of a similar nature, so as not to create advertising that is completely unnecessary in this case, but if you wish, every reader can find among the top LiveJournal blogs bloggers and brogherds who throw in slogans that they can be happy in their families can not by definition. Buying diapers and escorting a child to kindergarten or school, you see, takes time to start another "cute-mimic" blog or to get a diploma of an "effective manager" remotely.
You see, when they were married, they did not feel the happiness of freedom, could not "normally" (this is how, according to their version?) Raise children, and after the divorce, things immediately went uphill. And, judging by this kind of publications, top bloggers and brogherits got rid of the second half only themselves - supposedly drove them away - why do I need these "shovely" relations with washing socks and borscht cooking ... No one finds the spirit to write he (herself) is guilty (or is guilty), or at least "both were stupid".
Now directly to the statistics published by the State Statistics Committee (the usual name of the relevant Federal Service). The agency's website has published information that the number of divorces in Russia (USSR) over the past 25 years does not fall below the bar in 600 thousand per year. For comparison with the Soviet period: year 1960-th - 184398 divorce, year 1970-th - 396589.
The peak in the Russian Federation fell on the 2002 year, when the registrars already registered 853647 divorces. This is 5,9 per 1 thousand citizens (including infants and very old people). The minimum of divorces in the Russian Federation was in the year of 2005, when the number of such divorces was about 605 thousand (4,2 per 1 thousand inhabitants). So-so a minimum ... As a plus you can call the fact that in 2015, the indicator also declined to 4,2, in absolute figures making 611646. However, the positivity of 2015 figures of the year is somewhat doubtful. And it is doubtful for a number of reasons. Firstly, in 2015, Russia had the smallest number of marriages in 10 years - 1 million 161 thousand. Secondly, it turns out that there are more divorces than 52% of the number of marriages. Year 2010 th: 52,6%, year 2007 th: and all 59,7%.
Number of registered marriages by year: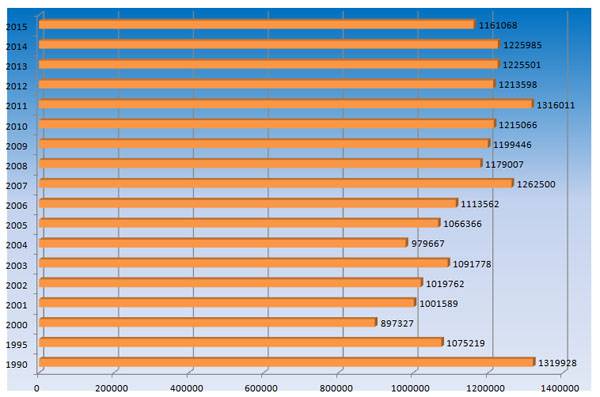 The number of divorces by year: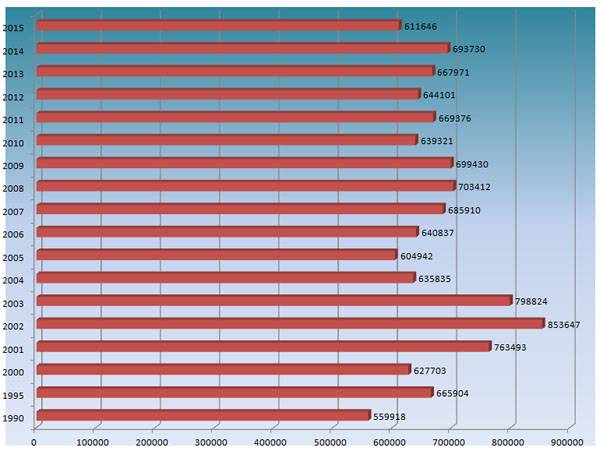 To put it simply, less than half of the couples who registered their marriage remain in this marriage. At the same time, most of those couples who have terminated their marriage for various reasons justify their decision. And it's good if you don't try to justify your divorce publicly like those LJ-shnye bloggers and bloggers ... If you already decided that in a certain situation it's impossible to save a marriage with this person, then at least you shouldn't make self-promotion out of this fact. Or this is where the emphasis is placed on sowing the next "democratic grains", from which what has grown in the "democratic West" can grow: with pederasts and pedophiles in the command structure of the armed forces, the community of clergy, and in the camp themselves advertising their marriage failures of bloggers. They opened a criminal case for pedophilia in the Russian Federation - he pretended to be a "political refugee" and waved, for example, to the Czech Republic, from which now there is a dirt flow to everything and everyone connected with Russia and traditional values. They don't give them peace, something else ... Something itches in the same place with the sharp urge of another post that the family is "homebuilding", and the parade of babomuzhikov with beards and breasts is the apogee, you know, freedom and democracy.
With such statistics, we continue to expect that the demographic problem in the country will be solved by itself, and that in order to preserve the traditional basis of the country, it is enough to buy a T-shirt with a patriotic inscription. And conversations about traditional values, which are conducted from high tribunes, activating each time before the elections, in the end often remain conversations.