General Atomics has already spent $ 50 million of its own funds to develop the Multimission Medium Range Railgun Weapon System (MMRRWS) 10 MJ shipboard electromagnetic gun, the blog reports
bmpd
with reference to Jane's Navy International.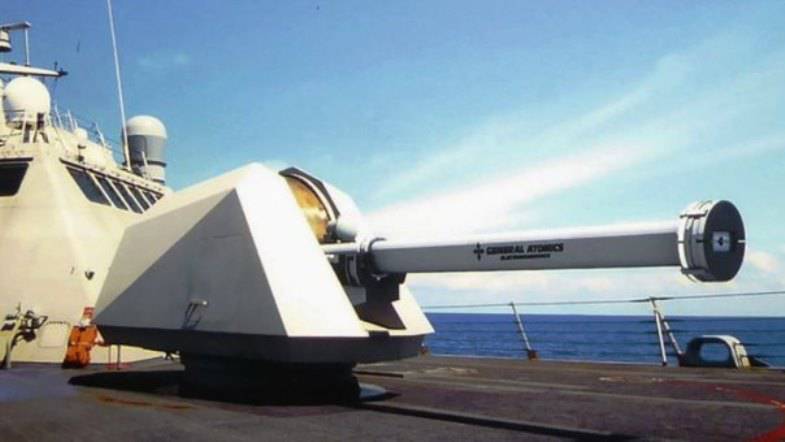 Image of a shipborne electromagnetic developed by General Atomics Corporation armory Multimission Medium Range Railgun Weapon System (MMRRWS) systems, possibly on board a USS LCS type ship.
Development is conducted with 2007 g, the first ground testing is scheduled for 2017 g. The exact caliber of the gun has not yet been determined. It will probably be around 100 mm.
"The installation will have to hit air, surface and ground targets and is proposed to replace standard 127-mm universal artillery mounts on US Navy ships. At the first stage, it is supposed to use kinetic bombs or tungsten shrapnel to hit targets. The MMRRWS firing range for a ballistic trajectory can reach 100 km, "the article says.
The basis for the development was the experimental electromagnetic gun Blitzer with the power 3 MJ, which tests have been going on for about 6 years.
The corporation also announced "successful development of hypersonic shots, which are considered the most complex element of electromagnetic guns in general, since the overload of a projectile with an initial speed 5М in the barrel of such a gun when shot reaches 30 thousand g"