President Poroshenko 23 May made a regular visit to Turkey. Although Poroshenko officially arrived in Istanbul to attend the UN World Humanitarian Summit, he also met with Turkish President Erdogan. It is clear that one does not interfere absolutely.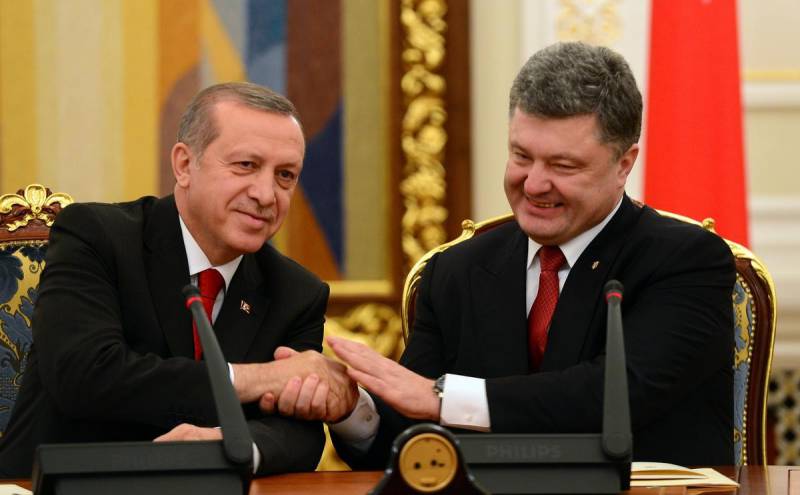 I would also like to note that Poroshenko included such famous humanities figures as Mustafa Dzhemilev, Lenur Islyamov and singer Jamal in his delegation. I don't understand how this trinity has anything to do with the UN humanitarian forum, to be honest.
Apparently, this is a consequence of the recent statement by Poroshenko that he is a Crimean Tatar.
God bless him, with the humanitarian summit, held and held. Although she was amused by Merkel, who clearly did not understand her role at the summit. More leaders of the developed world at the summit was not observed. But this is understandable, except for Merkel hardly anyone in Europe is so dependent on the actions of Erdogan in terms of "refugees." I would try not to come ...
But we are more interested in what went beyond the summit. And interesting things were happening.
According to the press service of the Ukrainian president, during a meeting with Erdogan, an agreement was reached that in the near future three thousand policemen from the "Square" will be trained in Turkey. Poroshenko noted that this is "a very effective form of cooperation between the police of the two countries," and stressed that within the training program "Train and equip", the police will be provided with appropriate equipment.
What a joy! What is Peremoga! Again, a freebie broke off! Not only will the Ukrainian colleagues be trained by the Turkish colleagues, but also the second-hand equipment will be thrown. Yes, no wonder Poroshenko Erdogan kissed, for good reason.
Well, the police in Turkey is a real force. Which, as events show, is able to suppress any manifestations of dissent in the country. Here, the alliance of Poroshenko and Erdogan is clear. Expressing your opinion with special effects is a strong point of the Ukrainian people. Given that things are developing in Ukraine in such a way that another Maidan is quite possible, Poroshenko's desire to protect himself as much as possible from the fate of Yanukovych is understandable.
And there, you see, you can go from the police to the army. That Poroshenko is also quite on hand.
By the way, 16 in May Ankara and Kiev signed a plan of military cooperation of the Armed Forces of Ukraine and the Republic of Turkey, "containing practical steps aimed at increasing the operational capabilities" of the Armed Forces of Ukraine.
The plan defines the directions of military cooperation between the armed forces of the two countries up to 2020, including reform and defense planning, education and training of troops, advisory and advisory assistance, cooperation between the types of armed forces, and so on.
"And so on" - in Ukrainian, it sounds like "give us something unnecessary, but free". Just because the Ukrainian army needs everything. And there is no money. Well, not at all. And you need everything.
And good Turkish (brothers?) Gentlemen served. Not very active, but served. Here, for example, the Ukrainian-Turkish naval exercises in the Sea of ​​Marmara that are high-profile in Ukraine but actually overlooked in our country.
"Since the spring of 2014, the Ukrainian Navy has demonstrated for the first time the national flag of Ukraine in the open sea beyond the Black Sea." Wow!
But since when has the Sea of ​​Marmara been a sea? Forgive me, this is a gut, on the one hand, the Bosphorus with the Black Sea, on the other, the Dardanelles and the Aegean. 280 to 80 kilometers ... Sea ...
Well, okay, but what was there to maneuver? Here the order is complete. Turkey was represented by a Turkish frigate. One. And from Ukraine? That's right, "Hetman Sagaidachny"! There is no one else ...
But no. From the Ukrainian side as many as two boats sailed. The demagnetization vessel "Balta" was still hanging there. What is it trying to demagnetize, it is not clear at all. As well as the attempts of "Saigak Dachnoy" for some kind of interaction with a warship and coastal
aviation
. But not for training, these troughs sailed to Turkey. Maneuvers are like that ... an excuse. Moreover, the latitude with which they were held testifies very clearly to this. Already a whole frigate Turkey forked out.
The only problem is that, having avoided almost two dozen different media, I could not find out the name of this frigate. Simple and tasteful - Turkish frigate. Point.
I think that there was no Turkish frigate. And there was no exercise. Totally. And it was quite another matter.
From the composition of the highly powerful Ukrainian Navy, two troughs were taken, which could actually reach Turkey and back. Here you have the answer to the question that "Balta" has forgotten there. Just a sturdy ship, Soviet-built. It could.
And they did not maneuver with anyone and did not practice anything. And they calmly slapped the port and fulfilled the loading of what the Turkish Defense Ministry allocated to the Ukrainian colleagues "for poverty". Used and decommissioned uniforms, body armor, equipment, tents, sleeping bags. For a decent amount of 810 thousand US dollars. Nothing like that, with the world on a thread ...
In general, relations between Turkey and Ukraine are right on the candy and chocolate peak. Premieres and presidents ride like to their dacha, to their neighbors. There is much talk about military cooperation and the free trade zone.
But this is still a word. In fact, a friendship built on the presence of a common enemy in the person of Russia can hardly be the guarantor of some kind of global success. Who rushed to "be friends" against Russia? Two frank political loser, if not worse.
Europe from Erdogan already sick. Europeans can be understood because the tactics of political blackmail with streams of "refugees" can get anyone. That will be called into question the agreement on the exchange of migrants, and the introduction of a visa-free regime with 1 June, as it was stated earlier, was postponed indefinitely. By the way, as in the Ukrainian case.
The US administration is already cool about Erdogan. In addition, he has long ruined relations with most of the countries of the Middle East, and now also with Russia ...
So two pair of boots. For Erdogan, it is important to find at least one country against the general background, with which one can demonstratively develop cooperation and talk about positive things. You can not develop, but you need to talk. Ukraine became such a country. In which both external and internal problems are more than enough. But unlike Turkey, Ukraine is in a deeper ... crisis. And because it is ready to "make friends" for handouts.
All these "offended" at Russia, Georgia, Azerbaijan, Ukraine, and now Turkey, are really trying to create a kind of union among themselves. But, I note, none of these states is in the stage of a certain recovery. Rather the opposite. Turkey, like Ukraine, is on the verge of losing control over part of its territory. Because the confrontation with the Kurds, despite all the attempts, the Turks really lose. The same is true in Ukraine and the Donbas. Well, Georgia could have lost it already. More is not worth it.
Therefore, I do not think that the friendship between Turkey and Ukraine is a danger to Russia.
Yes, you can not discount the "Crimean card". The fact that Turkey is trying to take control of the Crimean Tatar population has long been known. But: it is known for a long time ...
Everything connected with the Crimean Tatars should have been started earlier. Here, they say, missed the moment. Both Ukraine and Turkey. Map of the Majlis bit long. Maps of Dzhemilev and Islyamov too.
All that remains of this gang of losers is to whip out anti-Russian sentiments outside and try to grab at least something for yourself under this flag. Both politically and economically. Can it strain Russia? Can annoy, pose a threat - no.