The head of the DPR, Alexander Zakharchenko, during a direct line with residents of the Kherson region, said that the main conditions under which a self-proclaimed republic can return to Ukraine are the change of power in Kiev, constitutional reform and the holding of elections, reports
RIA News
.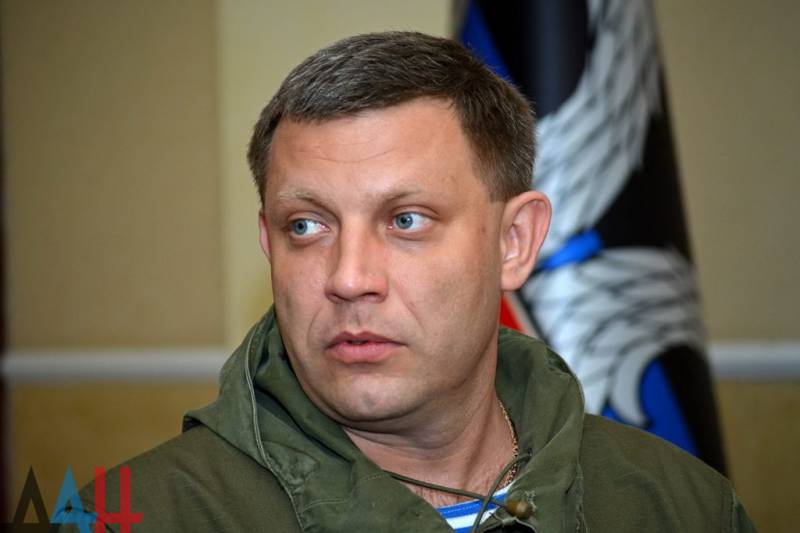 "For this, Ukraine must return to the state. That is, the power must change, the coup 2014 of the year must be condemned. Denazification must be carried out. After that, it is necessary to restore the state, that is, to hold free elections and recognize the succession in relation to that Ukraine, which was buried in the "Maidan" as a state ",
- declared Zakharchenko.
A constitutional reform is also needed that would transform Ukraine from a unitary republic into a confederation.
"That is, the free lands of the former Ukraine must re-establish their country, in which national-cultural, historical and the economic characteristics of all who wish to join the land confederation. And after this, conditions will be created for our Donetsk People's Republic to begin negotiations with Ukraine on the principles of hostel relations, "
- Added the head of the DNI.
He also did not rule out the possibility of holding a referendum on the issue of joining Russia.
"However, this is not the case now. A referendum should be carried out when there is an opportunity to realize the choice that the people will make, "Zakharchenko said.
Answering the question about the frequent shelling of the republic, the leader of the DPR said:
"The shelling to which the Ukrainian military regularly exposes our cities has several meanings for Kiev at once.

First, it is a disturbing fire that allows you to keep the topic of war in a hot condition for internal use. After all, the war with us is one of the main trump cards of the Kiev authorities in domestic politics. All can be written off for war.

Secondly, these shelling allow us to support the theme of war in an international context. Poroshenko thus blackmails, above all, Europe. And more precisely - Merkel and Hollande, who put their signatures under the Minsk agreements and thereby put their personal reputation on the scales. Here, especially for them, Poroshenko threatens every day with the breakdown of the truce and the transition to full-scale hostilities. For Merkel and Hollande, this will be a political defeat.

It is no secret that close friendly relations between Russia and Europe are like a bone in the throat for Americans. So here Poroshenko is the executor of the order from Washington. And for this, Poroshenko needs not only the shelling of our cities, but, unfortunately, the victims.

And the increase is associated with a change in the foreign policy situation. More and more leaders in the West want to turn the page of this war and start working with Russia as before. Well, the EU summit is not far off. Previously, Kiev before such summits arranged bloody provocations, now it just intensifies the shelling. Although we do not rule out provocations. "
Straight line with residents of the Kherson region continues. Zakharchenko's online conference covers the site of the Donetsk Information Agency (http://dan-news.info). However, the resource is constantly under attack by hackers and often freezes.