Patrol ship of the Black Sea
fleet
In "RџS <S,R" RoRІS <R№V "PI F ± F" RoR¶R ° R№S € RμRμ RІSЂRμRјSЏ RІRѕR№RґS'S, PI PI SЃRѕSЃS,R ° RЎSЂRμRґRoR · RμRјRЅRѕRјRѕSЂSЃRєRѕR№ RіSЂSѓRїRїS <SЂRѕSЃSЃRoR№SЃRєRoS ... РІРѕРµРЅРЅС ‹С ... РєРѕСЂР ° Р ± Р» ей Рё РІСЃРїРѕРјРѕРіР ° тельны С ... СЃСѓРґРѕРІ. РџРµСЂРµС ... РѕРґ In "РџС‹ тливого» РёР · Р§С'СЂРЅРѕРіРѕ РјРѕСЂСЏ РІ СредиР· емное РѕСЃСѓС ‰Р‰РІРІРІРІР ° РћР ± этом СЃРѕРѕР ± С ‰ Р ° РµС '
press office
Black Sea Fleet of Russia.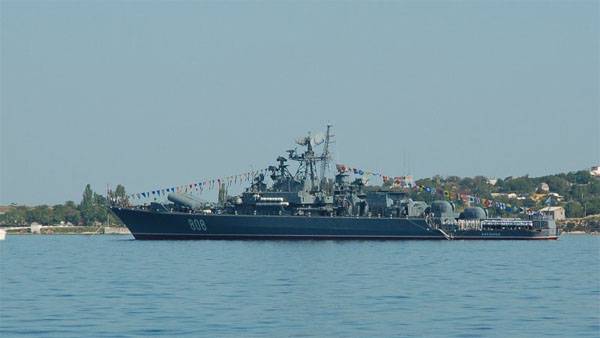 The watchdog commanded by Captain 2 of the rank of Dmitry Dobrynin left Sevastopol and headed to the straits for passage into the Mediterranean Sea.
At the moment, on a rotational basis in the Mediterranean Sea there are more than a dozen Russian military (surface) ships and auxiliary ships not only of the Black Sea, but also of other fleets of the Russian Federation - the Baltic and Northern.
For your information:
The patrol ship "Inquisitive" was built on the project 1135M. In the fleet with 1981 year. The crew of the ship - 197 people, including 20-25 officers.
The ship's displacement is 3,4 thousand tons, the cruising speed is up to 32,2 knots, the cruising range is about 5 thousand nautical miles at a speed of about 14 knots.
Armament:
4 launchers of the URK-5 "Rastrub" missile system, two dual launchers of the "Osa" air defense missile system, two AK-100 gun mounts, two 533-mm torpedo tubes, and two Smerch-6000 bombs.