Today began the process of exchange of citizens of Russia Alexander Alexandrov and Yevgeny Yerofeyev for a citizen of Ukraine Nadezhda Savchenko. Recall that the Ukrainian and Russian courts sentenced the Russians and Ukrainians, respectively, to the actual terms of imprisonment, recognizing the commission of those crimes. The information about the start of the exchange is confirmed by the lawyer Erofeev and Aleksandrova Oksana Sokolovskaya.
On his Facebook page, the lawyer of the convicted Savchenko, Mark Feigin, published a statement by his client, which states that it prohibits appealing and asking for pardon.
From Savchenko's note:
In case of violation of my will, please regard it as a betrayal ...
The full text of the statement: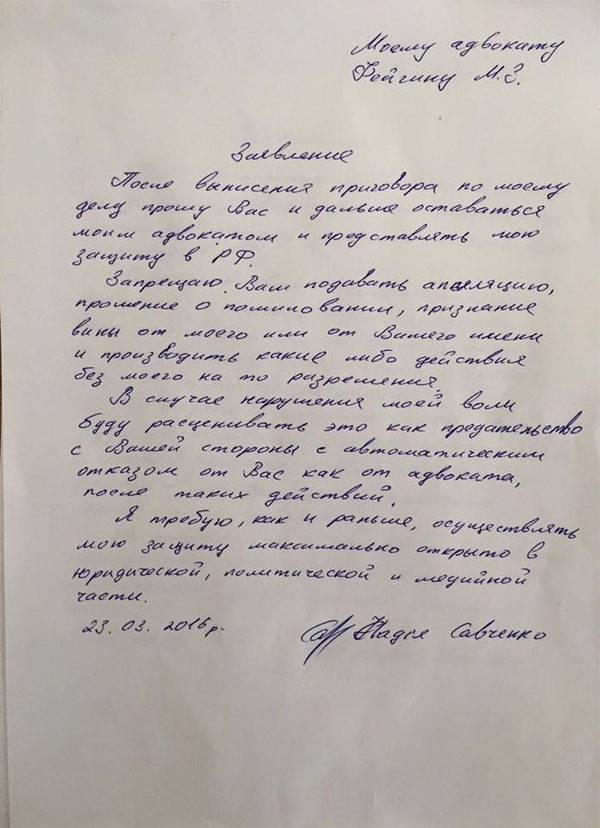 On the eve it became known that Yerofeyev and Aleksandrov also refused to ask for pardon. The petition was filed on behalf of their lawyers.
However, the exchange procedure (or more precisely, that the mutual transfer of citizens of Ukraine and Russia to serve their sentences in their homeland) is still begun.
Interfax
reports that Russians Yerofeyev and Aleksandrov on the plane of the President of Ukraine were taken to Rostov-on-Don. Some time before that, it was reported that Petro Poroshenko "pardoned the Russians." Nadezhda Savchenko was also delivered to Rostov-on-Don.