South Korean forces grow as a response to the northern threat
South Korea for 60 years after the end of the war with the North is in constant anticipation of a new armed conflict with the army of the DPRK. Seoul was able to create their own, no less powerful.
Until the end of the Cold War, South Korea's defense depended entirely on the United States. Her own, although very large, was a dump of old American technology. With 90-x, the situation began to improve, and has now changed quite significantly. There was a significant diversification of imports of military equipment and, most importantly, mass production of their weapons, meeting the highest international standards, began.
The ground forces are divided into forces of central subordination (that is, directly to the General Staff), two field armies (PAs) and one operational command.
The forces of central subordination include six commands.
The missile has three ATACMS missile divisions and one Hyunmu missile. Air Operations Command includes 1st and 2nd
aviation
brigades. The capital's defense command consists of four divisions (52nd and 56th territorial defense, 60th and 71st reserve), two brigades (1st chemical defense and 122nd communications), two groups (10th air defense, 1113th engineering) . The command of the MTR includes the 1st, 3rd, 5th, 7th, 9th, 11th, 707th airborne brigades, the XNUMXth battalion of the MTR. There are also logistic and training commands.
1-I PA includes three army corps (AK), as well as parts of the army submission: 11-th mechanized division, 3-th armored and 11-th communications brigade, 11-th aviation, 12 and 1107-th artillery, 1170-th aviation, 1 and 2-y artillery engineering teams, 7-e support command. 15-th AK: 27, 2, 2-I infantry divisions, 102-I artillery, 702-I engineering, 302-I brigade communications, 3-i security regiments. 2-th AK: 12, 21, 3-I infantry divisions, 3-I artillery, 103-I engineering, 703-I brigade communications, 303-i security regiments. 8-st AK: 22 and 23-I infantry divisions, 8-I artillery, 102-I mechanized, 108-I brigade communications.
2-e Operational Command (formerly 2-I PA) includes 31, 32, 35, 37, 39, 50, 53-th division of territorial defense, 201 and 203-th Special Forces Brigade, 12-th communication, 21-th aviation, 1117 and 1120-th engineering teams.
3-I PA consists of five corps, as well as units of military subordination. The latter include the 1-I Air Defense Brigade, 1101-I, 1173 engineering teams, 2 and 3-e support commands. Capital Defense Corps: 17, 51, 55 and 61-I reserve infantry divisions, artillery and 100-I brigade communications, 1175-I engineering group, 700-th special forces regiment. 1-th AK: 1, 9, 25 and 72-I Reserve infantry, 30-Mechanized Division, 2-Armored, 1-Artillery, 1-I engineering, 101-I communications brigade, 11-I Aviation Group, 701 Special Forces, 301 Security. 5-th AK: 3 and 6-Infantry, 8-Mechanized Division, 1-Armored, 5-Artillery, 5-I engineering, 105-I communications brigade, 15-I Aviation Group, 705-th Special Forces, 305-th security shelf. 6-th AK: 5 and 28-Infantry, 26-Mechanized Division, 5-Armored, 6-Artillery, 6-I engineering, 106-I communications brigade, 16-I Aviation Group, 706-th Special Forces, 306-th security shelf. The 7 th maneuverable corps: the "capital" and 20-I mechanized divisions, 7-I artillery, 7-th engineering, 107-I brigade communications, 17-I aviation group.
In response to the DPRK missile program, South Korea is developing its counterpart. At present, the NE is armed with at least 30 TR "Hyunmu-1" mobile (flight range - 180 kilometers) and up to 100 of mine-based "Hyunmu-2A" (300 kilometers). A large family of "Hyunmu" missiles with a range of 500 – 1500 kilometers are expected to enter service. All the MLRS can be used as PU for US TR ATASMS, of which there are 221.
The basis of the tank fleet is
Tanks
K1, created under the strong influence of the American M1 Abrams. There are 1027 K1 units (similar to the first M1 variant) and 434 K1A1 / 2 units (similar to the significantly improved M1A1 / A2). A K2 tank was created, which in South Korea itself is called the best in the world. There are already at least 100 of them, 206 are planned. 43 Russian T-80Us also belong to modern tanks. 1111 extremely obsolete American M48s remain in service (730 A5, 381 A3). On storage up to 531 very old American M47.
There is a significant amount of modern BMP - 67 Russian BMP-3, up to 1956 own K200 and 400 of their own K21. The latter here are also called the best in the world. All will be built to 900 such machines. Of the approximately one thousand BTR - American 420 M113 (most in storage), 300 Swedish Bv 206, 275 own KM-900 (copies of the Italian "Fiat-6614", the majority in storage).
The basis of self-propelled artillery is 155-mm ACS K9. They built at least 910, just to be 1136. In stock 1042 155-mm SAU K55A1 (local licensed copy of the American M109A2) and 13 American M110 (even before 100 in storage). It is supposed to have up to 800 ACS EVO-105, which are created by installing the M101 howitzer in the back of an army truck. In storage until 100 old American ACS M107. Towed Guns: up to 1988 American M101 and their local copies KM101, 21 gun KH-178 (own remake M101) to 988 114 American M860 and their local deeply modernized version of the KH-179 to 100 American M115. Mortars: up to 4000 KM-29, 1840 M-30, 500 self-propelled K532 (on Bv206 chassis), as well as K281А1 and K242 (on BMX K200). MLRS: 156 own K136 / А1, 58 American MLRS М270 / А1. There are several thousand American Tou and the 226 Russian Metis.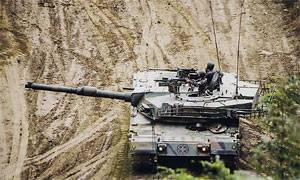 Military air defense has 114 of the newest domestic K-SAM "Chunma" air defense systems, about a thousand MANPADS (60 American Red I and 133 Stinger, 350 English Javelin, 406 French Mistral, 50 Russian Igla), more 300 own gun mount on the chassis BMP K200 (140 K263A1 "Chungun", 176 K30 "Biho"), about 200 anti-aircraft guns (60 American M167 «Volcano", 36 Swiss GDF-003 and 80 L / 60 / L / 70).
In Army and Police Aviation from 60 to 90 American Cobra AH-1S combat helicopters and around 500 multipurpose and transport: to 130 XHUM-500MD, 4 – 9 MD-500D, 38 CH-NNXX-Ind, X-NNXX – 47, 100 – 60 MD-120, 1, 12, 105 – 40 MD-1; , up to 3 UH-212H, 3 Bo-412, 105 KUH-1, XNUMX Bell-XNUMX, XNUMX Bell-XNUMX. In-XNUMX - German production, KUH-XNUMX - local, the rest - American.
The Air Force is organized into seven command structures — operational, northern and southern combat, two air defense commands, training and logistic. In service more than 500 combat aircraft. The most modern of them are the American 60 F-15K and 168 F-16 (118 C, 50 D), as well as their own 42 FA-50. A lot of outdated equipment: up to 58 F-4E (even before 43 D and up to 14 E in storage) and 190 F-5 (112 E, 42 KF-5E, 19 F, 17 KF-5F).
The actions of the fighters provide four AWACS aircraft based on the passenger Boeing-737. There are 28 reconnaissance and surveillance aircraft - the English 8 800, the 20 own KA-1 spacecraft. 4 US RF-5 and 13 RF-4 removed from the Air Force and are still in storage.
Transport planes: 16 American C-130 (8 H, 4 H-30, 4 J), 20 Spanish CN-235M, 10 purchased in Poland by the Soviet An-2 (as well as in the DPRK, are used to transfer saboteurs), as well as XUMUM X, NUMX) aircraft for the transportation of senior commanders - 4 "Boeing 1", 737 "Boeing 1", 747 HS-2.
The main training aircraft of the South Korean Air Force becomes its own T-50. Now in service with 54 T-50 (purely training), 22 TA-50 (training and combat, light attack aircraft), 9 T-50В (piloting). In addition, 85 domestic CT-1, 22 Russian IL-103, 2 – 3 French SAR-10В.
Multipurpose and transport helicopters are mainly American-made: 3 "Bell-412EP", 3 S-92A, 8 VH-60P. Also available is 2 French AS332L, 7 Russian Ka-32. Rescue helicopters - 5 HH-47D, 18 HH-60P.
Ground defense consists of 8 batteries (64 PU) of the American Patrik "Patriot" and 28 batteries (168 PU) of the "Advanced Hawk" air defense missile system.
The Navy of the Republic of Korea has three
fleet
- 1st (East, headquarters - in Donhe), 2nd (West, Phentek), 3rd (South, Mokpo).
Submarine fleet includes 13 German submarines - 9 project 209 / 1200 and 4 newest project 214 / 1700 (another 5 will be built). There are 2 sabotage SMPLL type "Dolgoray" (plus 1 in the sediment).
All 12 destroyers of their own: 3 type "Saojeon Tevan" (considered the most powerful in the world of surface non-avianosnyy warships), 6 "Chunmuhong Li Sunsin", 3 "Kvangetho." They are equipped with the "Aegis" system, are armed with a UVP on the 80, a Zuru "Standard", a UVP on the 32 SCC "Hyunmu-3" (comparable in terms of TTX to the "Tomahawk", but have a smaller range of flight) and 16 PLUR "Red Shark", as well as 4x4 of the Heson control panel. All of these missiles, except for the "Standards", are of their own design, albeit with American influence. The "Hyunmu-3" is in the same family as the "Hyunmu-1" and "-2" land-based, but formally, since the "land" missiles are ballistic and the sea-winged missiles (with a 1500 range of kilometers). Frigates type "Ulsan" (7 units, still 2 in the sludge) are considered obsolete. They are built to replace frigates of the "Incheon" type (now 4, no less than 18 is planned), which will also be armed with the SJLM "Hyunmu-3". There are 18 cortex-type "Pohang" (still 2 in the sludge). 3 similar to them "Tonhe" are used as training. The 17 has been equipped with the latest Yun Yunha corvettes. The territorial waters and coast are protected by 63 – 75 patrol boats of the "Chamsuri" type, as well as by the coast guard, which includes 36 patrol ships and 39 patrol boats.
Mine-sweeping forces include the minzag "Wonsan", the 6 of the Italian minesweepers "Lerici" ("Ganjon"), the 3 of the minesweeper of their own construction, such as "Yangyang".
Amphibious forces include the 1 DVKD Dokdo (sometimes classified as UDC), 4 TDKs like Gohong Bon and 1 like Jeon Van Bon (there will be 3), as well as 8 DKVP - 3 of the 12061 project "Moray "(Russian built), 3 of the Solgue-1 type, 2 of the Solgue-2 type.
On the naval aviation armed 16 American base patrol aircraft P-3, 5 multipurpose «Cessna» F406 «Karavan», 24 English antisubmarine helicopter "Lynx" Mk99 and 1 latest European AW159, to 6 French SA319B, 8-9 American UH-60P and up to 11 UH-1H. Coast Guard aviation has 6 aircraft and 18 helicopters.
The marines include two divisions and a brigade. In service with up to 100 tanks (including 50 K1A1), 231 American amphibious BTR AAV-7A1, 46 LVTP-7, towed guns KN-179.
Over the past 20 years, first-class aircraft have been built in the Republic of Korea, capable of successfully resisting almost any army in the world in all three environments. Apparently, these aircraft are among the ten strongest in the world, especially given the high level of combat training. In the production are numerous samples of weapons and equipment. Together with the Russian Federation, long-range air defense systems are being developed, similar in TTX to C-400. All this provides a reflection of the strike of the North Korean armed forces. But Seoul's army is incapable of capturing the DPRK, that is, militarily, the parties are in a state of strategic stalemate.
Support Group

On the territory of the Republic of Korea there is a significant grouping of American troops: the 8-I Field Army Army and the 7-I Air Force of the US Air Force. The basis of the 8-PA is the 2-th Infantry Division, which includes the 210-th artillery brigade, 2-th support and army brigade aviation. In addition, the 8-th PA includes 501-I support, 35-I air defense, 501-I intelligence, 1-I communications, 65-I medical brigade. The 7-I BA includes the 8-e fighter (F-16) and 51-e wing (attack aircraft A-10).