American analytical agency
Stratfor
, which is often called an alternative to the CIA, spread the message that ISIL militants allegedly launched an attack on the "military base near Palmyra" in Syria. The text of the message states that the igilovtsy attacked the Syrian military base T4, "possibly" destroying on it 4 Russian Mi-24 helicopters. As a kind of "evidence"
Stratfor
presents two satellite images of a military facility - from 14 and from 17 May. Detailing the pictures,
Stratfor
asserts that on the site of Russian attack helicopters that were at the airbase there were charred tracks and craters.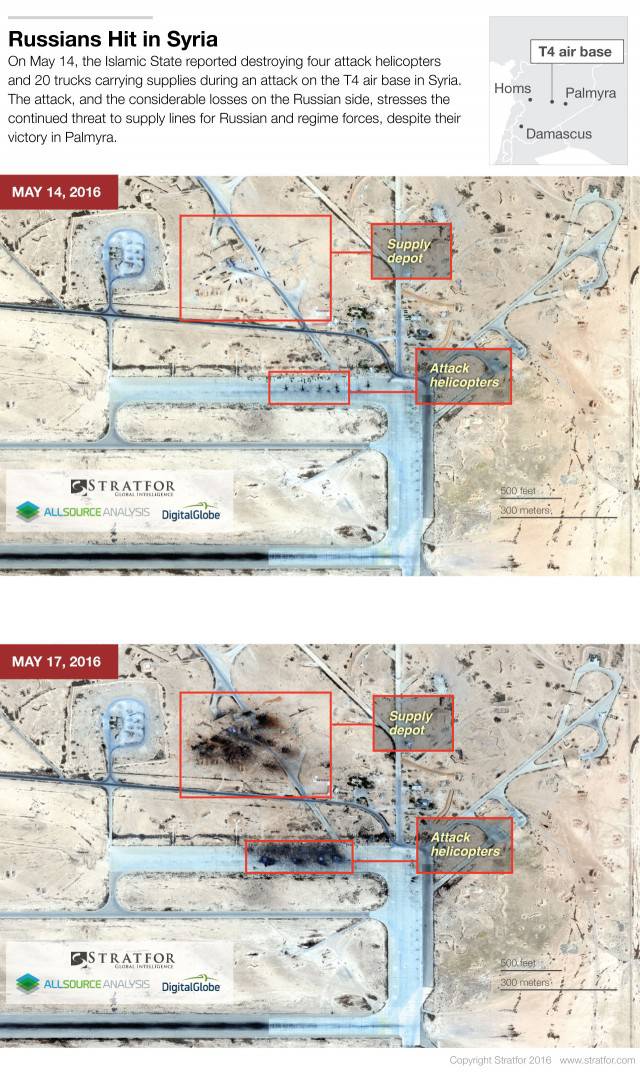 From the material of the American Agency (translation
RIA News
):
Satellite images taken by Stratfor in conjunction with AllSource Analysis confirm that the T4 airbase suffered serious damage as a result of the shelling of the Islamic State. In particular, four Russian Mi-24s could be destroyed.
The Russian Ministry of Defense has already commented on the American publication. The spokesman for the country's main defense department, Major General Igor Konashenkov, called the publication an propaganda ploy of ISIS, which was "pecked" in the United States.
Press office
MO RF
:
The authorship of the rumors about the destruction of a unit of Russian military helicopters and two dozen trucks belonged to the propagandists of ISIS, who unsuccessfully tried to "sell" this allegedly
news
"about 10 days ago. Photos of the burned
aviation
and automotive technology at the Syrian air base - the result of stubborn battles for this airfield. Apparently, the dissemination of such information is a feasible, in quotation marks, contribution to the fight against international terrorism from our partners.