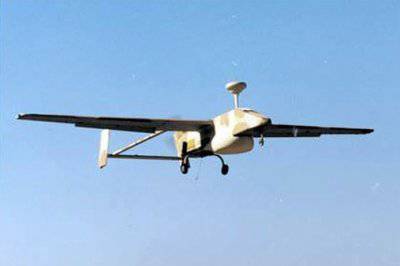 In February 2012, in Yekaterinburg, OJSC Ural Civil Plant
aviation
"(UZGA), it is planned to begin assembling under license in Russia the Israeli UAV complex" Outpost ". This was reported by Kommersant - Yekaterinburg, with reference to A. Novikov, the head of the light aircraft section of UZGA.
According to his statement, the production site for the assembly of "Outposts" has been fully prepared. Specialists of the company in Israel have received special training. On UZGA equipment supplies will begin in early January. "In the absence of failures, the experimental flights of the first UAV assembled in Russia will begin in June – July of next year," Mr. Novikov added.
Earlier it was reported that, according to the contract with the company IAI (Israel), by the end of 2011, the plant will build the first Forpost complex with three Searcher UAVs ("Searcher") under license.
Israeli drone, which is equipped with a landing hook, takes off from the strip, which has a hard surface. For landing, a system of arresting equipment equipped with brake drums is used. What is the reason for the postponement of the start of the assembly of the UAV, Mr. Novikov did not specify. UZGA is engaged in rehabilitation and overhaul of helicopters and airplanes, provides aircraft after-sales service during the period between repairs. UZGA is controlled by the structures of the united industrial corporation Oboronprom.