Removing the ban on the supply
weapons
Vietnam, Washington is trying to strengthen its position in Asia against the background of China's growing power, reports
RIA News
opinion of western experts.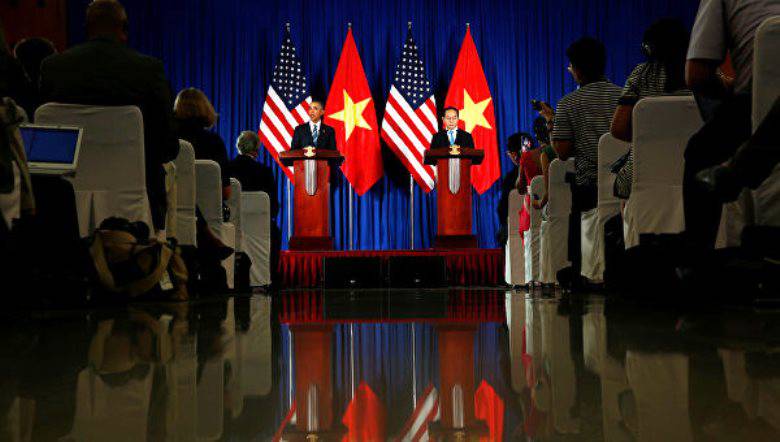 On the lifting of the embargo on the supply of arms to Vietnam on Monday, Barack Obama said.
"Such a decision is in the interests of both countries in the confrontation with China, which has become the main military threat in the region," said Professor Sean McHale, director of programs for the study of Asia at George Washington University. - Vietnam wants modern weapons for self-defense and the United States is happy to provide such a service. Despite claims that the sale of weapons is not related to China, in fact, it has: there is no other military threat in the region except China, which is rapidly modernizing its armed forces, including the navy. "
The agency recalls that there is a dispute between China and Vietnam over the islands in the South China Sea.
"In the short term, such a decision by the United States could worsen relations with China, but in the long term, it will have limited impact," McHale added. - China should have expected this to happen. So it happened. "
A similar opinion and a professor at the University of Texas Mark Lawrence.
"I think the Obama administration has two motives. First, she wants to promote a process of reconciliation and normalization that has been going on for more than 20 years. The arms embargo is one of the last remnants of a bygone era, so it makes sense to abolish it, regardless of China's behavior, "he said.
"Secondly, the decision is aimed at giving content to President Obama's notorious" turn to Asia ". At the same time, the United States denotes readiness, without undue provocation, to form closer partnerships with states that are threatened by Chinese ambitions in the region, "said Lawrence.
The agency recalls that the United States strongly opposes the territorial claims of the Chinese authorities in the South China Sea, calling for a diplomatic settlement of the dispute, while regularly holding a "demonstration of the military presence", which does not contribute to defusing tensions between the two countries.