What is good weekend? Yes, rest, of course, is necessary. Yes, and cottage, river, theater, cinema needed. But for me, the weekend is also good because it allows you to more carefully read the blogs of our politicians. Read social networks. "To cut the corners" perception of some events.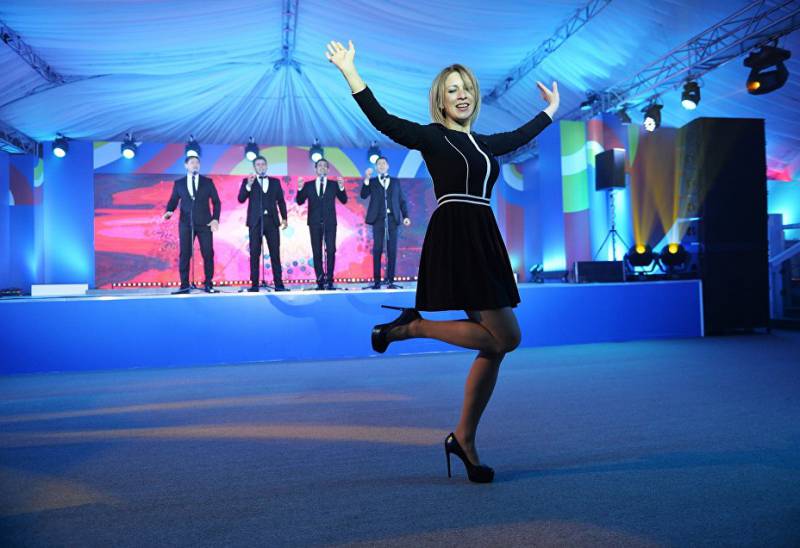 On May 20, Maria Zakharova's post appeared in the network in response to a speech by NATO Secretary General Jens Stoltenberg. I have long been closely watching what Zakharov says and writes. I must say, for our Ministry of Foreign Affairs this is another successful appointment. A diplomat of such a level and with such charisma is a worthy "continuation" of Lavrov, Churkin and some others, whose words are carefully studied by the politicians of the whole world. May this continuation be so far not always maintained in the style of classic diplomacy.
What we often criticized for our foreign office, a certain "inertia" and "retro-approach" in the negotiations, ended on Zakharova. Now, no one is surprised at the masterful "trolling" of Zakharova's statements by Western politicians. No one is surprised at her position of an "advancing", rather than a "defending" diplomat. In short, a worthy opponent to Dmitry Rogozin.
Let's go back to the record. It is really interesting and worth it.
NATO Secretary General for quite a long time trying to find an explanation for the actions of the alliance in the east. After all, even the most patriotic Europeans are beginning to wonder whether it is worth increasing their own defense spending. The impoverished Eastern European countries, in which NATO is the most active today, cannot pay for the presence of troops on their territory.
But the bloc is more and more persistently leading the equipment and units there. I read from a German officer statements about
tanks
in the Baltics. For what? There tanks, especially such as German or American vehicles, will simply "drown in local swamps." And the local "army" is more like "the guys from the hunting club who decided to play war." I largely agree with this assessment.
Stoltenberg talks about the defensive nature of NATO expansion. We are defending! From whom, please? From Russia? Not? From international terrorism? Well yes. From the same series as the tracking station in Northern Europe. To watch out for penguins at the South Pole of the Earth. These penguins are no less insidious than polar bears. And bears ... That's right, bears are Russia!
That seems to be a solitaire developed, but, as they say, there are nuances.
At the same time, the Secretary General is simply "bursting" with the desire for a political dialogue with Russia. Asleep and sees Jens, as Russia and the alliance "sit side by side and say a word". How together "make efforts to combat international terrorism."
Sorry, but where is this "political dialogue"? He has not been for two years. And before that he was interrupted. Systematically. Apparently, this is the work of the hands or feet of these nuances of restless.
About the "smart combination" let's talk separately. NATO's military presence on the eastern borders, according to Stoltenberg, is defensive in nature. Thus, the Alliance declares its defense against a potential adversary as its priority. "
Better not tell. Short and succinctly. Talking and doing are different things. The time when Russia "listened and believed" has passed. Now we listen and look after things. And do not wait for clarification from NATO diplomats. We just do it ourselves. For any sneeze not zdravstvueshsya. But the "medical mask" will help. Our actions on the western borders are this very "medical mask". As doctors say, the best treatment is prevention of the disease. And in our case it would be even better to have a modern-style gas mask. So safer.
And here at all masterly.
"What ?! I just don't believe my eyes. It's not Russia that blocked cooperation with NATO! And vice versa. It's not Russia that declared NATO and its individual members a threat. On the contrary. It's not Russia that dissuaded countries around the world from interacting with NATO states . And vice versa. "
So the "night dreams" of the NATO Secretary General turned into zilch. It turns out that Russian diplomats remember the past. What a bad luck !!! Two years have passed. And they remember who did something and when. And so sarcastically they write about it. No, to pretend you forgot. Selective amnesia. In diplomacy, by the way, a fairly common disease. So be sure to "make big eyes."
No one doubts the need to resume contacts at the Russia-NATO Council level. Many have written and spoken about this. Including us. However, cooperation should be equal. "Sitting on the side chair" Russia no longer intends to. There is no time for us to sit. A lot of work.
"Russia never, even in the most difficult moments of relations with NATO, did not refuse dialogue, did not slam the door, did not burn bridges. For the last two years we have regularly talked about the destructiveness of not cooperating. Not to be friends with us. And for to work together, counteract threats and overcome differences. All our appeals were ignored by the alliance. "
"If you want to work, the door is open. On an equal and constructive basis, we are always ready to engage in dialogue and engage in concrete actions. Propaganda through loudspeakers will not work, because there is no time to be distracted by idle talk."
Why did Maria Zakharova, albeit in a somewhat satirical manner, respond so harshly to Stoltenberg? After all, in fact, if you read the text of the record, the feeling of "position" appears. And the official representative of the Ministry of Foreign Affairs, by virtue of his position, cannot voice personal conclusions. Only that "necessary for work". Costs of the profession? Quite possible.
It seems to me that the Foreign Ministry perfectly understands the "passions" in NATO. You read the statements of various politicians from the member countries of the alliance and you understand: there is no single solution in NATO. Someone in the forest, some for firewood. One minister talks about the need for renewed cooperation. The other is about hard confrontation. The third is about some kind of dialogue on "some issues of European security."
Talking about a full-fledged dialogue in such a situation is not necessary. Today, not Europe controls the unit. Even those countries that have a vital interest in cooperation against terrorism, who have experienced what terror is like, cannot push through decisions on cooperation. But these are not "great" Balts or "invincible" Moldovans and Bulgarians. These are the countries that make up the backbone of NATO. Germany, France, Belgium ...
So "each donkey will continue to wear its ears." We can not relax. And Europeans will have to wait for the appearance of the "new owner" of the White House. A gentleman will arrive - a gentleman will judge. Or build on the ranking and teach all the same to go in line and up.
What is worse, it's not for us to judge. We are not Europe.