Today, St. Andrew's flag was hoisted above the new large hydrographic boat BGK-2153 of project 19920, which became part of the Pacific
fleet
Russian Federation. The ceremonial raising of the flag of the Navy on board the BGK-2153 took place in the port of Korsakov. Roman Martov, official representative of the Pacific Fleet, quoted by news agency
Interfax
:
A new hydrographic vessel, after carrying out acceptance and acceptance works in Peter the Great Bay in early May, made the transition to a permanent location on Sakhalin Island.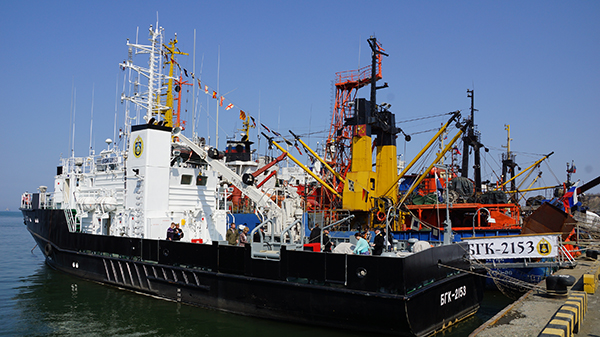 Informational portal
"Sakhalin.info"
reports that Rear Commander Alexander Yuldashev, deputy commander of the Primorsk flotilla of heterogeneous forces, was present at the ceremony.
The large hydrographic boat of the 19920 project was built by the October Revolution Shipyard, located in Blagoveshchensk. At the same time, the development of the project itself was carried out by the Vimpel design bureau (Rybinsk). In December last year, the vessel was officially enrolled in the Pacific Fleet.
The ship will be serving 11 military personnel. Igor Tikhonov was appointed commander.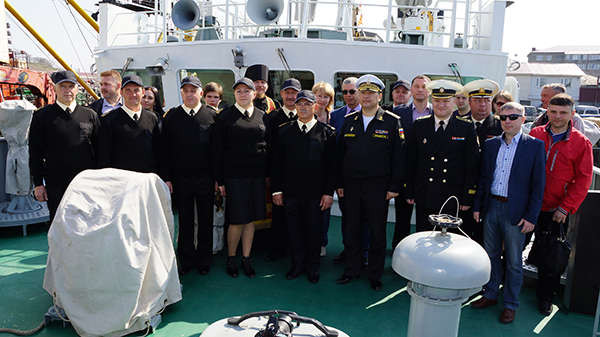 For reference: the main purpose of BGK-2153 is related to ensuring the safety of navigation in the area of ​​performance of tasks. In particular, the crew must solve the problem of setting and removing navigation equipment, maintaining and repairing navigation devices, and delivering cargoes for hydrographic units at a distance of no more than 1 thousand nautical miles.
Selected features:
Length 36,4 m, width - 7,6 m, draft - 2 m. Full displacement - 320 t. Travel speed - 11,5 knots. The autonomy of swimming is 10 days.