Greetings to you, dear readers. Well, here I am, like one country you know, came under sanctions. True, not international. Not reached. Family. Cockroach announced! He says, if I write again "philosophical delirium", it will not feed. That's what she said - philosophical.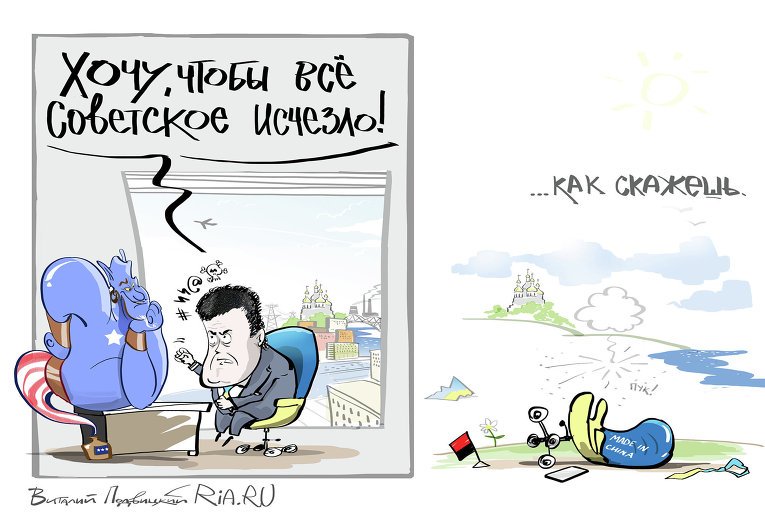 I thought clever things were written by clever writers. It seems like he pulled himself up to the level of Gogol or there Shevchenko ... Well, in an extreme case, this is Ivan Andreich, who is Krylov. And it looks like. The "philosopher" is obtained.
And most importantly, I do not have "import substitution". And on a dry breadboard especially you do not clear up. So I surrender to the mercy of Tarakanushka.
We now have two main topics discussed. One about Dnepropetrovsk. And the second is about dancing. More precisely, about the dance. Who sang your diplomatic general Maria Zakharova.
Decommunization went. And laughter, and sin. We call it castration. There was Dnipropetrovsk - Dnipro became. I think you will do that too. Why do you need St. Petersburg? So short - Peter! And that's it! Immediately get rid of something. All the same, you call the city among themselves ... True, again your "dancer" has pinned us up.
She, you see, somehow does not like that we can rename Kherson or Zaporozhye in the same way. And why? If you do Ukrainian quite ... Kherson without a "dream" and Zaporozhye without a "burn" ... And then, just now I guessed, it's still Russian blood that speaks to us. Dnipro city on the Dnieper river. Almost Moscow on the river Moscow.
By the way, in the minds of the most advanced patriots, a new thought is already ripening. And why is the Dnepr called in Moscow? This is zrada! Sly-gooder, or rather over, carries to us the aggressive infection. Smart people have long noticed it. Won the Western Dvina. Flows to itself and flows. And then once - and became Daugava. Normal river Zhaiyk when crossing the border bang - Ural! So we should be.
Okay, even the ancestors of the Russian Sea was renamed Black. And then imagine how much hryvnia would cost us renaming. Scary to think about lenders. Where they will find us so much money.
It is of course, and the Dnieper will get us a pretty penny. Our economists here figured plus or minus a million. More precisely, modestly, if you rename, then thousands in 700-800 will be laid. This is the mayor of Dnepropetrovsk said. Only for a flat account, you need to rename three hundred more streets. Then a million and succeed.
Now about art. Paradox, but your Zakharova overshadowed our Jamal. That's it. And I still remember Maria as a poet. Who does not know, she somehow replied coolly to the verses of Dmitry Bykov. And before that, "inherited" and John Kerry in verse. And so on you.
Mokritsa take it, dancing. And he keeps his word. How I told a familiar cockroach here, Zakharova gave this very word to journalists in Sochi. And kept. Although our president "on training" send to her. How to keep the word male.
But what no one expected, is the fact that even the Ukrainian peremoga at Eurovision on our territory will become like it. Still, an international competition. We kind of won according to European rules. Congratulations accepted. The president personally awarded the title to Jamale.
And then it started. And it began. It turned out that some kind of nonsense came out with a vote. It seems like we are not peremohniki. And some European Australia. Or even worse - Russia. And then the song dug up. There, according to these European rules, it seems like the song should be "from scratch". And Jamala 15 already performed it somewhere.
Yes, and the competition is not overplayed. We have to hold a contest! And what, I apologize, pennies? No, some money, of course, will be collected from the participating countries. Then all sorts of sponsors, if they will. But still not enough. That's because hemorrhoids got.
And the country is the aggressor ... We all sorted out the sanctions. And for artists, and for journalists, and for just men. And knowing the vile nature of the northern neighbor, I can say with confidence that they will send an artist to the competition for sure. Or an artist, but the artist will be a mentor. And in order to collect information to send journalists. And all completely - men will be.
It has come to us from your hearing that they are thinking of sending Shnurov to our vision. I liked the idea, approve in advance. At least one man will be in kind. And it can amuse with its soul vocabulary and phraseology. So we look forward to.
In general, everything is as usual. Built a disgusting road. Bought an expensive car. And now we will break it on bad roads. Received peremogu. Quickly turned her into zradu. And now we will decide what and how to do. How to get out of this peremoga.
And yesterday, we celebrated ... Ukrainian European Day. This is not just for you. This day we are approaching ... as we can. But the holiday is already there. And this is the main point.
Our president made a regular speech about us defenders! So that Europeans do not forget.
"Today we are defending Europe from barbarism, tyranny, terrorism, aggression, militarism, which hang over our entire continent."
Already a tear broke from our heroism. We stand by the wall! No, I forgot, we are building a wall. So, we stand as a stronghold ... Again, I didn't hit ... We have few "Strongholds". We cannot collect something. Well, at least in Lviv in the garbage
Tanks
found. Since the time of King Peas, there have been discarded. For remelting stand. Our craftsmen are now putting them in order. Of course, fighting them is already dangerous. But for the account it will fit perfectly. Again, too much.
I now remember how you have in Russia, more recently, spears were broken in skirmishes about a national idea. That just did not offer. And now calmed down. Found, mean? But we do not bother. We are the idea of ​​a national leader and the "guarantor" is constantly voiced.
"Ukrainian citizens will take their seats in the European Parliament, the European Commission, the European institutions."
Only here weird as it sounds. Pure our way. A national idea is to protect the interests of another state ... Well, or states. And it seems to me, judging by the way we are given "visa-free", we do not pass face control into this very Europe.
Something these speeches remind me. I don't know about you, but the cockroaches know that the Poles at the end of the 30 of the last century spoke about the same way. They were also "on the front lines". And then began Goebbels "hordes from the east" and other European nonsense. The one that ended with a grand "sneak" from those very hordes.
Here I do not understand why cockroaches are divided into smart and fools, and people into races, parties, nationalities and other nonsense? Probably not enough food. So ponapridumyli different nonsense.
And in Kiev, the mayor continues to win monuments. Moreover, given the boxing past, the end of the battle is near. Klitschko promises to 23 May last "fence".
But in courage boxer can not refuse. He then "hit" on the "Azov". The car around these bandyukov stopped. Released. And ... urged to remove the mask! That's right, without fear, and said. Remove, they say, masks, and that's it. An honest person doesn't need to hide faces.
Yeah ... Do not ... "Azovtsy" everyone understands. They are afraid of their families! And what is asked, fear something? Why are any separatists not afraid, but real patriots are afraid? It is wrong. That's what he said and ... left.
And we can expel the deputies. In the sense of simply making a decision. Rada and everything ... You're already kind of not a deputy. And nothing that you people elected. Wrong people just got caught. Hidden separatists. In Kharkov, the deputies decided to expel the "pro-Russian provocateur." "Driven" by Andrei Lesik on our mayor of Kernes. And received. And right! There's nothing about party politics ... pah, undermine the ideas of Europeanization of the whole country.
But most importantly, the weather gets better. The people began to actively wear last year's embroidery! Here and there, "marches embroidered". Even in Warsaw spent. True, there were few of these "embroidered shirts" among the local Gaster. The 150-200 man walked the streets quietly and into the park. On kebabs. Warm all the same. But the main thing is done. Photo!
And they did it in Odessa! It was interesting to listen to slogans. I wrote down a couple of three. And then think what came up. "Glory to Ukraine - Glory to the Heroes", "Glory to the 2 Heroes of May", "Heavenly Hundred - Three Times Glory", "Wear an embroidered shirt if you love your native land", "Moldavian and Peresyp - all of Odessa in embroidered shirts".
And finally, to you
news
news that will ruin your mood. Well, not everyone, but many. We have persistent rumors here that from 2017 you will be banned ... 2 liter bottles of beer! Now your head will not hurt with a hangover. Now the head will hurt before use. One and a half liters is not enough, but three are many. They say that you have material on this on the government website. Honestly, I have not seen. Lazy to me. I'm having a beer on you. A drop or two and ... the ball is offside.
I say goodbye to this today. I'll go sanctioning dumplings to crack. What you want. Happy days and, most importantly, nights! This I tell you like a cockroach! And I will give you a song today directly about my situation.
Your Tarakan District