Recently, a Polish politician, leader of the Smena party, Mateusz Piskorski, was arrested in Warsaw for espionage in favor of Russia, the Republic's Prosecutor's Office confirmed the detention of 2 a day ago, reports
TVNZ
.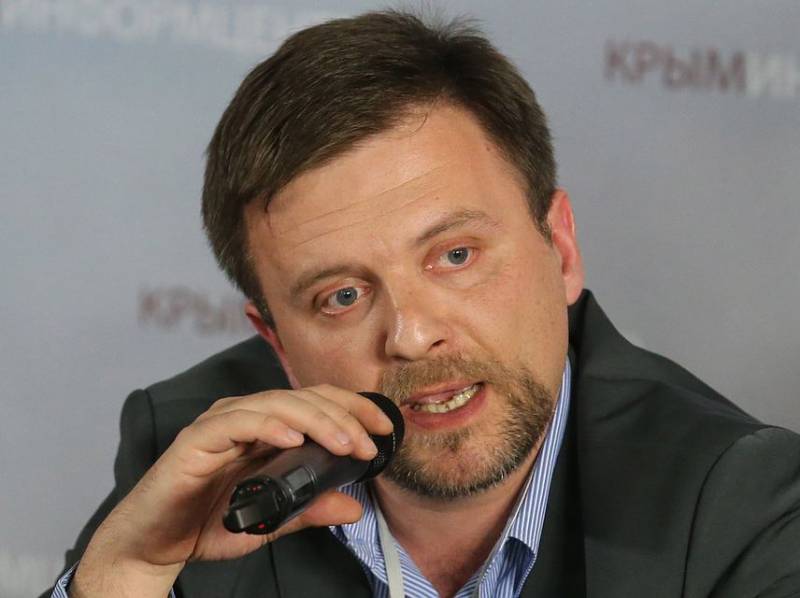 "I wish all the" spies "were the same as Piskorsky: smiling, hairy and bright! Patriots of their country to the bone, who are not afraid to go to the boarding. Persons whose interviews instantly crawl into quotations, "the newspaper writes.
According to the publication, the arrest of Piskorsky is an absolute nonsense.
"Spies do not travel around the world with lectures and do not give endless interviews. Spies do not declare their position openly. Spies are not being bullied publicly, just like they were being bullied: type the name "Piskorsky" in the search bar - his photo will immediately pop up against the background of the swastika. As it turned out - photo montage. Revenge on the part of Ukraine and Mr. Mr. Podgnibok's personal (leader of the Freedom party) for the non-Ukrainian position, "the KP notes.
A year ago, Piskorsky gave an interview to Komsomolskaya Pravda radio, from which it follows that "Russophobia in Poland is a matter for Ukrainian migrants."
"Correspondent: Pan Mateus, why does Ukraine not like you so much? Even on the "fotozhaby" on the Internet do not stint?
Piskorsky: For having been watching the nationalistic chauvinist threat there for many years and talking about this directly, contrary to the standards of political correctness of the European Union, which decided to close its eyes to what is happening in Ukraine. This has been happening for many years, over the past at least ten years, Ukrainian nationalist groups have enjoyed the financial support of Western foundations. About ten years ago, a Ukrainian nationalist portal printed my photo on the background of a swastika, very poorly made in Photoshop. I, taking advantage of the fact that I was then a member of the Polish parliament, filed a lawsuit to the prosecutor's office. I was told that the server is outside Ukraine, so they are not able to do anything about it. This is the nature of the Internet, which no one controls.
"And what do the Poles, I mean the leaders of your country, do in general in Kiev's Maidan?"
- 90% of those who actively acted on banderaidane - I will call him that, given the number of flags with Stepan Bandera - were there by request, because the Polish foreign policy towards Ukraine and Russia cannot be considered independent. I myself, as a former member of parliament, can confidently say that Polish political parties receive certain instructions from the US Embassy in Warsaw. So in the case of Ukraine, they simply act on order, receiving material and political benefits, because they are counting on dividends from a strategic ally, which, from their point of view, are the United States.
- Did not Poland have its interests in Ukraine? In the city of Lviv, for example?
- Firstly, there are practically no Poles left in Lviv. The only place for a more or less compact residence of the Polish minority is the Zhytomyr region - although there have been more Poles recently, since Ukrainians who want to obtain a residence permit in the European Union buy documents from archives, on the basis of which they then receive the so-called Pole card. Certain sentiments among the part of the Polish population that is connected with Ukraine by family
stories
naturally there is.
- And aren't the descendants of those who, in 1939, lost property in Lviv, gather to request it back? If Ukraine is going to become a part of Europe, then it is necessary to act in a European way?
- In fact, Ukraine itself offers such an opportunity by concluding an association agreement with the EU. Since she claims that in Soviet times she was almost under occupation, being a UN member, in the opinion of some Polish, American and Israeli lawyers, there is a legal possibility of compensation to heirs of property owners. So, Ukrainian politicians and the political establishment themselves create these problems.
- I imagine how the inhabitants of these houses will be "grateful" to them ... But I want to say something else. If Ukraine has just been living on TV for the last two years, Poland often drops over there and the names of some Polish politicians are heard almost every day. The monuments to the Soviet soldiers are removed, the sanctions are required, then they are asked to introduce an additional NATO contingent ... The topic of relations between Russia and Poland, a kind of fierce love-hate, is a matter of a separate conversation, although, I think, more similar people than the Russians and Poles Slavs are not.
- In our relationship there are practically no real contradictions. When I ask Polish anti-Russian politicians about the contradictions between the national interests of Poland and the national interests of modern Russia, everyone is silent, therefore no one is able to indicate them. Katyn was recognized as a war crime, and I think that four or five times the presidents of the Russian Federation apologized for what happened to Katyn with Polish officers in 1940, so this question should be left to the historians.
As for the other areas of our relations - economic are settled at least until 2025 of the year, a contract has been concluded for this period with Gazprom, which is beneficial for both Poland and Russia. There is another very important fact: Russia is the only one of all the eastern neighbors of Poland, in which even the most marginal, nationalist opposition movements do not make territorial claims against the Poles - in contrast to Lithuania and Belarus.
THIS IS A DIFFICULT WORD "NO!"
- Sorry that my next question is a little off topic - but I just suddenly remembered: how are the Polish apples, whose way to Russia was closed due to the sanctions?
- Polish apples did not go to Banderomaidan, they were not there, but, nevertheless, they suffer, or rather, farmers suffer because of the irresponsible policy of the Polish leadership. Agriculture Minister Marek Sawicki last year offered to export apples to Africa, but this is a rather exotic offer. What concerns agricultural products is a trifle compared to how much Polish businessmen are losing. Poland incurs economic losses due to EU sanctions, not Russian retaliatory measures.
- And if you demand compensation from the EU?

- It will not bring any results. The only thing a country can do, whose leadership realizes that its economy is suffering from sanctions, is simply to vote against them.
- And how will the newly elected Polish President Andrzej Duda behave in this situation?

"I remind you that this person stressed the need to deploy American military bases on the territory of Poland, transfer them from the territory of Germany and other countries of Western Europe, and demanded to send troops to Ukraine. The politicians of his party consider the United States as the main strategic ally of Poland and do not talk about partnerships with Germany - rather, from their point of view, Germany is too pro-Russian country. And support the project "New Europe", which should enter Poland, all three Baltic countries, Romania and, possibly, Bulgaria. Unfortunately, they are unable to do this with Hungary, Slovakia and the Czech Republic, who are conducting at least a little more independent policy.
"Why can't Polish politicians, unlike, say, the political elites of Hungary, Slovakia, or the Czech Republic, say a firm" no "to American dictatorship?
- Because they are not independent. The formation of these elites took place during the 80-s, the United States then used very effective tools of so-called soft power. Many of the current Polish politicians, representatives of political parties, leaders went, received various subsidies and were invited to the United States for various kinds of training. Radoslaw Sikorski - he is the speaker of the Polish parliament, formerly the foreign minister who led this anti-Russian policy, the foreign policy of Poland over the past few years, left Poland in 1980 year as a young man. First, in the UK, then in the USA, he officially worked as a correspondent for various Western publications in hot spots of the world - in Afghanistan, in Angola, but many years later admitted that he was present in these hot spots not only with a camera, but also with a Kalashnikov. So, he participated in hostilities against the Soviet Union. He is indirectly recognized in relations with the intelligence agencies of the United States and the United Kingdom. I think that if these kind of connections and relationships are already created, they remain for life. a certain type of Polish politicians ... Some time ago, I personally asked former Prime Minister Leszek Miller, who was politically responsible for creating secret CIA prisons in Poland, about why he acted this way. He says - everything is very simple, we were accused of being connected with Moscow, so we were forced to prove to everyone around us that we are not connected in any way and that we are the most pro-American political force on the Polish political scene
RUSSOPHOBIA IN POLAND - THE CASE OF UKRAINIAN MIGRANTS
"And why are the Poles, ambitious, freedom-loving, proud people, so submissively subject to this dictate?"
- Because foreign policy in Poland is not the most significant issue on the political agenda. Voters are more likely to be interested in domestic, social issues, economic policies. But due to the Ukrainian crisis, everything is changing, because any Pole feels the presence of Ukrainian brothers, of whom there are already 600 thousands in Poland. Among them are people who in the streets of Warsaw, Lublin and other Polish cities publicly come up with red and black flags. And this causes certain emotions in Poland. All acts of aggressive Russophobia present in Poland are the work of our favorite Ukrainian migrants. We collected various data about the manifestation of Russophobia in Poland and concluded that there is no Russophobia among the Poles. There is Russophobia among those who temporarily reside in Poland, came from Ukraine.
- Here it is, the question that worried me from the very beginning of the Maidan: why did the Poles forget the Volyn massacre?
- Do not forget. Almost everyone remembers the Volyn massacre, and despite the political correctness of the official version of history taught in schools, the Poles have family memories of what happened during the Second World War. Everyone remembers that the most atrocious of all the genocides that happened on the territory of Poland was Ukrainian nationalism. His victims were not only Poles, but also Jews, Armenians and Ukrainians who did not share those views. In fact, Bandera killed their own people - as they do in the Donbass. But you know what surprises me? That when anti-Bandera slogans appeared on the streets of Polish cities, criminal cases were instituted against those who supported them for inciting ethnic hatred.
GENERAL POINTS
- Does the Polish political elite have any plan to build relations with Russia? Economic, political, cultural?

- A number of Polish scientists have this strategy, which, unfortunately, no one is listening now as advisers. The leading Polish scientific institutions are developing concepts of Polish foreign policy, including those related to Polish-Russian relations. Everything is simple here - you just need to proceed from the fact that we have common problems with Russia, which we can only solve together. First of all, now this problem is Ukraine. This is a hot spot that creates problems for both Russia and Poland. Secondly, the same general problem is the question of the observance of the rights of national minorities in the Baltic countries.
So there are no real contradictions, in fact, between our countries there. Poland together with Russia should play a stabilizing role in the post-Soviet space. We cannot consider the post-Soviet space, all these countries, which are a zone of our common interests, without taking into account Russia's opinion. "