NATO Secretary General Jens Stoltenberg, the one whom Russian Foreign Minister Sergey Lavrov asked today not to go to the microphone, declared his readiness to extend the mandate of the NATO mission in Afghanistan. At the same time, it becomes clear from the words of Stoltenberg that he decided not to consult with Kabul, but was ready to extend the mission unilaterally. Solving problems at the side of a side street is a common practice of the North Atlantic military bloc.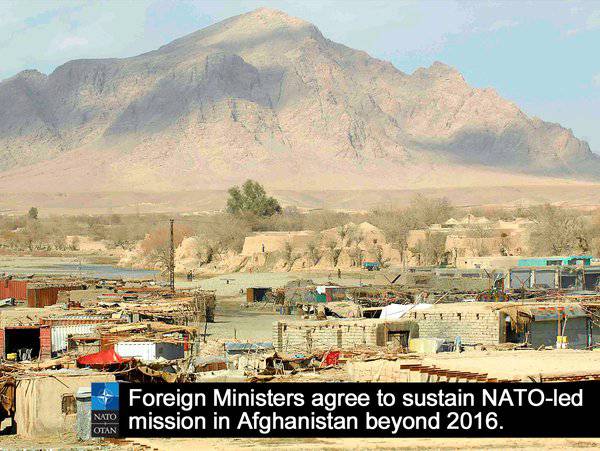 Interfax
cites a statement by the NATO Secretary General, expressed during a press conference at the headquarters of the North Atlantic Alliance:
The ministers of (NATO's foreign affairs) agreed to continue the "Strong support" mission after 2016.
Recall that in the United States and NATO have repeatedly declared their readiness to turn down the mission in Afghanistan (in particular, Obama promised to remove the troops from Iraq and Afghanistan as a candidate for the presidency of the United States), but each time Washington and Brussels found reasons to extend the missions. This is happening now, when the end of the mandate of the NATO mission in Afghanistan remains just over six months.
Jens Stoltenberg said that NATO will continue to "assist the democratic forces of Afghanistan to counter terrorism." At the same time, he did not clarify who today in Afghanistan should be considered terrorist, and whom by democratic forces ... For example, where would NATO write the Taliban, which was once created to fight against Soviet soldiers in Afghan territory?