Today Dnepropetrovsk celebrates the anniversary of its foundation on the Kilchen River. In 1776, by decree of Empress Catherine II, the center of the Azov province was founded, which received the name Ekaterinoslav. The initial position of Yekaterinoslav (on the Kilchen river) after some time was considered unsuccessful from the geographical and climatic points of view - frequent flooding, wetland. And in 1784, it was decided to transfer the provincial center to the Dnieper.
20 May 1787, Catherine the Great officially founds the new Yekaterinoslav. The foundation of the city is actually connected with the laying of the first stone in the foundation of the Transfiguration Cathedral. The date 20 of May 1787 was considered the official date of foundation of the city in the Russian Empire. In connection with the transfer of Yekaterinoslav from the Kilchen River to the place where the city is located to this day, Dnipropetrovsk actually has two official "years of birth" - 1776 and 1787. And both of these years are associated with the name of Empress Catherine the Great.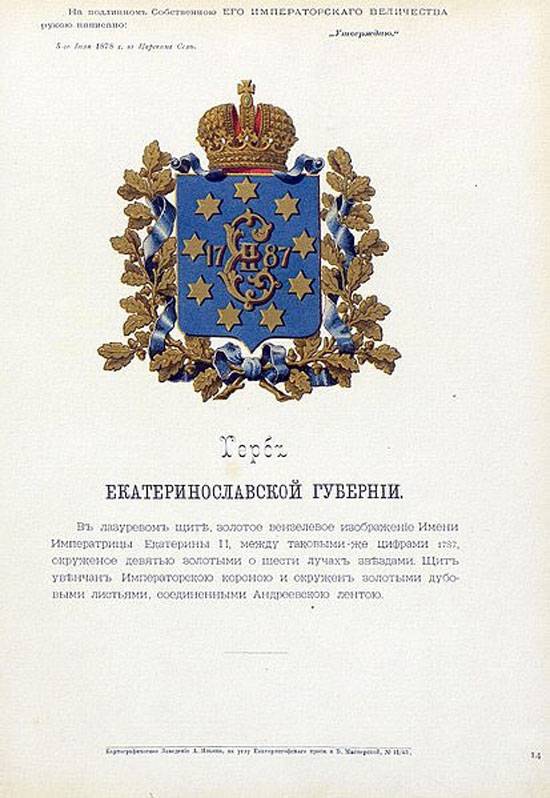 As you know, in the heat of the struggle for "decommunization", the current Ukrainian authorities decided to rename Dnepropetrovsk. The initiative to rename was put forward by the Institute
historical
memory of Ukraine. However, the memory of this institute is clearly not all right, and therefore, instead of the historical name Yekaterinoslav, the city was given the name of the river on which it stands - the Dnieper. The decision was made by Ukrainian people's deputies, but not everyone supported such a renaming.
Within a few hours after the decision on Dnepropetrovsk-Dnepr was made, the deputies thought about the reverse renaming of Dnepr to Dnepropetrovsk. Until now, the Ukrainian media are thinking about how to cover
news
from the city: call it the Dnieper or is it Dnepropetrovsk? ..
At the same time, it was announced at the Ukrainian forums that celebrating the birthday of the city of 20 is not worth May, since the "ancient Ukrainian city" had been at this place before. This statement is from the same series as the statements about the "digging of the Black Sea by the ancient Ukrainians", as well as about the submarines "invented by the Cossacks".
Happy Birthday, Dnipropetrovsk (Yekaterinoslav)!