Official Baku accuses the Armenian armed forces of violating the cease-fire regime in the Nagorno-Karabakh region. If you believe the reports of the Ministry of Defense of Azerbaijan, the Armenian soldiers at least 10 once opened fire in the confrontation zone last night. It is reported that firing from automatic
weapons
.
In turn, the Armenian Ministry of Defense spreads the message that the night of Friday in Nagorno-Karabakh was relatively calm. With reference to the country's main defense department, the Armenian information resource
I NEWS.am.
writes that several cases of use of automatic and sniper weapons from the Azerbaijani side have been noted.
From the message of the Ministry of Defense of the Nagorno-Karabakh Republic:
The units of the NKR Defense Army complied with the cease-fire agreement, continuing to confidently carry on combat duty.
Against this background, Azerbaijan conducted exercises for border troops in the Aggol field center. Testing the actions of the Azerbaijani border guards was held on the personal order of the President (Supreme Commander-in-Chief of the Armed Forces) of Azerbaijan, Ilham Aliyev. The main subject of the exercises: "preventing the enemy from crossing the state border of Azerbaijan." Reports the information portal about it
Vesti.az
.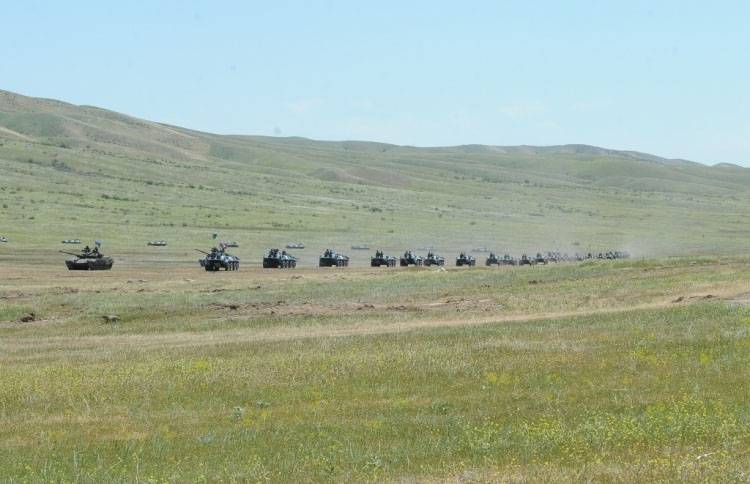 During the exercises used the army
aviation
, armored vehicles, military vehicles. Firing was carried out from anti-aircraft mounts, grenade launchers, heavy machine guns and mortars. The commander of the Azerbaijani border troops, Colonel General Elchin Guliyev thanked the personnel who took part in the maneuvers for their professionalism.