The Russian Defense Ministry jointly with the Russian Helicopters holding decided that the delivery of the new Mi-38 multifunctional helicopters will be included in the next armament program, reports
Rossiyskaya Gazeta
.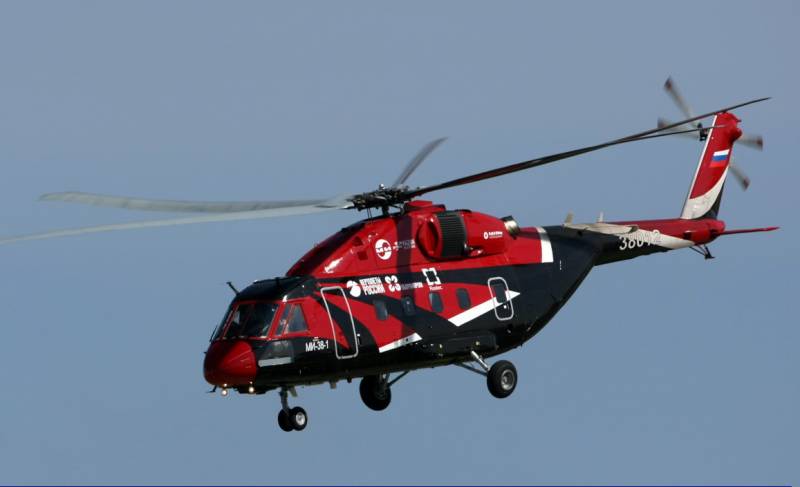 The helicopter is produced at the Kazan plant - the first fuselage of the serial car has already been assembled there.
According to the holding, "the modification of the helicopter for the Defense Ministry of the Russian Federation will be equipped with aggregates and components exclusively of domestic production."
"The parties will conduct joint flight tests, during which the machine's compliance with the requirements of the army will be checked. According to the test results, purchases of the Mi-38 helicopter for the needs of the VCS will be planned, "the press service reported.
"We are aware of the need for our products to be independent from foreign supplies of components and assemblies. In this regard, we are working to ensure maximum import substitution within the production of helicopter technology, which is supplied to the Ministry of Defense as part of the state defense order, "said the head of the holding, Alexander Mikheev.
"At the same time, the transport version of the Mi-38 helicopter allows increasing the functionality and expanding the area of ​​its application by creating specialized versions, including the" Arctic "version of the helicopter," the message says.
Holding reference:
"Mi-38 is a multi-purpose medium-duty helicopter. It is equipped with new highly economical TV7-117В engines of domestic production and an integrated digital flight navigation system with data display on five LCD displays. Mi-38 can be used for the transport of goods and passengers, used as a search and rescue helicopter and a flying hospital, as well as for flights over the water surface. Thanks to the technical solutions used, the Mi-38 surpasses other helicopters of its class in terms of carrying capacity, passenger capacity and basic flight performance. "