The members of the North Atlantic Treaty Organization (the official name of NATO) made a unanimous decision on the next stage of expansion. This time, NATO members supported an application for entry into the military bloc received from the Montenegrin authorities. The signing ceremony of the protocol on the accession of Montenegro to NATO was held today in Brussels.
The document was signed by representatives of the 28 states of the North Atlantic military bloc, as well as the head of the Montenegrin Cabinet of Ministers Milo Djukanovic. NATO Secretary General Jens Stoltenberg spoke at the signing ceremony for this document.
The photo of the folder with the decision-making protocol of the representatives of the military bloc on the accession of Montenegro to NATO is published on its Twitter page by the NATO representative in Russia, Robert Pchel.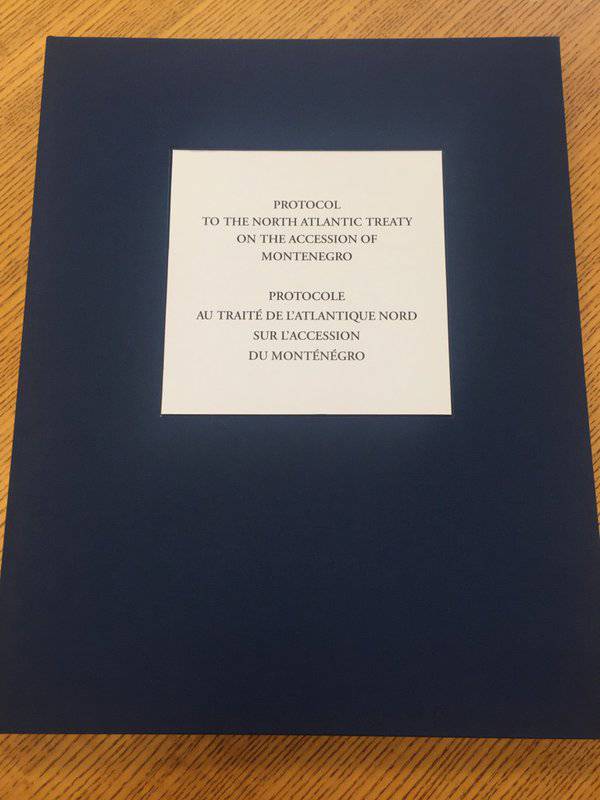 One of his entries, citing the press service of the North Atlantic Alliance (given without abbreviations used by Prhel):
The foreign ministers have just signed the accession protocol. Montenegro is very close to becoming an 29 member of NATO.
Attention is drawn to the fact that over two thirds of the population of Montenegro (as polls show) oppose the entry of Montenegro into the North Atlantic military bloc. But the opinion of the citizens of Montenegro does not bother anyone either in the government of the country, much less in Brussels and Washington.