Radio Liberty journalist Anton Naumlyuk, on his Facebook page, reports that the jury in Grozny found Ukraine Nikolay Karpyuk and Stanislav Klykh Ukrainian citizens guilty of taking part in hostilities against federal troops in 1994-1995. This information is confirmed by the notorious lawyer Mark Feigin defending Nadezhda Savchenko.
Feigin tweets:
Karpyuk get a life sentence. And this is a very significant problem for its further transfer to Ukraine under the Convention.
And this is from the post of Naumlyuk in
Facebook
:
Nikolai Karpyuk and Stanislav Klykh
The jury found the Ukrainians guilty of participating in hostilities against federal troops during the Chechen war in the winter of 1994-1995 as part of the Viking unit, and the death and injury of several dozen Russian soldiers.
Karpyuk and Klykh found guilty. In this case, according to the board, Klykh deserves leniency.
During the announcement of the verdict, Karpyuk calmly stood, holding the bars of the cage, listening intently. Klykh read the newspaper and did not pay attention to what was happening.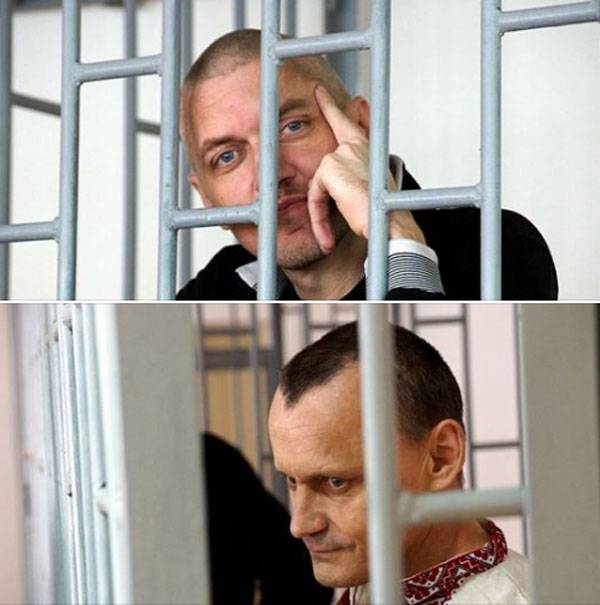 A member of the Ukrainian right-wing organization UNA detained 2014 in March. The detention of Stanislav Klykh on the territory of the Russian Federation was carried out in the autumn of the same year. By that time, both criminals had clearly decided that they had managed to escape from justice. But mistaken.
Klykh and Karpyuk were accused of numerous episodes of criminal activity in Chechnya during the 1 of the Chechen campaign. Several episodes are connected with executions of servicemen of the Ministry of Internal Affairs of the Russian Federation.