Yesterday, the Ukroboronprom concern published a message stating that "in the first quarter of the 2016, the specialists of the state enterprise Konotop Aviation Repair Aviakon, part of the concern, repaired and modernized the Mi family helicopters 14," the blog reports
bmpd
.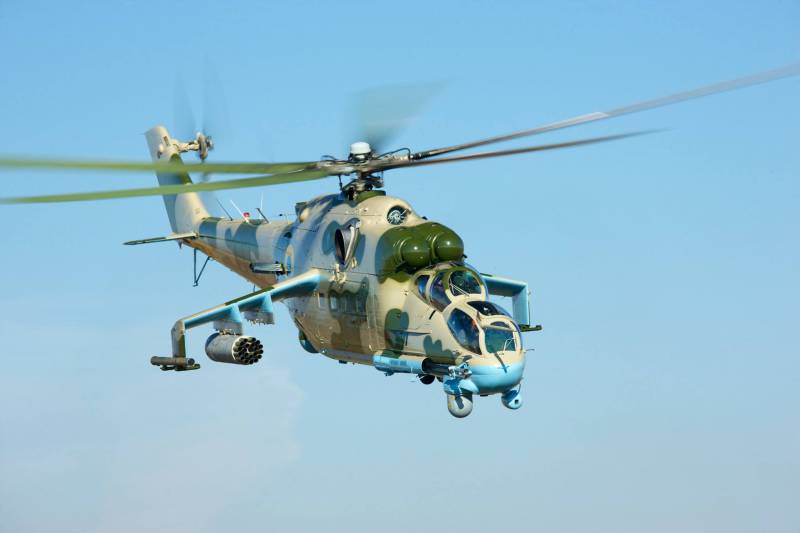 Presumably, the prototype of the modernized GP "Konotop aircraft repair plant" Aviakon "of the combat helicopter Mi-24PU2, 2016 year.
Seven helicopters were repaired for the Armed Forces of Ukraine and seven more for a foreign customer (probably for Algeria).
"The main task of Aviakon is timely and high-quality repair of helicopters for the needs of the armed forces of Ukraine. And he did an excellent job with him in the first quarter. Moreover, it restored the equipment under foreign contracts, "the press service of the Roman Romanov concern general director quotes.
"It is interesting that the press release is accompanied by a photograph of, presumably, a prototype of an upgraded combat helicopter in the Mi-24PU2 version. This is the first published snapshot of the prototype Mi-24PU2 in flight, from which it can be concluded that in the first quarter of 2016, the Konotop Plant was finally able to complete the work on this prototype and passed it on to flight tests, "says bmpd .
According to the blogger, "the Mi-24PU2 program (the so-called" second stage "of the Ukrainian Mi-24 series helicopter modernization project) belongs to the" protracted "Ukrainian defense industry: the Mi-24PU2 was originally (unlike the" transitional "version of the first stage" modernization of the Mi-24PU1) was created as a modernization project for round-the-clock use and had to be equipped mainly with the on-board equipment of the French company Sagem (Safran group), and the armament structure was to be introduced anti-tank missile set Ex Barrier-V developed by the State Luch Design Bureau of Kiev ".
It is noted that "The Mi-24PU2 prototype began to be refitted from the Mi-24P helicopter at the Aviakon factory back in the 2011 year, but the work was delayed due to the difficulties of integrating the" board "and insufficient funding."