A dark desert, a huge space, divided into dark streets, in the midst of which come across boutiques selling matryoshkas, portraits with Putin and vodka - this is what some Western journalists see in Russia today. Among well-known clichés, with the help of which Western correspondents "populate" their articles, also Comrade often meets. Stalin, the novel "War and Peace", total prostitution, dumplings, gopniks and nuclear weapon.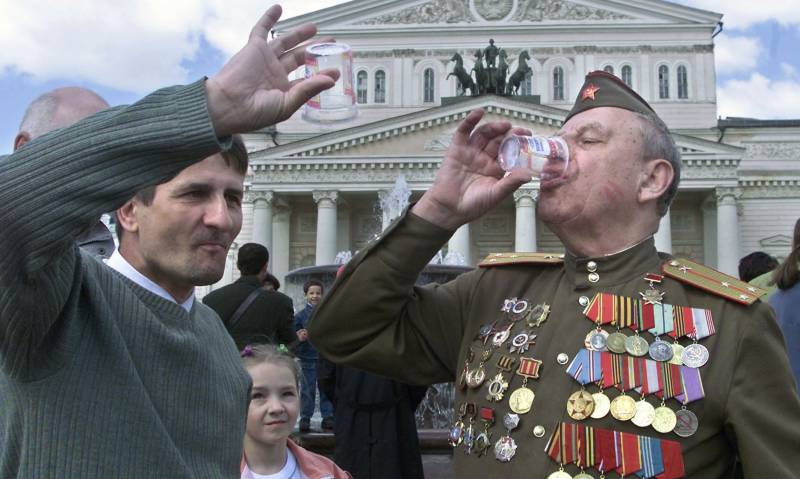 Jim Kovpak in the British newspaper
«The Guardian»
He criticized his colleagues from the media, who constantly use various kinds of clichés in articles about Russia. In the article "Stalin, vodka and nuclear weapons: how not to write about Russia," he summarized four common patterns, because of the constant "use" of which the authors of materials about Russia look silly.
According to Mr. Kovpak (American), he himself began writing about Russia ten years ago. He tried to debunk some stereotypes (both positive and negative) that flash in the Western media when it comes to Russians and their country. The journalist was literally "annoyed" by some cliches repeated from article to article. Today, many of these clichés still exist. Moreover, they added new ones.
Cliche number one: Russia is very different from the West.
Yes, different, and so what? How much can this be surprised? What makes Russia different, not like the countries of the West, must be sought in the distant past, the years of the seventies of the last century. After all, under Soviet rule, the country developed with an absolutely different system. That system had a significant cultural impact not only on Russia, but also on many Soviet republics and (to a lesser extent) on some countries in Eastern Europe, the journalist points out.
The "extension" of this cliché is the statement about "extreme Russia". What is behind this? The author believes that this is a cliche in the course of those people who would like to depict themselves by some cool guys who have passed through fire, water and copper pipes in Russia. Let Western readers, heroes, admire them.
Cliche number two: everything is like in Tolstoy's novel War and Peace.
This is why? So that the reader will understand that a journalist has bothered to read an old Russian novel? All right, we believe. But what a monstrous idea: to compare "the Moscow metro at rush hour and the battle of Austerlitz"? ..
Yes, the Russians are proud of their classic literature. Knowledge of this literature will certainly help a journalist to make new friends among Russian. However, it is worth remembering, says Kovpak, that
history
better left to historians, not novelists. In addition, Americans are unlikely to approve if foreign writers begin to squeeze Mark Twain or Ernest Hemingway into each of their articles. The British will not be happy if every article about the UK contains full references to the works of Shakespeare or Sir Arthur Conan Doyle.
Third cliche: prostitution is flourishing in Russia.
Yes, prostitution or sexual slavery is a big problem in Russia, but not exclusive. Many other countries face the same exact problems. But here's the thing: when it comes to Russia, Western journalists seem to be fixated on the relevant issue.
After the ruble collapsed in 2014, Apple temporarily suspended its sales in Russia in order to revise prices. Some luxury car manufacturers have done the same. But for many media, the main Russian topic was suddenly a message about price increases by sex workers in Murmansk, who allegedly decided to keep up with inflation. And the source of this message was doubtful.
And another cliche, consisting of a set of characters: Stalin, vodka, nuclear weapons, Putin, and others.
"Stalin, vodka, gopniks, pelmeni, matryoshka, the journalist writes. That is, Stalin, vodka, gopnik, dumplings, matryoshka, nuclear weapons or Putin are mentioned - and this article is not about the president. Some authors really like to pepper their writings with random Russian words.
Imagine if the Russians, in their articles on England, would constantly mention William the Conqueror, frankfurters, Buckingham Palace, Harry Potter, Sherlock Holmes and other characters?
Undoubtedly, it would cause irritation. So, exactly the same irritation is experienced by Russians when foreign correspondents talk about matryoshkas, vodka and "War and Peace".
This problem exists, and very often the reason for such nonsense is in the cultural and ideological clichés that Western journalists have ingrained in the brain, said Andrei Bystritsky, dean of the faculty of communications, media and design at HSE. "Journalistic ignorance is generally the most important problem of our time," he said in an interview
Reedus
.
Many journalists writing about Russia more or less overlook the changes that have occurred in the country. They even use non-existent concepts (for example, "the leader of the Red Army") or, showing a queue for an exhibition at the Manezh, call it a queue at the labor exchange. One television company even showed a report on the "riots in Moscow", accompanying it with a video sequence with burning tires ... under palm trees. For a Westerner, Russia is a third world country like Mozambique.
"It makes no sense to guess why a particular editor confused Africa and Russia. But the confusion in the minds of Western journalists is a medical fact, "Bystritsky said ironically.
* * *
Many stereotypes, by the way, are used in their practice by high-ranking Western politicians. Here are two of the most common clichés: Putin is going to "revive the USSR" and the "Russian threat", against which NATO's "defense alliance" stands bravely.
Domestic stereotypes ate Western politicians in the subcortex so deeply that they can be picked out from there only with the help of trepanation of the skull.
Recently, in December last year, US Secretary of State John Kerry, who flew to Moscow, went to free time - where would you think? That's right, on the Arbat. As a gift to relatives and friends, he bought first of all that very matryoshka. These matryoshka on the Arbat were sold in Soviet times, sold now.
Interestingly, some stereotypes and their variations (about bears with balalaikas, Putin riding a bear, the constant use of vodka in large quantities, etc.) are supported by the Russians themselves. Of course, this is done as a joke, but the Americans or the British often do not understand this: sometimes it is beyond the power of the translator to convey humor at the everyday level, let alone ordinary citizens.
In itself, the use of stereotypes in the texts or the cultural attention of politicians to them (such as the purchase of the dolls D. Kerry) may not have a bad color. However, when the media consciously begin to turn Russia into a country of walking drunken bears and deserted streets, it already looks different and is called hostile propaganda. And hardly Comrade Kovpak will have the strength to defeat this car.
Observed and commented on Oleg Chuvakin
- especially for topwar.ru