At the head office of the Saab AB group in Sweden, the first prototype of the JAS-39E Gripen fighter of the new generation has been rolled out of the workshop, the blog reports
bmpd
with reference to the site of the enterprise.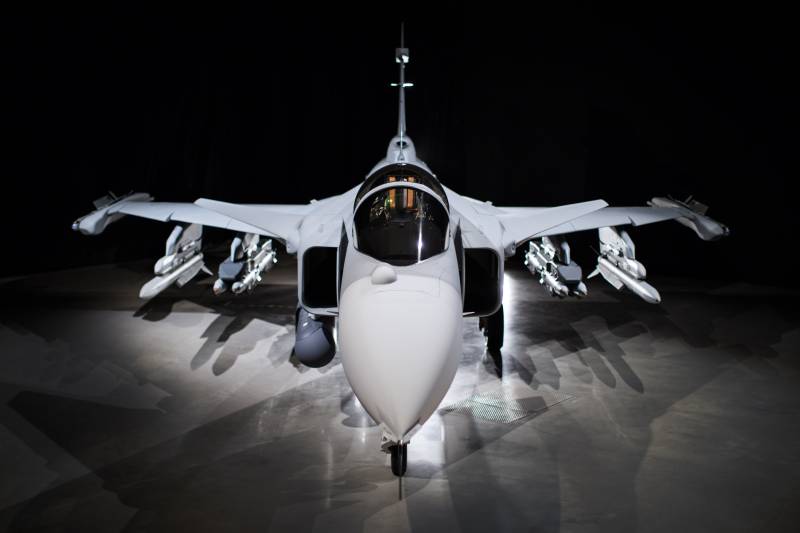 The first prototype of the fighter Saab JAS-39E Gripen (Gripen E, tail number 39-08) at the roll-out ceremony at the leading aircraft building company of the Swedish group Saab AB in Linkoping.
The start of flight tests of the prototype (board. No. 39-08) is scheduled for the end of the year. "The sample will be used mainly for testing aerodynamic and flight characteristics and maneuverability," the company explained.
"At present, the company in Linköping is finishing construction of the second flight prototype Gripen E (tail number 39-09), which is intended for developing weapons systems. The third flight prototype of the Gripen E (tail number of the 39-10) should become a machine in the pre-production configuration in 2018, "the publication says.
To date, the Swedish Air Force has ordered 60 fighters. Their delivery is expected from 2019-th to 2026. New aircraft should completely replace the fleet of JAS-39C / D (about 100 vehicles) in service.
In addition, more than 30-ti aircraft ordered by the Brazilian Air Force. The possibility of acquiring new fighters by Switzerland is being considered.