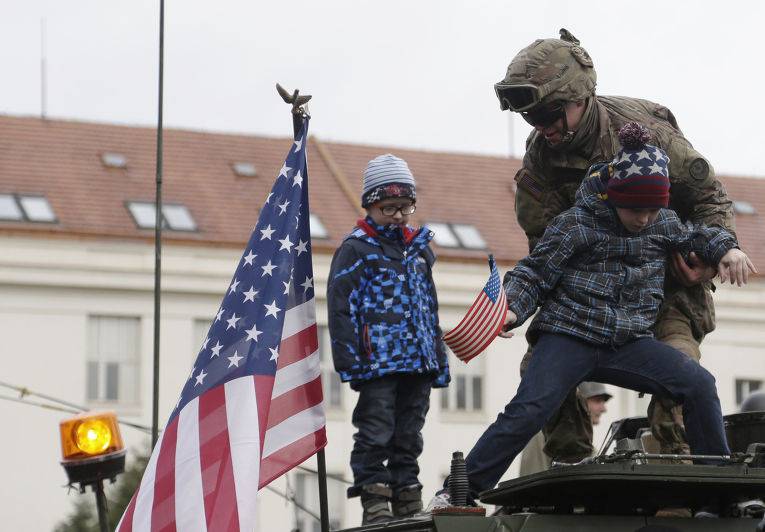 "The Sea Wolf" by Jozhka Osobah, who during his life under the flag of the Czechoslovak Maritime Shipping has traveled to many countries, and today owns a small gallery in the center of Pilsen, is allegedly again unable to express his views out loud. He speaks positively of Putin, for which he is branded as a Russophile. In addition, in an interview with the portal ParlamentniListy.cz, he recalls the Allied bombing and wonders how someone could confuse Dobržany and Pilsen with Dresden. Unlike the West, we forget about Gagarin, and we also treat ourselves badly ...
ParlamentniListy. cz:
In Ukraine, the new government. How do you think events will develop further?
Yozhka Special:
As before, because different factions will argue there. In addition, they want goods not from Russia, but from Western Europe and America. There is not like ours. Although we have diverged from Slovakia, we still have connections and we help each other. But there they completely diverged. As for what happened there two years ago, so all sensible people know who started it, and that everything was rigged.
- They say that Russia is to blame for everything, and Putin's hand must be seen everywhere ...
- All Putin, Putin ... He has subordinates who advise him. All this is artificially created. Now people say: "America, America", but America borrows money from China. A big mistake was made when we obeyed and joined the boycott. Just imagine how many firms and citizens are paying for it. We have. Brussels doesn't care what's going on with us. And look how China enters the Russian market, how the doors are open there today. And to America too! First, the Americans boycotted Chinese goods, and now they import them and even borrow from the Chinese. Russia today receives a large number of Chinese goods and technologies. BUT
weapon
? Who arms China? Russia. And who arms the rest of the country? America! People are simply blinded, but they must take into account that the powers were here, are and will be. We are again entering the period of the Cold War and are again opposing one another. Now we are all against Russia. And this is serious. But Russia cannot tolerate the fact that the American bases are approaching the Russian borders. We are forcing Russia to arm - and as much as possible. China will not be with the Americans - rather, it will be with Russia.
"But there have been conflicts between China and Russia ..."
- Of course, even with the king, with a great empire, but the situation was always calming down. Imagine that in the 50s in the oceans, ships under the Chinese flag were not allowed to sail. Who helped them? We and the Soviet Union. There were also moments of border riots, but everything was settled there as well.
- But Russia occupied the Crimea ... And now it is supposedly interested in the Baltic states. Is this not intimidation of us, ordinary citizens?

- Of course! People are afraid, and it is in the hands of someone. See who is starting to build military bases in the Baltic States and Poland and who is supplying weapons there. And let no one tell me that the Russians can not defend themselves. We just force them to spend money on armaments instead of food purchases and development.
Last month, 55 celebrated its anniversary of the first flight of the first cosmonaut. Russia and the United States vied for who will be the first in space. It cost money and lives. The first were the Soviets, and this must be remembered, because even the Americans recognized it. Due to the fact that these two rivals competed in astronautics, look at what technique even entered our everyday life. But at first it was intended to fly into space. In 90 for several months everything calmed down, and then it began again. Germany was united, Yugoslavia and the Soviet Union were crushed. America did not fall apart, but rather the opposite. After 60 years, the Americans want to take Cuba again. They want those countries that are out of American influence.
- At the end of April there was the anniversary of Gagarin's visit to Czechoslovakia, which became the first foreign country he visited. But this is not particularly talked about ...
- Because he is a Russian citizen! Surprisingly, he is remembered in the West. And we are holier than the pope ... We have canceled International Women's Day, the First of May, the May holidays. The most solemn festivals are in western Bohemia. Today, after 24 years have passed, we see that people are fed up with this, and that the celebrations will not be so big. It was decided that they will be lush every five years. In economic terms, of course, it costs a lot, and people are tired of it all. All the same constantly. Like 25 years ago, when parades were first held every year, and then once every five years on Letenski Field. So that
история
constantly repeated.
- We completely forget about the historical context in terms of the Second World War and its end, right?
- 25 years we forgot that February 14 and April 25 bombed Czechoslovakia. Yes, we were in the hands of the Germans, but the outcome of the war was decided. He was identified in Yalta, in Tehran. And there the powers agreed on how to divide a small Europe.
We forget that sad August 1968 of the year, and who was on our side? Fidel Castro, Romanians and Yugoslav Tito. And not all of these Poles, the GDR, who suddenly invaded the fraternal country. This is also forgotten. All blamed on Russian. Poles came, Bulgarians, who stopped, for example, on Smichov in Prague. And suddenly, after 25 years passed, it was said that there were only "these Russians" here, the USSR. And so in a boorish way. There were "allies".
About how many people died here on April 25 during the Allied bombing, did not say. And it was forgotten that 5 and 6 in May people revolted and seized the German leadership. No, they constantly say that Americans have come here. But not a single American died here, but walking along one of the main avenues, Klatovsky, you see a lot of monuments and tablets to the victims. Unfortunately, today there are no reminders on some houses.
The same applies to the movement of Jews at the beginning of the occupation. Here they began to make panels with the names of people on the sidewalks, but the matter was never brought to an end. It is also forgotten that nearby Dobržany, which the pilots allegedly mixed up with Dresden, were also bombed ...
Like any political idiot can say something like that. We forget that in our politics there are people who have been there since the very beginning of 90's up to today. They are expelled from one place, and they find themselves on another. How can you confuse Dresden with Plzeен and say that 90 kilometers between them! But this year it was said on television and written in the newspapers!
"But the allies said they confused ..."
- Don't be like them! Did the allies say that? Have you heard of any of the allies who said this before? All this began to speak in the last three years, but it has never been said before that someone confused Dresden. They say it now because we want to get on with America. Do not be offended, but how can this be confused? It looks like fools began to change signposts in 1968, so that the "allies" would go around the circle. And when the soldiers arrived at the same place a second time, they realized that everything was different on their maps. Only a fool could think of such a thing.
- Let's go back to the present. Previously, on the ship you had to pull with one rope, but what is happening today?
- Today, people only look at the economic side. The mutual assistance that we had 25 years ago completely disappeared. Today, think about it, a child cannot go skiing if he is from a poor family and does not have a new outfit. This was not. Previously, younger ones wore older things. In general, the friendship is gone.
Look at the Pilsen. The city had its own airfield, and after the revolution, the strip collapsed, and today there are workshops. And the Chinese who come to America are given land for rent, but they do not sell. Only when you are a third generation American can you buy land there. Look at how many empty apartments we have here, but on the other hand, how many people are sitting on the bench, not having work and housing. And now people come here who are young, who are from where they are going could work, but they prefer to go here and wait for support. We are not at a level to give them the same as in Germany. Therefore, everyone wants to go there ...
- You are hinting at refugees and immigrants. What do you think about this as a traveler who contacted different peoples and religions? Will there be harmonious coexistence?
- I think not. Everyone must stay in the country where he was born. Look, for example, on the Czechs who left in the 18th and 19th centuries, when we had unemployment, when people went to America or to former Tsarist Russia, or to Romania, where they received land and could work. But everyone, when there was a war, went to help their republic.
When someone says that today we see the same thing as in times of emigration, I disagree. This is not the same! In this case, people artificially move, and someone makes a lot of money on it. Refugees as if on vacation. Imagine how many of our people emigrated after the invasion of the Warsaw Pact allies. I am in favor of the young people going to explore the world, as our ancestors went, but let her come back. Having gained experience, young people will return and will support and develop us here.
I do not advocate for the borders to be closed, but I am for allowing people here, say, for 90 days. And then, some say: there are fights ... But this is no longer the case: the intensity of fights is decreasing. This whole wave is simply artificially created and maintained. Our culture is completely different. We are Western Slavs. And our people will not adapt to another religion. But in Russia it is necessary to adapt.
- And we return to fear. We talked about the fear of migrants, and before that - about the fear of Russia. Now let us touch upon the fact that we are forced to fear, because in a state of fear a person tends to behave short-sightedly ...
- This is special. There comes a period that once was, and we were glad that we got rid of it. Again the cold war begins between the two powers, and a third one intervenes - China.
- You said that you are sometimes criticized for Putin. Recently it happens more often?
- Yes. People turn on the TV, and they are fed there with bias. I do not see in our media that someone was objective. And if someone dares it, then the audience pounce on him. Putin is president, that's all. They say more about Zeman. He is a legitimately elected president who also has advisers. And both of these presidents are just people. They are not sinless, make mistakes. But since we have chosen our president, we must respect him.