Information Agency
Interfax
with reference to the indian portal
www.firstpost.com
reports that India has tested the Prithvi II ballistic missile. This is a single-stage short-range missile on liquid fuel on a mobile launcher. The launch of Prithvi-II was carried out from the Chandipur test site in the state of Odish (eastern part of India). The report says that the flight of a ballistic missile took place over the waters of the Bay of Bengal.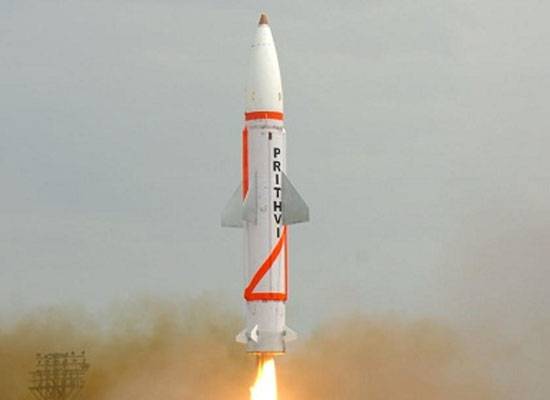 The launch took place around 9: 40 local time. At the same time, the Indian Defense Ministry planned to launch a second rocket of the same class, but before preparing for the second launch, certain technical problems were identified, and the launch had to be abandoned.
For reference: the Prithvi-II missile is capable of hitting targets at a distance of up to 250 km (Indian media today write about 350 km). It is equipped with a so-called inertial navigation system that allows you to maneuver in flight.
The missile is capable of carrying a nuclear warhead weighing up to 1 tons. In this case, the launch mass of the object is about 4,5 tons. The mobile launcher is based on the Tatra vehicle (8x8).
In 2010, the Prithvi II rocket launch at the same Chandipur test site ended in failure. All other launches of the Ministry of Defense of India recognizes successful.