The Russian Helicopters association will show three new UAVs at the HeliRussia-2016 exhibition - a helicopter, a multi-rotor and a convertoplan, reports
press office
holding.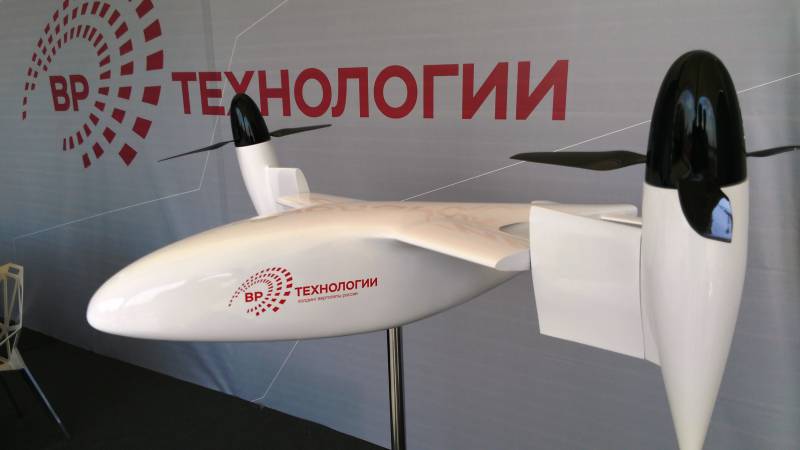 "The unmanned helicopter, multikopter and modernized convertoplan will be shown to visitors of the exhibition. The design bureau of BP-Technologies of Russian Helicopters holding company (part of Rostec State Corporation) became the developer of these devices, "the release says.
It is noted that the helicopter and multikopter "have already successfully passed a series of flight tests. Both models are completely autonomous and are capable of performing tasks according to a predetermined algorithm without operator participation. "
According to the information, "an unmanned eight-screw multicopter is driven by an electric motor and is able to spend about an hour in the air, carrying 3 kg of payload, its maximum speed will not exceed 60 km / h."
The helicopter-type UAV, "is also equipped with an electric motor and is capable of rising to a height of up to 2 km from 5 kg of payload, and its maximum speed is up to 120 km per hour." "The design of the helicopter allows the use of a hybrid power plant to increase the time and range of the flight," the press service added.
As for the convertoplane, compared to the previous model, the glider has changed in the current model.
"Conducting further research led to a change in the glider of the convertoplan. At HeliRussia-2016, viewers will be able to see the tandem plan already in a modernized version with the addition of a carrier wing, "said BP-Technology CEO Alexander Okhonko, adding that" changes in the treadmill design contributed to an increase in flight range, as well as improved flight safety at transitional modes of this promising machine. "
"The convertoplane, whose weight is 35 kg, is capable of rising to a height of up to 2 km and carrying up to 6 kg of payload. The range of the UAV's automatic flight is about 450 km, and it is set in motion by a hybrid power plant, allowing it to accelerate to 140 km / h, "the message says.
As the press service noted, these UAVs "are designed to meet the challenges associated with monitoring and protecting the environment, taking measures to control the environmental situation, conducting aerial photography, and delivering small loads, such as medicines, to remote areas. Interest in them has already shown oil and gas companies, as well as various Russian departments.