The forces of the Syrian government army and the people's militia took control of the Tal-Haddad region in the north of Lattakia province. Syrian government troops in this sector of the front were confronted by militants of the Dzhebhat al-Nusra and Jaish al-Turkman groups, which continued to receive support from Turkey.
Fighting for this strategically important area in total lasted about three months. Militants "Dzhebhat al-Nusra" attempted to push government forces and detachments of the Kurdish militia from the border with Turkey, leaving for themselves the corridor along which the supply went. However, after the operations of the SAR Marine Corps and the National Defense Forces (NDF) joined the operation against the militants, the activity of the militants of the Front al-Nusra and other terrorist groups was suppressed.
After taking control of the Tal Haddad area, the Syrian government army will be able to resume the offensive in northern Latakia, which was interrupted in March, in order to take control of all parts of the border with Turkey in this province.
Against this background, the advance of the Syrian government army in the province of Damascus continues. In particular, the Syrian military took control of part of the village of Bazin in the suburbs of the capital of Syria. With the help of shelling, they managed to suppress the hotbeds of activity of militants of the terrorist group "Dzhebhat al-Nusra" in the Eastern Guta area.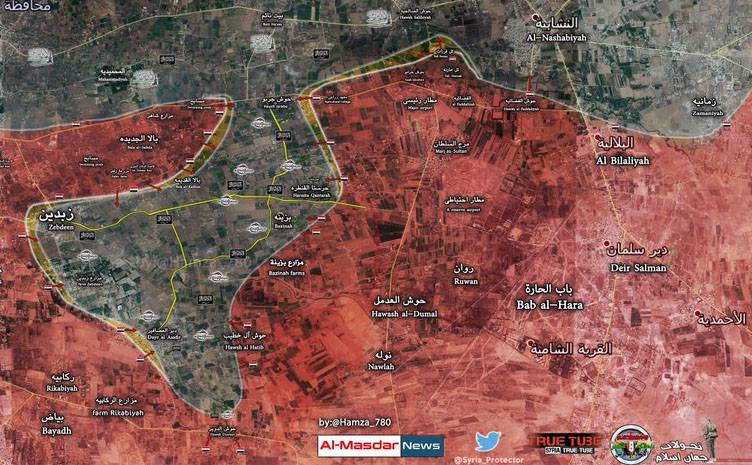 The force operation to liberate the settlements of Zebdin and Deir al-Asafir continues. The purpose of the Syrian army units is to take the position of the militants "Dzhebhat al-Nusra" in the province of Damascus in the fire mites, and then close the ring and finish off the remnants of the gangs in the formed boiler. This task is accomplished if the next reinforcement from "friendly countries" does not arrive to the militants.