Over the past few weeks, various foreign media have published materials stating that Russia intends to open a second military base in Syria - in the Palmyra region. In the materials of the Associated Press, statements appeared that Russian troops allegedly had already begun to build infrastructure facilities of such a base. As a "confirmation", AP published a satellite image in which not far from
historical
part of the city marked the location of Russian troops.
However, the official representative of the Ministry of Defense of the Russian Federation, Major General Igor Konashenkov, rumored about the creation of a new military base in the SAR.
Press office
The Ministry of Defense of the Russian Federation cites the statement of General Konashenkov:
There were no "new Russian bases" on the territory of the Syrian Palmyra. The satellite images of the territory of this region, which are mentioned by the AP agency, are indicated by UNESCO. The temporary camp (campus) of the units of the International Anti-Mineral Center of the Armed Forces of the Russian Federation, previously engaged in demining the historical part of Palmyra, and today - the settlement of Tadmor. I want to note that the temporary camp of military engineers, and the hospital, and the bakery plant are no secret. They got acquainted with their work and made reports from more than 150 journalists of leading foreign media during the last 5 press tour in May, when maestro Valery Gergiev performed a concert with the Mariinsky Theater Orchestra in Palmyra. I think that if the journalists of this authoritative agency had personally visited Palmyra and this temporary camp, today they would not have invented a "pseudo-sensation" about building a Russian base in Palmyra from scratch.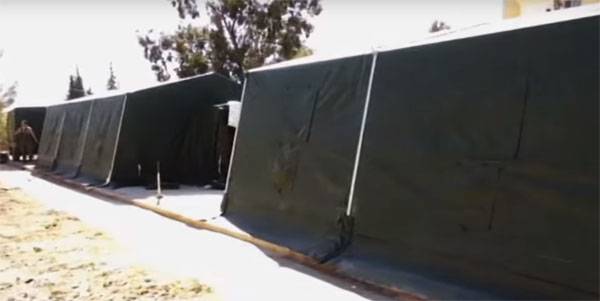 Recall that in the territory liberated from the militants of ISIL Palmyra, the work of the Russian and Syrian sappers continues to demine the territory of the city. The fighters, retreating, left behind hundreds of mines and explosive devices installed throughout the territory of Tadmor, trying to stop the advance of the SAR army.