Another wave of terror has covered the Iraqi capital. In just one day today, four explosions thundered in Baghdad, killing at least 75 people. More than two hundred Baghdad were injured. About 30 people are in a critical condition. There are not enough blood supplies for transfusion and necessary medicines in the city's medical institutions.
Iraqi police report three explosions in several quarters of the capital, including the Shiite suburb Madinat al-Sadr. At the same time, the fact that the explosions thundered almost simultaneously attracted attention. The fourth terrorist attack occurred in a cafe in the east of Baghdad, in the area of ​​Al-Habibiya.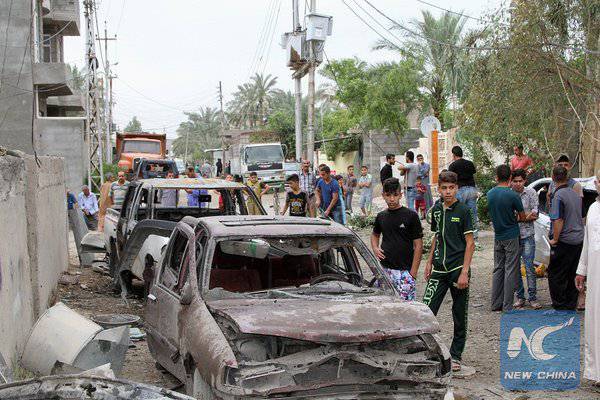 Terrorists also prepared the fifth explosion, but the vigilance of police officers in the al-Qayar area helped to avoid even greater casualties. A suicide bomber was neutralized in the market area, where he intended to activate an explosive device attached to the belt. It is reported that the police saw the wire sticking out of their sleeves and detained them so that the suicide bomber could not activate the bomb.
Recall that just a few days ago - May 11 - another series of terrorist attacks were committed in Baghdad, the victims of which were 62 people. More than a hundred more were injured then. The lives of 12 people, according to doctors, are at risk.
How many Europeans and Americans have brought 11 May and today flowers to the Iraqi diplomatic missions expressing condolences to the Iraqi people who fell victim to the imperial ambitions of the West? .. And where are the photo shoots with signs of "I Baghdad" and portraits in the colors of the Iraqi flag? ..