Head of the Information Support Service of the Black Sea
fleet
RF Vyacheslav Trukhachev said that the Mediterranean minesweeper Valentin Pikul, which became part of the Mediterranean group of ships of the Russian Navy, is starting work in the Mediterranean Sea.
Press office
The Black Sea Fleet of the Russian Federation cites Vyacheslav Trukhachev's statement:
The naval minesweeper "Valentin Pikul" of the Black Sea Fleet, which came out of Novorossiysk a few days ago, arrived to perform tasks as part of the permanent grouping of the Navy in the Mediterranean. This is the first exit of the ship in the distant sea zone, which is carried out in accordance with the plan of rotation of forces.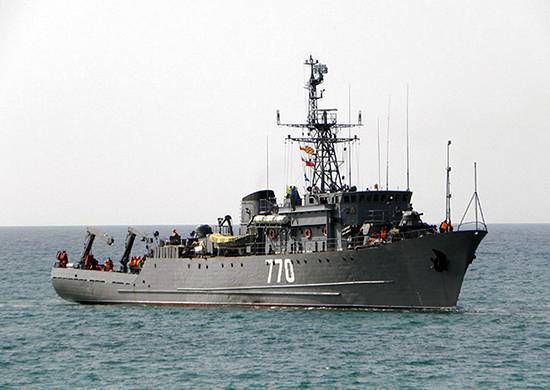 The naval minesweeper "Valentin Pikul" replaced another similar ship in the Mediterranean - the Kovrovets, which had been carrying out the tasks assigned since February 2016.
Today in the Mediterranean are 15 Russian warships, boats and auxiliary vessels of all fleets of the Russian Federation.
For reference: the marine minesweeper "Valentin Pikul" was built on the project 266МЭ. Launching took place in May 2000. In the fleet with 2001 year.
Characteristics: total displacement - 804 t, length - 61 m, width - 10,2 m, draft - 2,3 m. Full speed - 16 knots, cruising range on 12 knots. about 3 thousand nautical miles, crew - 69 people, including 5 officers.
It is in service
20х1 PU ZRK 9K310 "Needle-1",
2х2 30 mm AK-230М - 2000 shots - SU MP-104 "Lynx",
2х2 25 mm 2М-3М - 2000 shots,
2х5 RBU-1200М "Hurricane" (68 RGB-12),
8 min UDE
Deepwater contact trawl GKT, electromagnetic trawl TEM-3, acoustic trawl AT-2.