At the military cemetery in the Polish village of Pikulichi (not far from Przemysl), "unknown patriots" replaced the plates on the graves of the fighters of the Ukrainian Insurgent Army, "by editing the texts to meet the reality", reports
Utro.ru
message resource kresy.pl.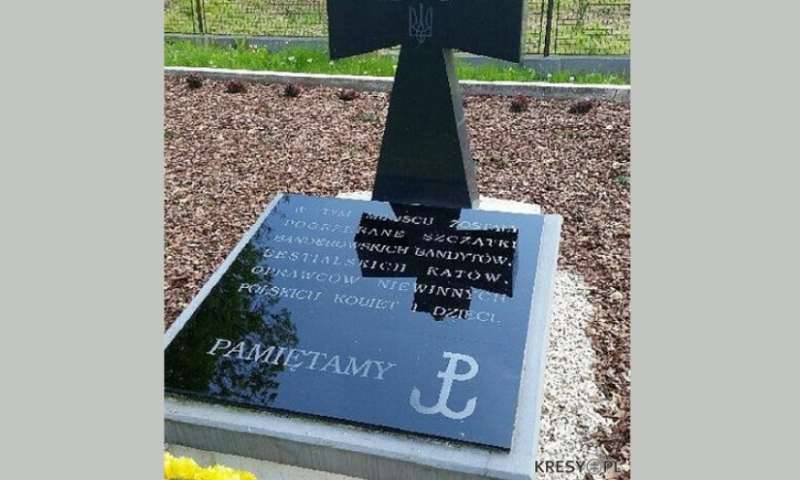 "Earlier, crosses with the emblem of Ukraine (trident) and plates with inscriptions in Ukrainian were installed on mass graves:" Ukrainian insurgents who died for a free Ukraine 7 January 1946 in Bircha "and" Ukrainian rebels who died for the freedom of Ukraine 22 May 1947 in Lishna "- with the names, surnames and dates of birth of the dead," writes the Polish resource.
Then, a certain Ukrainian "organization of political prisoners" illegally changed these plates, drastically changing the inscriptions on them: "Here lie the soldiers of the Ukrainian Insurgent Army who died fighting for a free Ukraine during the attack on the garrison of the Polish Army in Birch", as well as "Here the remains of the soldiers Ukrainian insurgent army killed 22 in May 1947 of the year in Lishnu on the basis of a decision of the Polish Military Court in Sanok. "
Such wording "exploits" have caused outrage among Polish residents. And now, after the intervention of the "unknown patriots", a third version of the text has appeared on the gravestones:
"The remains of Bandera bandits, brutal executioners and torturers of innocent Polish women and children were buried in this place."
"Utro.ru" recalls that "the village of Lishnya entered into
history
as one of the tragic sites of the so-called Volyn Massacre 1943 of the Year - organized by the UPA mass destruction of Poles and Jews in the territory of Volhynia, which the Polish Seym regards as having signs of genocide. " According to various sources, victims of mass executions were from 30 to 70 from thousands of Poles.
It is noted that "the village Bircha in 1945-1946 punitive UPA attacked three times, as a result dozens of military and civilians were killed, however, as a result, the raids of Ukrainian nationalists ended in complete failure:" 23 rebelled, more 22 were injured. "
"For the Polish state and self-governing administration, this will be a test, whether they are ready to condemn this crime and find its perpetrators, as well as to prepare a scheme for countering such crimes",
- said yesterday the head of the Association of Ukrainians in Poland, Peter Tyma, referring to the latest replacement of plates on the graves of punitive.