The current Britain does not like the current British. Life in London and its surroundings is a great disappointment. Many British are ready to move far away, just to get away from the damned islands. Mans British Britons: there, they say, Putin distributes land for free. Not in Moscow, of course, but "in the Siberian wilderness," one British newspaper points out. Well, the British are ready to be alone with nature and temper the character.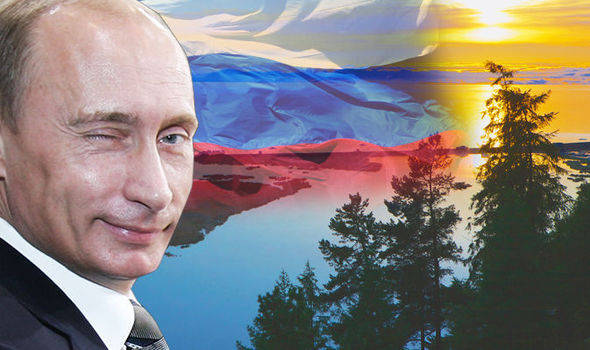 According to the survey
Express.co.uk
, eight out of ten citizens of Great Britain are quite seriously considering the idea of ​​emigration ... to Russia. This is not a joke: almost 80% of those polled by the Express newspaper are already considering moving to Russia.
Disappointed with life in modern Britain, 78% of over 22.000 respondents answered "yes" to the question of whether they are ready to move to Russia if they are given land there.
Russia's popularity among the British rose sharply after it became known that President Putin offered an acre of land to people on 2,5 for free. Well, not everyone, but only those who want to "move to the Siberian wilderness," the newspaper writes. These people will improve the economic situation in the region.
Putin's scheme of reviving the economy excited the British public. Many Englishmen were excited by looking at photos of "stunning natural beauties". In addition, they like the way Putin leads the country.
In a word, it's time to get out of the islands.
A man named Simon Sharp said in an interview with Express.co.uk: "As soon as I read about it, I discussed this matter with my wife."
Sharpe thinks the idea of ​​such a move is quite romantic. It is beautiful - "to return to nature in such a distant place." According to him, life in such a distance could temper the character.
Simon Sharp also said that he was disappointed in Britain and in British life. He doesn't like the "demographic situation" and the fact that the British "rural area is changing with urbanization".
Another survey participant said that he "likes Vladimir Putin." If this participant were about thirty years less, he would have already traveled to Russia.
Other respondents referred to the upcoming referendum on the membership of Britain in the EU and a possible vote for Brexit. This alone was the motive for them to get far away to the east, to those lands where "ice meets fire."
One person said: "Thank you for your kind offer, Mr. Putin. If we do not leave the EU, many will want to accept your proposal. "
The publication notes that Mr Putin as president likes British citizens. They would like to live under his rule and note his highest rating in Russia, which is "a stark contrast to the ratings of the leaders of Great Britain." Judge for yourself: if Putin has an approval rating of 82 percent, then British Prime Minister David Cameron and Labor leader Jeremy Corbin support less than 35% of citizens.
True, despite the amazing natural beauty of Siberia, some of the British are afraid of bears. There is an opinion in London that "too many hungry bears" wander around Russia in winter.
Others covered fear of the cold. They learn that in those places where Putin offers to settle for free, it is minus forty seven degrees on the Celsius scale. This greatly reduces the attractiveness of the idea of ​​moving to Russia.
Finally, the British fear and clouds of mosquitoes that fly and bite people in the summer.
In short, life in Russia does not spoil people.
Despite the difficulties with bears, mosquitoes and severe frosts, the Russian Embassy in Britain has already confirmed to the newspaper Express: yes, "a number of Britons have already shown interest in the project."
* * *
And this is oddity: judging by the newspaper poll, in which more 22.000 respondents participated, no one doubted "democracy" in Russia, did not call Putin "a tyrant", did not say anything about corruption (which the British Prime Minister Minister Cameron).
On the contrary, the British gentlemen are very dissatisfied with their own government, whose top ranking does not reach 35%, and President Putin simply fascinates them. They really like this Putin, that they are ready to throw Britain to the devil and move, despite the clouds of mosquitoes and hungry bears, into the "Siberian wilderness". There, the British will be able to admire the natural beauty and forge character. Real Russian character, I guess.
By the way, Boris Johnson could lead the immigrant detachments. 6 May he stopped being the mayor of London and now, they say, is bored somewhere on the old farm, drinking the style of Churchill whiskey without soda and without ice. This man recently praised the Russian victories in Syria and dreamed to make at least some contribution to the peacekeeping (more precisely, the archaeological) process in Palmyra. Until now, Johnson was skeptical of Russia and its foreign policy.
A few days ago, the former mayor explained to the world that the EU's policy differs from that of A. Hitler only by methods. Neither Hitler nor Napoleon had previously been able to unite Europe, while education called the European Union tried to do the same in a different way. But no one respects this "single power".
It's time, it's time to "dump" from rotten islands, Mr. Johnson. We know that you are as disappointed as many of the British subjects.
Or are you afraid of mosquitoes?
Observed and commented on Oleg Chuvakin
- especially for topwar.ru